Sports > Area sports
Time runs out on historic Washington State season in tightly contested loss to North Carolina
Dec. 6, 2019 Updated Fri., Dec. 6, 2019 at 9:54 p.m.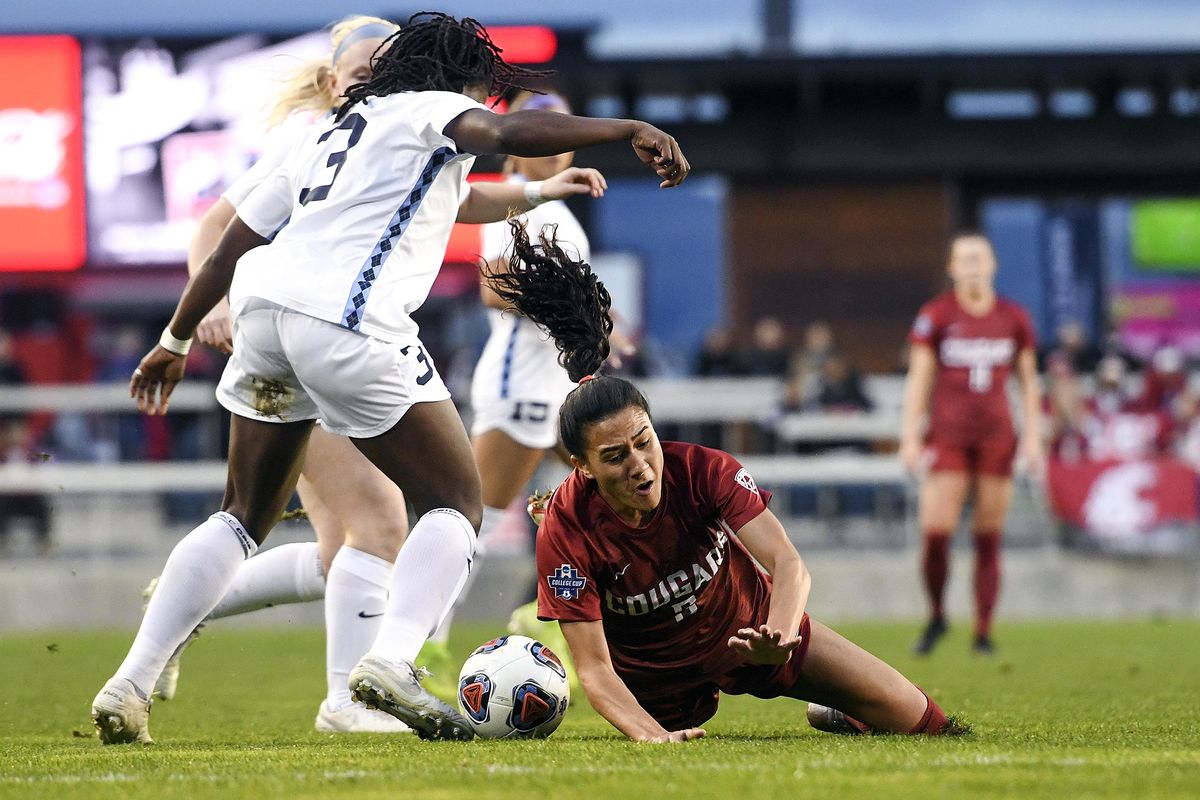 Washington State forward Makamae Gomera-Stevens (3) is fouled by a North Carolina forward Ru Macherera (3) during the first half a 2019 NCAA Women's College Cup semifinal game on Dec. 6, 2019, at Avaya Stadium in San Jose, California. (Pete Caster / For The Spokesman-Review)
SAN JOSE, Calif. – The most important game in program history didn't go Washington State's way Friday evening at Avaya Stadium, even if the highly successful coach on the opposing sideline thought it may have.
Or rather, should have.
In his 41st season at North Carolina, Anson Dorrance may soon claim his 22nd national championship with the Tar Heels, which would give him as many NCAA trophies as Morgan Weaver's had birthdays. But the dangerous WSU forward and her teammates kept one of the sport's luminaries sweating through the final 20 minutes of Friday's semifinal and all the way into his postgame conference.
Dorrance had high praise for the Cougars when he sat down to field questions moments after UNC's nervous 2-1 victory over WSU in the College Cup that sent the Tar Heels to the national championship against Stanford.
WSU didn't lack chances.
"It was an extraordinary run for them," Dorrance said, "and honestly I feel a bit lucky sitting here to be in the final."
"You do feel like you guys were outplayed tonight?" a reporter asked, just for clarification.
"Yeah, I think so," Dorrance said. "I think they created more chances, and I think we were lucky. I think we're lucky to be in the final."
For the better part of 90 minutes WSU kept the Heels on their toes. Had the Cougars been allotted a few minutes of stoppage time, it's possible they would've located the net for a second time to force a dramatic ending in this winner-to-the-championship, loser-out postseason match.
But it was the clock, not the Tar Heels' back line, that played the best defense at the end, and WSU's dream run ran out of time against the pride, pageantry and history of North Carolina on a damp, breezy night in San Jose.
"It sucks we lost, but honestly the amount of hard work we put in this season, the history we've made, we can't be sad about it," Weaver said. "Because we've done stuff that people have not done before in Coug history, and the Coug fans that were here, the alumni, everyone here was supporting.
"… We can't be sad and I told them, I can't wait to be here next year to watch them."
To reach the College Cup, the Cougars, in Dorrance's words "blew up that entire side of the bracket and very nearly, except for a little bad luck, could've blown us up too."
WSU tore through the NCAA field, upending Virginia and South Carolina – respectively the top two teams in the region – to set up a semifinal against the most decorated program in college women's soccer history.
For almost 20 minutes, the Cougars were leading the ACC juggernaut, going up 1-0 on a seventh-minute goal from Weaver, who stood in the center of a crimson huddle before kickoff, delivering an impassioned speech that seemed to give the underdogs an early jolt.
On the play, Elyse Bennett and Averie Collins each used their heads to flick on a long drop kick from goalkeeper Ella Dederick. After a series of deflections, the ball fell to Weaver, who collected and drove a shot across the face of the goal past UNC's Claudia Dickey to give the Cougars a 1-0 advantage.
"Morgan is running after every single ball. She's always defending and that's why she got that goal," Dederick said. "Because she was pressing three players all at once and they coughed it up and thankfully we put it in the back of the net."
UNC surged, evening the score at 1 in the 24th minute when Taylor Otto poked the ball ahead to Alessia Russo, who slipped her shot past Dederick and into the back of the net. Before that WSU's sixth-year senior goalkeeper had conceded just two goals in four NCAA matches and kept a clean sheet in three of those.
"Just saw it as an opportunity," Russo said. "As a forward, anytime you get into the box, that's what you've got to try to do is finish the ball. Credit to Taylor, it was all her play and was just fortunate I got in behind and could put it away."
A team heralded for its deep, talented bench, UNC made a wave of changes two-thirds of the way through the first half, bringing on its next scorer, Alexis Strickland, and four other players in the 32nd minute.
The fresh legs paid dividends.
Just 5 minutes after the changes, UNC sub Ru Mucherera raced past her defender with the ball, delivered a cross to the back post and connected with a charging Strickland, who sent a strong header past Dederick to give the Tar Heels the lead.
"I broke the game into four halves, because we knew what they were going to do," WSU coach Todd Shulenberger said. "Honestly, we got them a little bit because their subbing pattern is usually between 20 and 25. That first sub didn't go in till late in the first half, so they obviously saw something they were worried about. When they got in, I thought our level dropped a little bit. … We lost the second half of the first half."
The Cougars created a bevy of goal-scoring opportunities in the second half, outshooting the Tar Heels 10-8 with a 7-2 edge on corner kicks. But after pushing headers and drilling shots wide of the post, the clock expired on their record season.
"Obviously the table's set, and I said the other day the underdog role is now gone," Shulenberger said. "So we can use that in 2019, but 2020 that surely will be out the door. But that's OK, these girls have earned it, this program has earned it and we're excited about our future."
The Tar Heels, who haven't lost since September, will carry a 14-match unbeaten streak into Sunday's national championship.
Local journalism is essential.
Give directly to The Spokesman-Review's Northwest Passages community forums series -- which helps to offset the costs of several reporter and editor positions at the newspaper -- by using the easy options below. Gifts processed in this system are not tax deductible, but are predominately used to help meet the local financial requirements needed to receive national matching-grant funds.
Subscribe to the sports newsletter
Get the day's top sports headlines and breaking news delivered to your inbox by subscribing here.
---