News > Spokane
'I just feel so honored': Spokane Trader Joe's employee picked to walk in Rose Parade
Dec. 31, 2019 Updated Tue., Dec. 31, 2019 at 8:11 p.m.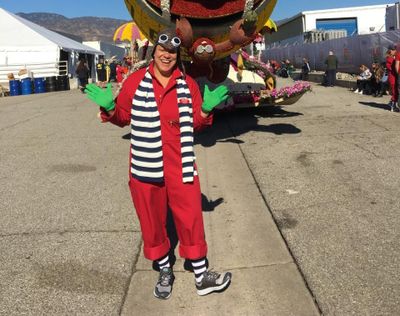 After eight years working for Trader Joe's in Spokane, Pia Gilbert was one of 13 employees selected from stores across the country for the company's 2020 Rose Parade float.
"I just feel so honored," Gilbert said.
Gilbert is a "mate," or assistant manager, at the Trader Joe's location in north Spokane.
She started at Trader Joe's first location on the South Hill about eight years ago, when the store opened. Thousands of applicants applied to work at the store, and Gilbert was one of about 40 people selected.
"It's just such a fun environment if you're a foodie," said Gilbert, who loves to cook and dine out. "You're always just surrounded by food."
She was a fan of the grocery store chain known for its specialty items and wine and cheese selection.
"I'm just a huge fan of their products and what they stand for," Gilbert said.
After a few years on the South Hill, Gilbert helped open the north Spokane store and became one of its eight managers.
"I'm always talking about things that I cook. I have seven different grills," Gilbert said. "I love to have my palate dazzled."
By remembering regular customers' names and dietary restrictions, Gilbert said she's able to build relationships.
She'll recommend a new gluten-free product or try out a recipe they might like and share it with them next time they're shopping, Gilbert said.
That unique connection with customers is why Stephen Gorman, the north side store general manager, said he nominated Gilbert.
"It's a very common question for customers to come into the store and ask, 'Is Pia working today?' " Gorman said.
She is constantly improving her relationships with people in the community, expanding her knowledge of products, and is basically an "encyclopedia of food, pairing and hosting," Gorman said.
"Pia is a bright shining star," he said. "She can make any situation better. She just has a gift."
Gilbert's friends agree. Ann Buckley met Gilbert 10 years ago before she worked at Trader Joe's and said the job is a perfect fit.
"The customers, you can see when she talks to them, they feel like the most important person in the world," Buckley said.
When Buckley heard Gilbert was selected to be a part of the parade, she knew how big of a deal it was to her friend.
When Gorman got an email asking for nominations for someone to represent the company on the Rose Parade float, he replied within minutes.
"The very first person that came to mind was Pia," Gorman said.
Trader Joe's higher-ups selected Gilbert, who flew down to Pasadena, California, a few days ago to get fitted for her costume and prepare for the parade.
The float celebrates the theme "It Takes a Flight of Fancy."
"Our theme was chosen to celebrate the soaring imaginations and hard work of our crew members," said Kenya Friend-Daniel, a Trader Joe's spokeswoman, in an email.
The 75-footlong float is one of the longest in the parade and features Trader Joe's mascot, the "Fearless Flyer," in puppet form. It's decorated with more than 220,000 flowers and other materials like ground coffee and kumquats.
There has been "a lot of anxiety," Gilbert said of the run-up to the nationally televised New Year's institution.
That anxiety faded when Gilbert met the other Trader Joe's employees selected to man the float.
"We're all so like-minded," Gilbert said. "It's just instant family."
Gilbert will be one of the "walkers" who passes out buttons and shakes hands during the parade.
"I'm just hoping to throw some kisses out to the crowd," Gilbert said.
Local journalism is essential.
Give directly to The Spokesman-Review's Northwest Passages community forums series -- which helps to offset the costs of several reporter and editor positions at the newspaper -- by using the easy options below. Gifts processed in this system are not tax deductible, but are predominately used to help meet the local financial requirements needed to receive national matching-grant funds.
Subscribe now to get breaking news alerts in your email inbox
Get breaking news delivered to your inbox as it happens.
---