Multiple businesses destroyed in downtown Sandpoint fire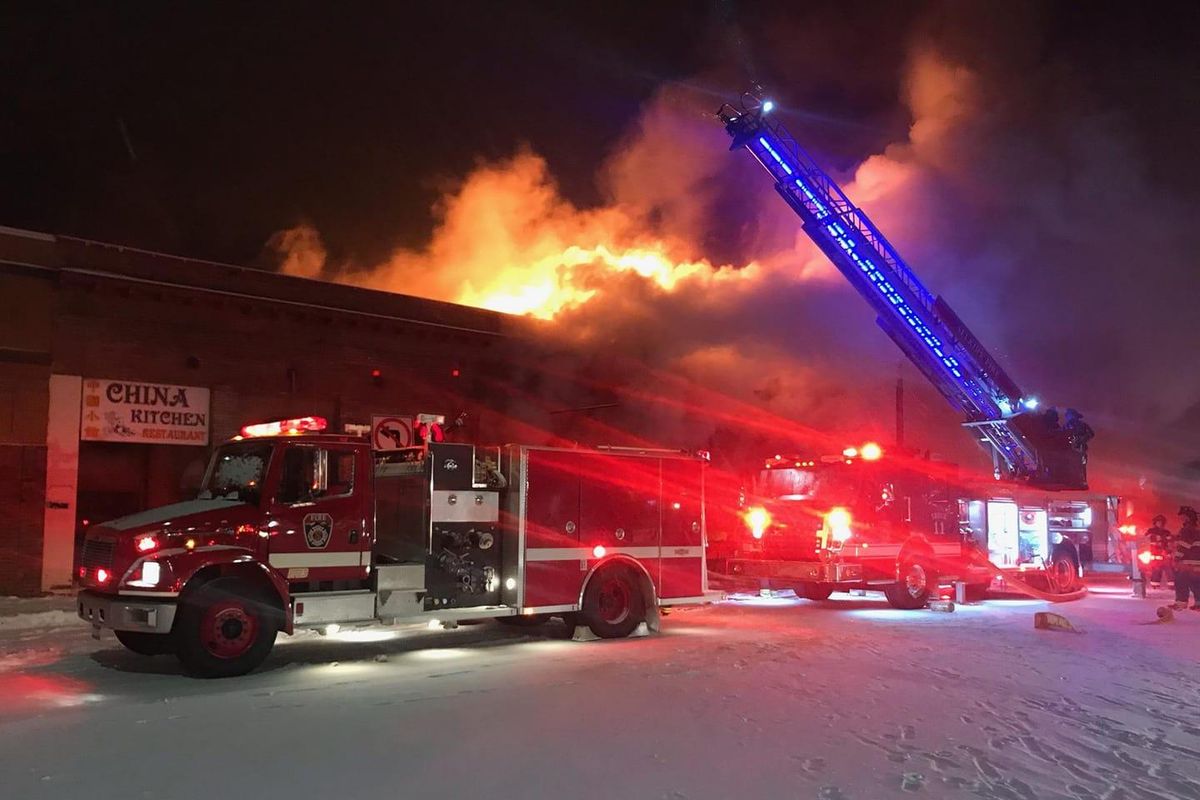 SANDPOINT – Five businesses were destroyed Monday by an early-morning fire that tore through a historic brick building in downtown Sandpoint.
City officials estimated the fire caused between $4 million and $7 million in damage to the 100-year-old structure. City Administrator Jennifer Stapleton said seven businesses were affected by fire, smoke or water damage, while five were a total loss.
The Grace Sandpoint church was saved but damaged.
"This is obviously a devastating incident for us," Stapleton said Monday. "Not only for those businesses directly impacted, but our businesses in the surrounding area."
Stapleton said the fire began at about 1 a.m. along North First Avenue, between Bridge Street and Main Street. The cause has not been determined.
The destroyed businesses are The Hound bar and grill, China Kitchen, the Chocolate Bear candy shop, the Headlines salon and Sandpoint Tattoo.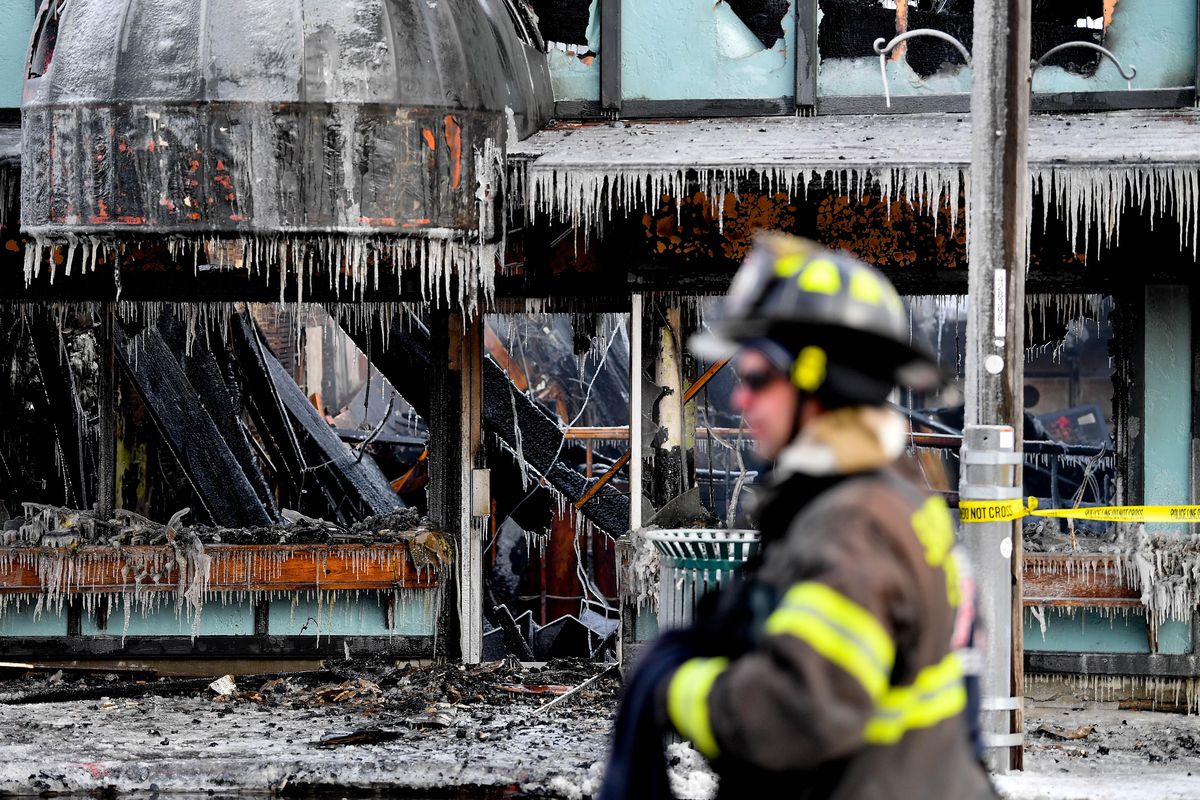 The owner of the building, R.J. Wilcox, stood outside the smoldering structure Monday afternoon waiting to meet with insurance officials. He said the owner of The Hound, Ben Higgs, called him shortly after 4 a.m. to let him know the building was ablaze.
Wilcox, a retiree from Silicon Valley, said he had rushed to Sandpoint from his home in nearby Sagle but was stopped by traffic on the Long Bridge for more than two hours because of a crash. The Sandpoint Police Department reported the crash involved four or five vehicles and blocked both lanes of U.S. Highway 95 until about 9:15 a.m.
The fire "was all over the news in Spokane, but I couldn't get to it," Wilcox said.
When he finally arrived, he said "it was devastating."
The building was constructed around 1910 and underwent a major renovation in 2007, said Wilcox. He bought it four years ago.
The fire caused the main floor of the building to collapse.
"As far as I know, it's pretty much completely gone," Wilcox said.
Selkirk Fire Battalion Chief Michael Gow said the first crews to arrive immediately called additional firefighters to the scene. He said about 50 firefighters responded from several departments, including some from Kootenai County.
Selkirk Fire Chief Ron Stocking said the building's age and construction made it particularly difficult to extinguish the blaze. By 4 a.m., he said, firefighters were barred from entering the structure as they continued to pour water on it from the outside.
Further complicating firefighting efforts was the weather, Stocking said. The National Weather Service reported about 2 inches of snow fell Sunday into Monday morning.
In addition to the constant snowfall, he said firefighters had to deal with freezing hoses as temperatures hovered around 11 degrees.
"I'm extremely proud of the firefighters," he said. "At the height of the fire, everyone was covered in ice."
Stapleton said fire investigators worked Monday to determine a cause. Structural engineers, meanwhile, were assessing whether the building would need to be condemned and demolished.
Stapleton said that decision could take weeks. In the meantime, she said, downtown traffic would be affected by intermittent lane closures on First Avenue and Bridge Street.
Higgs, the owner of The Hound, which offers pizza, sandwhiches, chicken wings and BBQ ribs, said he woke up to phone calls about the fire at about 2 a.m. and rushed to the scene.
"I wanted to see it," he said.
Higgs said he and his wife, who own a second restaurant on Schweitzer Mountain, plan to reopen The Hound in the same location or elsewhere in Sandpoint.
"Our goal would be to reopen before the summer, of course," he said. "But we'll see."
Higgs said he was keeping a positive attitude. "You kind of have to," he said.
"We have a good support system in the community," he added. "Everybody was safe, nobody was hurt, and that's all you can really ask for."
After hearing that Headlines salon was one of the businesses affected, Salon Luxe owner Sally Spalding took to Facebook, where she assured any hair stylists affected they could bring clients to her shop until a new location is found.
"I know what it's like to be a hairdresser," she said. "If you're not standing behind your chair, you're not feeding your family."
Speaking to KHQ News outside his charred shop, Dennis Powell, who owns the Chocolate Bear along with his wife, Carrie, said they were heartbroken when they woke up to the news. But he said they were also ready to rebuild, whenever possible.
"Sandpoint businesses are really tight-knit," said Powell, who also owns the Chocolate Apothecary in the Spokane Flour Mill. "I think we'll all pull together and help bring this together, and everybody should do well."
---