A&E
Setting goals: James Porter's path takes him from a reservation in North Idaho to the ice arenas of the WHL
Sun., Feb. 17, 2019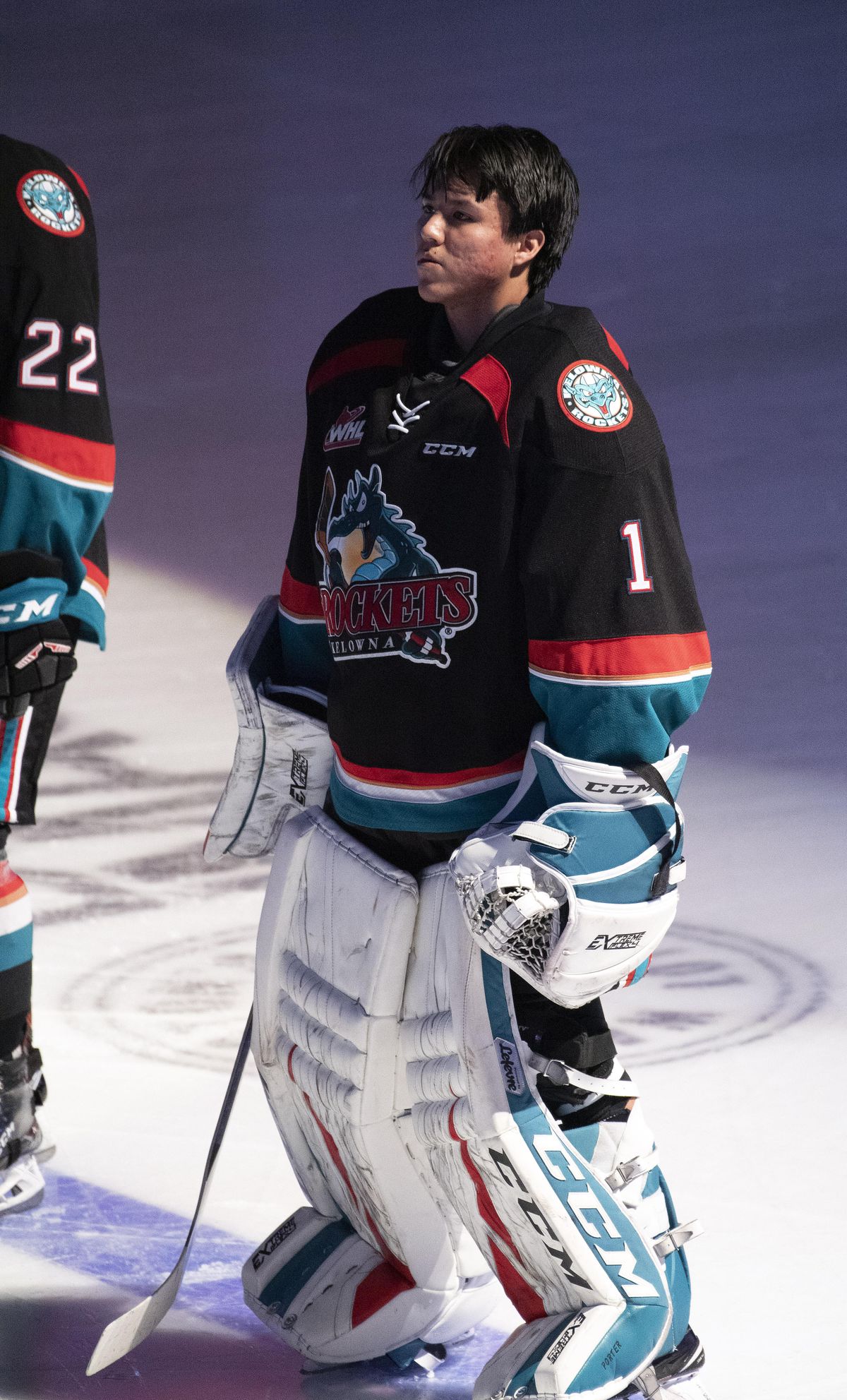 Kelowna goalie James Porter listens to the U.S. and Canadian national anthems before a Chiefs-Rockets hockey game on Feb. 1 at the Spokane Arena. (Colin Mulvany / The Spokesman-Review)
The Kootenai River Valley is fertile and beautiful, splitting two mountain ranges as it pushes across the Canadian Border.
This is the home of James Porter Jr. It is also the ancestral home of his elders and the Kootenai Tribe of Idaho. In some ways, Porter meanders between two worlds just like the river. He was raised with one foot, or perhaps skate, across the border in Canada and one foot in Bonners Ferry. When he's home in Boundary County, where he lives on the tiny 12.5-acre reservation with his family, he is just a regular teenager because not many in the small farm town know or care about hockey. Yet when he crosses the border, he is a rising star on the ice, the lead goaltender for the Kelowna Rockets.
"A lot of people here don't know hockey," Porter said in a recent phone interview while he was preparing for a game against the Spokane Chiefs. "I don't get asked a lot of questions. I just get to be me."
The Chiefs are one of the top teams in the Western Hockey League, and Porter considers them his "hometown" team. He grew up attending as many games as he could; on school nights his mom made him stay home. When he plays in Spokane now, family and friends travel from Bonners Ferry to cheer for Porter. He loves the support and enthusiasm.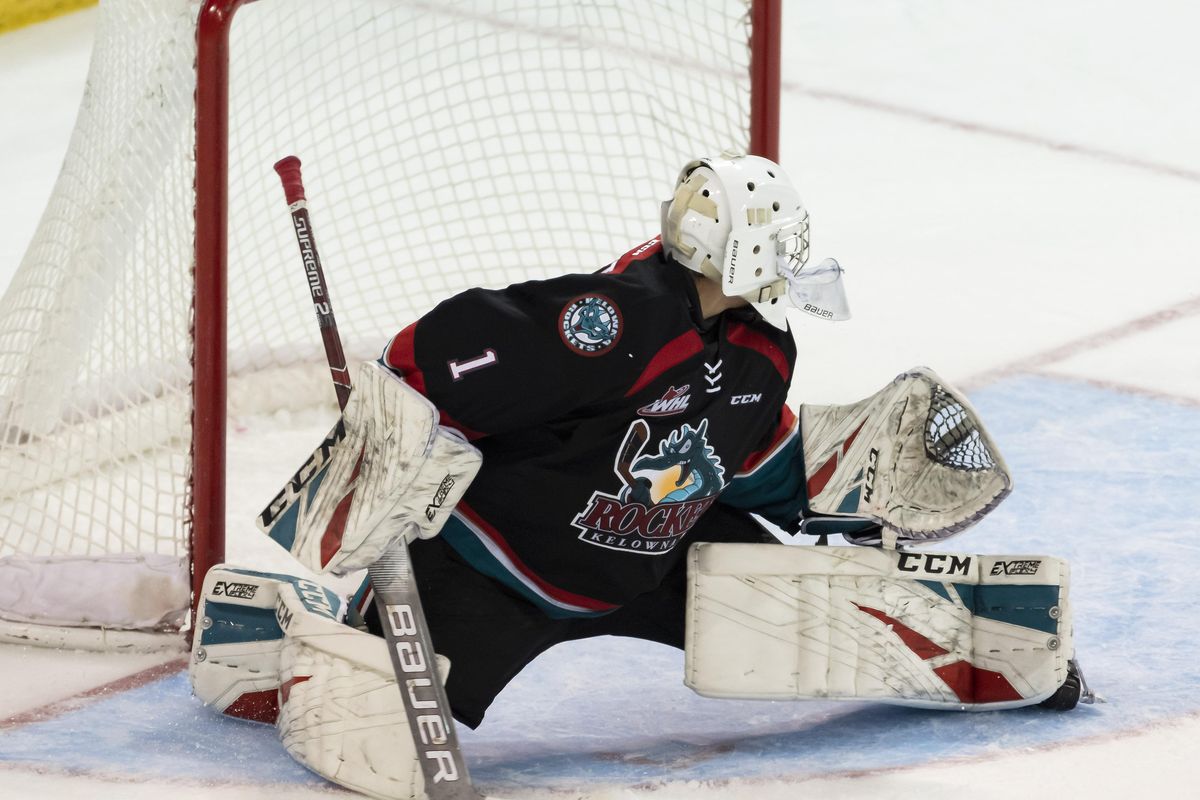 James Porter defends the Kelowna Rockets' goal during a game against the Spokane Chiefs on Feb. 1. The Chiefs won that game 4-0. The two teams will meet up again on Friday. (Colin Mulvany / The Spokesman-Review)
Porter and the Rockets face Spokane on Friday, the third matchup this season. The Chiefs won the first two games, including on Feb. 1 when a leg injury knocked Porter out of the game and onto the recovery list for a couple days. He's healed, and the team has several recent wins against other division teams.
With No. 1 on his teal, red and white jersey, Porter was drafted in the Western Hockey League in 2015 and then started his rookie year last season with Kelowna at age 17. He's young for a goalie, and small – measuring 5 foot 11 inches. Yet he's lightning fast, wiry and agile and filled with at least 7 feet of determination and passion.
"I just make myself look big," he said with a laugh.
He got his first start on Oct. 7, 2017, at Prince George. Kelowna won 4-3, and he made 42 saves, including three in overtime. His season took off, and he soon became the starting goaltender.
"Being started at 17, I didn't think that could happen, but it was a pretty good experience," he said.
He describes goaltending as pressure.
"You are the last line of defense," he said. "You can either win the game or lose the game for the team."
His success continues this season. Last month in a game against the Everett Silvertips, Porter stopped all 40 shots of the game in Everett, the fourth shutout in his Western Hockey League career. He earned league goalie of the week honors in late January.
Rockets goaltender coach Adam Brown enjoys working daily with Porter and appreciates his growing work ethic and how he's supportive, yet competitive, with his goalie partner.
"James is able to use his athleticism and talent to read the plays," Brown said. "He's able to have a lot of success."
The Western Hockey League started in 1966 and is regarded as one of the finest player development leagues in the world and the leading supplier of talent to the NHL and Canada's National teams, according to its website. There are 22 member clubs, with 17 based in Western Canada and five in Oregon and Washington, including the Spokane Chiefs.
Ultimately, Porter wants to play in the National Hockey League – a dream that if everything continues to glide along smoothly like freshly Zambonied ice could become reality.
Brown said at this stage there are too many factors to predict if an athlete will make it, yet he said Porter is on a good path.
"He just needs to continue to improve every day," Brown said. "He has a great work ethic and the roots of someone who has pro hockey in their future."
That's a big deal for a kid from a reservation in the tip of the Idaho Panhandle where hockey isn't much of a thing, let alone the religion it is a few miles across the border. Hockey is king in Canada and just about every town has an ice arena, including the farming berg of Creston where Porter spent his childhood skating with his dad. His dad still plays on an old-timer league in Creston.
Porter knows he is fortunate, and he wants to use his success to encourage other kids, especially Native American kids, to work hard and follow their dreams. There are a handful of indigenous players in professional hockey, said Brown, adding that it's more common than it was 20 years ago. One of Porter's teammates is a Native American from Colorado. The website Native Hockey lists eight Native NHL players and 54 former NHL players from North America.
"Not a lot of them get the opportunity," Porter said. "That's one of my goals is to hopefully change that and get more Natives into sports and do what they want to. I like being a role model."
Porter's dad, James Porter Sr., is a Canadian, raised in the Yukon on hockey. He married Jennifer Bahe, who is a former tribal chairwoman of the Kootenai Tribe of Idaho, as is her mother, Velma Bahe. The Porters have three children, but James Jr. is the only hockey player. And he's smitten, completely in love with the game.
"The first steps I took I had a hockey stick in my hand," Porter Jr. said.
Several days a week, Porter and his dad would travel 36 miles to Creston to practice. His dad coached him on several teams. Then in eighth grade Porter said his parents decided he should play at a higher level. That's when he moved to Minnesota to attend Northern Educate, a private hockey academy. He said it was a good choice, that it changed his mindset and he realized hockey and goaltending is a lot of work and that he needed to push harder.
Porter said his father's hockey lessons mirrored life lessons.
"My dad was my first coach growing up," Porter said. "I learned everything from him. He'd tell me about the game and life in general.
"He taught me how to be competitive, how to work hard, how to be your best, how to have fun."
While in Minnesota, Porter lived with a host family and took online school classes while he spent days on the ice or in the gym, all with the goal of building his skills to get drafted to a junior hockey league and eventually play professionally.
Then he transferred to the Edge School in Calgary, another hockey academy, and was enrolled there when he was selected in the 2015 WHL Bantam Draft. His rookie season in Kelowna took off and he even was named the Canadian Hockey League's Goaltender of the Week by the end of December 2017.
Brown said attending prestigious hockey academies such as the Edge School gives players lots of exposure to scouts and that's how Porter ended up getting drafted. Yet he said it is difficult for kids to leave home so young. Brown knows, he left home at 15. The teams become family.
"These kids are expected to be adults way earlier than they should," Brown said. "It's almost like a business."
He said the players must find a balance between being teenagers and full-time hockey players. He thinks Porter is doing well.
Porter lives with a host family in Kelowna, a school teacher and business owner who love hockey. When he's not traveling to games or practicing, Porter said he and some of the other players go to the mall or bowling in Kelowna.
Kelowna, which is about five hours northwest of Spokane, has metro area population of almost 200,000. The surrounding Okanagan Valley is renowned for its wine industry and fruit orchards, and nearby Okanagan Lake is roughly the size of Lake Pend Oreille.
For Porter, however, the pull of home is strong, and he always returns to the Kootenai River Valley for the off season.
Last year, Porter attended Bonners Ferry High School for a couple months in the spring just so he could catch up with former classmates. Then he spent the summer working out with family friend Mike Davis, owner of Iron Mike's Family Fitness. Davis helped him gain 20 pounds of muscle, so he weighs in at 165 pounds.
Davis is impressed with Porter's work ethic, dedication and sacrifice. Besides muscle, he said Porter gained a "crazy amount" of strength.
"To gain 20 pounds, you just have to have a lot of heart to push yourself that hard," Davis said, adding that he knows Porter really enjoys coming home.
To Porter, Bonners Ferry lets him exhale and rest in a place that doesn't breathe hockey. Besides training, he spends the summers golfing and hanging with family and friends.
Mostly, Porter enjoys the tranquility of his valley home where there is no pressure, no fame, no expectation.
"It's just peaceful," he said. "Peaceful."
Local journalism is essential.
Give directly to The Spokesman-Review's Northwest Passages community forums series -- which helps to offset the costs of several reporter and editor positions at the newspaper -- by using the easy options below. Gifts processed in this system are not tax deductible, but are predominately used to help meet the local financial requirements needed to receive national matching-grant funds.
Subscribe to the Spokane7 email newsletter
Get the day's top entertainment headlines delivered to your inbox every morning.
---