Sports > EWU football
Analysis: North Dakota State controls clock, holds off every Eastern Washington challenge in FCS title game
Jan. 5, 2019 Updated Sat., Jan. 5, 2019 at 9:35 p.m. FRISCO, Texas – North Dakota State did what it does.
With every yard-churning, clock-eating drive, the Bison took away opportunities – and ultimately hope – from an erratic Eastern Washington offense working for a lead that wouldn't come.
Four times EWU came within seven points of NDSU in a 38-24 FCS national title game loss at Toyota Stadium. Four times NDSU immediately answered, reminding the partisan, yellow-clad crowd of 17,900 that it's among the most well-oiled machines in college football.
Behind quarterback Easton Stick's five touchdowns – two passing and three rushing, including a 46-yard touchdown scamper with 1 minute, 16 seconds left to ice the game – NDSU won its seventh national title in eight years.
The senior became the winningest quarterback in the FCS, earning his 49th win in 52 starts for the Bison (15-0), who broke Georgia Southern's FCS record of six national titles.
EWU was denied a second national title after coughing up three turnovers and managing 357 yards, well below its season average.
Eagles sophomore quarterback Eric Barriere completed 12 of 23 passes for 191 yards and two interceptions. EWU's school-record rushing offense was also held in check, totaling 157 yards, nearly half of which came on Sam McPherson's 75-yard touchdown run in the third quarter.
"Their ends did a good job of just rushing, rushing up the field, trying to make me step up and make me break the pocket, especially with a spy on me," Barriere said. "But also I think we hurt ourselves in a way because we definitely drove the ball, but penalties killed us."
Holding back emotion, second-year EWU head coach Aaron Best said he liked his team's effort, but pointed to miscues and drive-killing penalties (the Eagles were flagged eight times for 60 yards) for their demise.
"Everyone wanted to know if we were going to walk out of here with a 48-14 (loss) and our chins held high," said Best, referencing EWU's underdog label. "But we're competitors. We earned the right to play in this game, too. And I'm excited to protect those players. They earned this opportunity. And we fell short. Very close, but short."
When NDSU scored on its first three drives – methodically and in home-run fashion early with Stick and his cache of weapons – it appeared the the Eagles were headed toward a lopsided loss.
But EWU, which showed flashes of brilliance on early drives that were derailed by costly penalties, would show why it boasted one of the country's most dynamic offenses.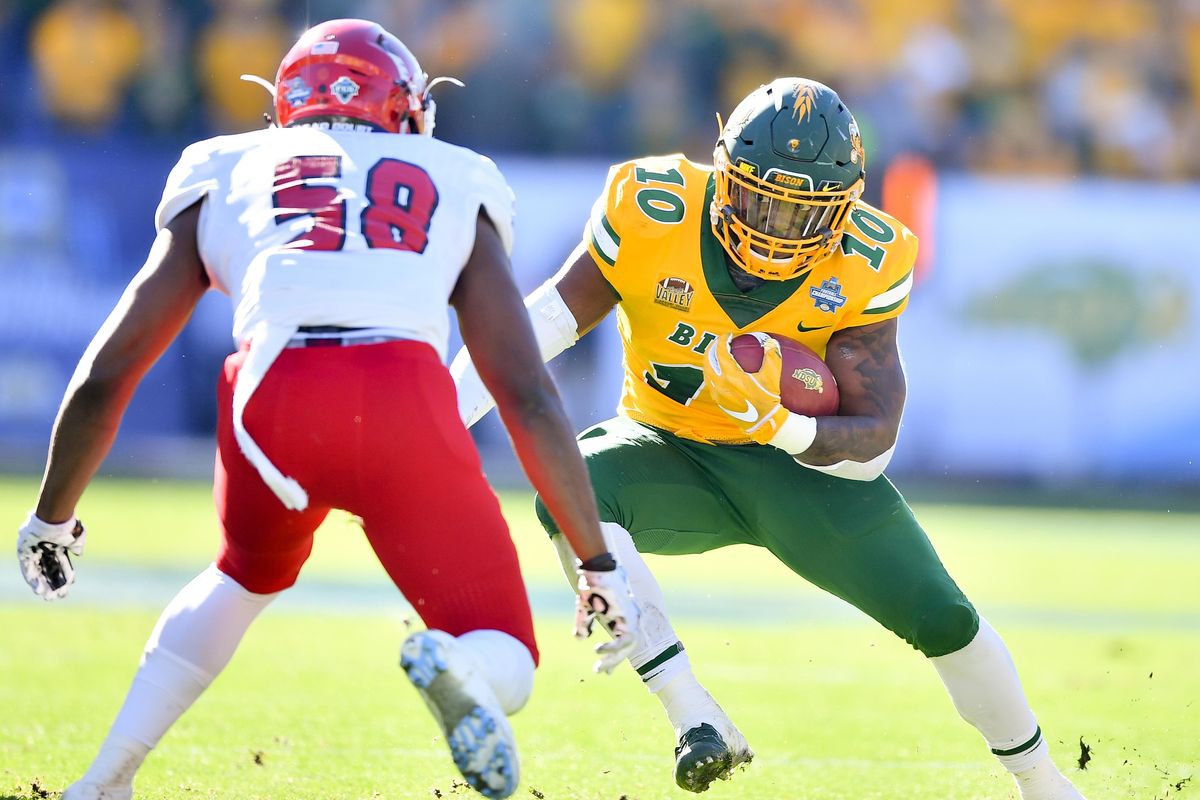 North Dakota State Bison running back Lance Dunn (10) runs the ball against Eastern Washington Eagles linebacker Chris Ojoh (58) during the first half of the 2018 FCS Championship game on Saturday, January 5, 2019, at Toyota Stadium in Frisco, TX. (Tyler Tjomsland / The Spokesman-Review)
After EWU forced its first punt late in the second quarter, Barriere and tight end Jayce Gilder led the Eagles on a 59-yard drive before the Bison – who led the country in red-zone defense – forced the Eagles into a field-goal attempt before the half.
But the Eagles didn't use the foot of All-American kicker Roldan Alcobendas, who scored EWU's first points on the previous drive.
EWU called for a fake field goal, as holder Gunner Talkington pitched to a sweeping Gilder, who rumbled and dived for a 2-yard touchdown, cutting NDSU's lead to 17-10 at the half.
The second half, however, belonged to speedy NDSU receiver Darrius Shepherd.
After EWU and NDSU opened the half exchanging turnovers, a scrambling Stick found Shepherd on a 23-yard TD connection to put the Eagles in another two-touchdown deficit.
EWU swiftly answered with McPherson's long touchdown run, but Stick and Shepherd weren't done.
In the final seconds of a wild third quarter, Stick found a streaking, wide-open Shepherd down the right sideline on a 78-scoring strike, his longest TD pass of the season, to put the Eagles in a 31-17 hole.
"It was so back and forth. It was so crazy," McPherson said. "Seemed like the first play, first or second play, I think, we turned the ball over and they turned it over and we turned it over and it was wild for sure."
Then the Bison played keep-away.
Behind a mammoth, physical offensive line, NDSU went on 19-play, 88-yard drive that ate just more than 10 minutes of the fourth quarter.
"(The most challenging thing) was trying to keep them out of the zone, keep them in second-and-long and third-and-long and keep ourselves in a position to have success," EWU linebacker Ketner Kupp said. "They did a good job of making the third-and-1s and third-and-2s available and taking advantage of those."
The lengthy drive gave Barriere and the Eagles' offense 3 1/2 minutes to try and mount a comeback.
They came close.
EWU put together its best series, a four-play, 80-yard drive capped by Barriere's 5-yard touchdown run.
But after a failed EWU onside kick attempt, NDSU was in a third-and-7 situation with 1 1/2 minutes left and the Eagles hoping to force the Bison into a punt.
Instead, Stick bolted 46 yards on his third touchdown run, putting a bow on a sensational college career,
NDSU head coach Chris Klieman, who coached his final game with the Bison after recently accepting he same position at Kansas State, pointed to time of possession.
The Bison had the ball for 40:05 compared to the Eagles' 19:55.
"The time of possession was huge. And we were able to control the football and control the clock," Klieman said. "Give them credit. They made some plays on us. And we missed some opportunities as well, both sides of the ball.
In a season rife with season-ending injuries to key players, Best lauded his senior-laden group.
"We played our absolute asses off," Best said. "We fought through a lot of adversity, whether it be bad playing, bad coaching, penalties. We had self-inflicted some of the wounds we have, and you can't do that against anybody, especially on this stage. Those get exploited all too often.
"It wasn't a fantastic 60 minutes. But I thought, like I said, we more than held our own for a lengthy period of time. We came in aggressively. We played aggressive. We coached aggressive. And we'll leave here aggressive."
Local journalism is essential.
Give directly to The Spokesman-Review's Northwest Passages community forums series -- which helps to offset the costs of several reporter and editor positions at the newspaper -- by using the easy options below. Gifts processed in this system are not tax deductible, but are predominately used to help meet the local financial requirements needed to receive national matching-grant funds.
Subscribe to the sports newsletter
Get the day's top sports headlines and breaking news delivered to your inbox by subscribing here.
---