Sports > EWU football
John Blanchette: Eastern Washington vows to get the next party started
Jan. 5, 2019 Updated Sat., Jan. 5, 2019 at 8:42 p.m. FRISCO, Texas – So you're at a party and it's pretty wild, and you're having a great time even when things aren't totally awesome – holding your own with A-list guests who supposedly are out of your league. And then without you even realizing it, you're cornered by a guy drilling a hole through you with his thoughts on why lima beans are the MVP of legumes and somebody with obsessed with neo-punk polkas has commandeered the sound system.
Also, across the room some tall, athletic young stud is hitting on your girlfriend and doing pretty well.
This was championship Saturday for the Eastern Washington Eagles.
One minute, the Eags were connecting with uppercuts that started from their ankles, the next they were being administered smelling salts. And a tall, athletic young quarterback with the made-for-the-marquee name of Easton Stick was walking out of Toyota Stadium with another belt.
As sure as your teenager brought the family car home with the gauge on "E" again, North Dakota State rules the clubby little realm of the Football Championship Subdivision, thanks to Saturday's 38-24 victory over EWU. That's seven times in eight years for America's spoilsports.
Yes, the Bison are the champs again, but they're not all that.
The Eagles are some of that, too.
If you didn't think so, maybe Aaron Best can persuade you. Eastern's volcanic coach spent much of Saturday on the sideline venting at the striped set, then rose to a boil if he so much as sensed anyone might be dismissing his team as just more Texas roadkill for the Grand Omnipotent Stompers of FCS.
"We played our absolute asses off," Best said. "We're not that bad a team, people."
Not at all. Just second to a dynasty.
And for a while, the Eagles were even 1B to the Bison's 1A.
Yes, they fell behind 17-3, but only because every time they reeled off 40 yards, they'd get flagged for illegal use of lip balm or excessive adhesive tape.
Then came the five minutes of defibrillator football that you almost never see at the Big Boy level – starting with just about the most Eastern play ever, a fake field goal on the goal line just before halftime with a perfect placement-nope-pitch to tight end Jayce Gilder by a little freshman quarterback named Gunner Talkington who will never forget his first college touchdown pass.
"It was pretty crazy," he admitted.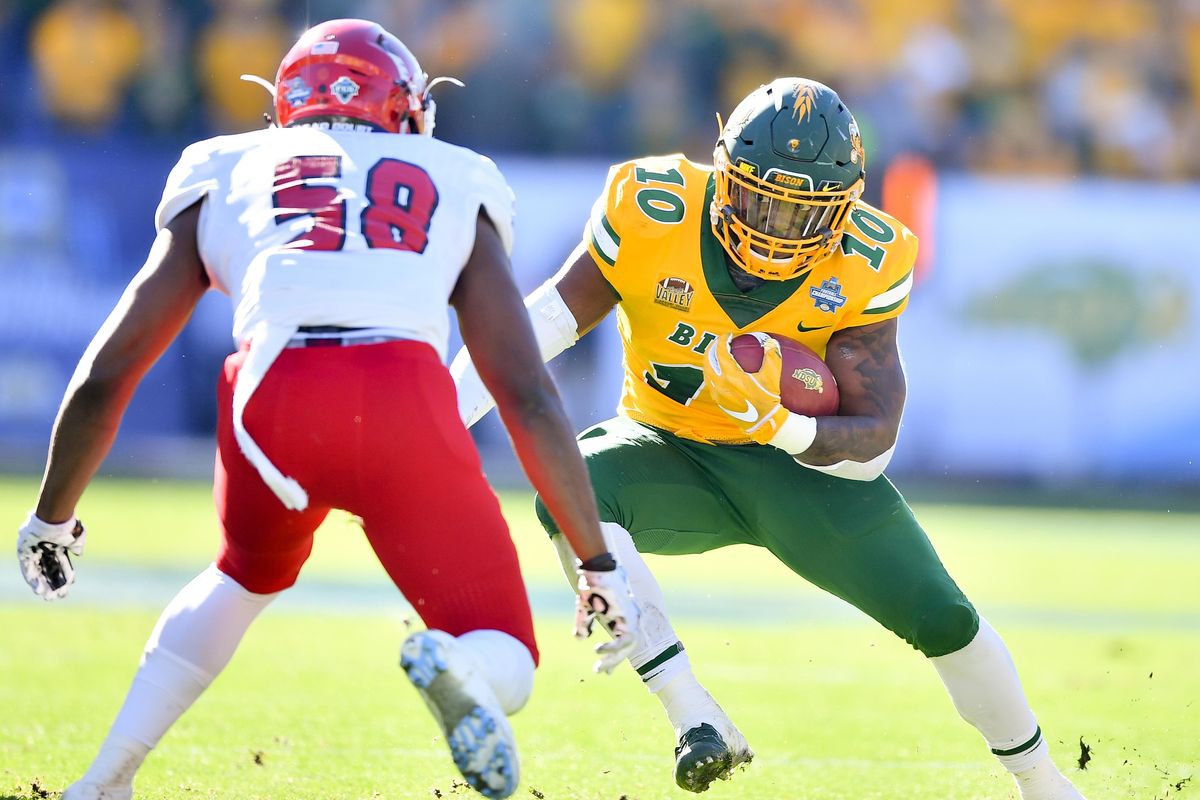 North Dakota State Bison running back Lance Dunn (10) runs the ball against Eastern Washington Eagles linebacker Chris Ojoh (58) during the first half of the 2018 FCS Championship game on Saturday, January 5, 2019, at Toyota Stadium in Frisco, TX. (Tyler Tjomsland / The Spokesman-Review)
Not as crazy as the opening of the second half: two interceptions in three snaps, a fumble – Talkington subbed in when EWU quarterback Eric Barriere had to see to an injured left hand – and three touchdowns of 23, 75 and 78 yards in the space of four plays.
Which is when the party went on pause.
The Bison are the Bison for a reason. They can get stops, and they can grind. While Eastern kept going for the wild and crazy – two reverse passes blew up – the Bison just went for the sticks, often with Stick. This team's championship moment lasted 10 full minutes of the fourth quarter, a soul-crushing drive that lasted 19 plays. Eastern historians will recall Delaware leaving the door open for the Eagles' championship comeback in 2011 by not doing the ground-and-pound.
The Bison made no such mistake.
"I don't know if there's a bad thing about Mr. Stick," Best said. "And we knew it. Great players are hard to stop even when you know what's going to go on. We got them to third down, but we just couldn't stop them on third down."
Stick wasn't perfect – he threw two picks – but when it came to overcoming mistakes and frustrations, the Bisons' mash one-upped the Eags' mercury.
"It was tough," Barriere said, "just seeing them do what they do."
Can they keep doing it? For the second time in their remarkable run, the Bison have lost a head coach to the FBS ranks – Chris Klieman heading off to Kansas State and tossing the keys to defensive coordinator Matt Entz. Stick, 49-3 as a starter, moves on, possibly to Hollywood's next superhero movie.
And the Eagles?
"We can be that No. 1 team," insisted linebacker Chris Ojoh, a sophomore who did his best to make it happen Saturday.
Best has added a rock-steady element by enhancing Eastern's run presence, but when NDSU clamped down Saturday, the Eagles didn't get receiver Nsimba Webster involved enough. And as has often been the case, the Eagles could use a few more stout defenders; not having nose tackle Jay-Tee Tiuli available because of his legal issues was telling.
But as Best said, posteriors were played off. And now there's a hunger factor.
"We know what it takes to get back to this point, and we're going to get there," Gilder said. "Trust me – everybody's going to work 1,000 times harder than they did this year."
Could be the party is just getting started.
Local journalism is essential.
Give directly to The Spokesman-Review's Northwest Passages community forums series -- which helps to offset the costs of several reporter and editor positions at the newspaper -- by using the easy options below. Gifts processed in this system are not tax deductible, but are predominately used to help meet the local financial requirements needed to receive national matching-grant funds.
Subscribe to the sports newsletter
Get the day's top sports headlines and breaking news delivered to your inbox by subscribing here.
---