Opinion > Guest Opinion
Molly Johnson and Katelyn Good: Mentorship in schools fosters a community of learning
Tue., Jan. 8, 2019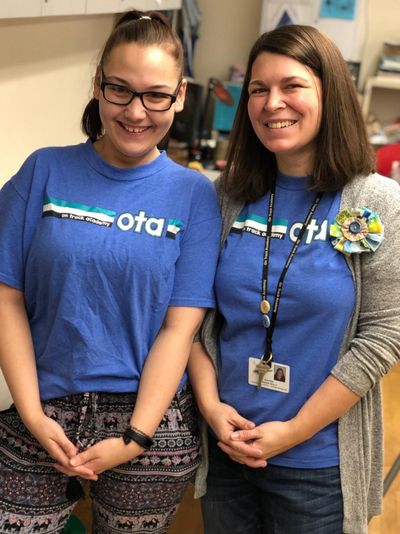 January is National Mentoring Month. When we think mentoring, we might first think of the Boys & Girls Club or the YMCA, but at On Track Academy we've created a school culture with mentoring at its core. On Track is a choice Spokane Public Schools high school program in its 10th year. This is our second year partnering with Summit Learning. Our partnership began strong because of our shared values like mentoring, teaching life skills that students can apply to the real-world, learning to be self-directed and preparing for life after graduation. With it being National Mentoring Month, here are two perspectives about how mentoring builds trust and a culture of learning at On Track Academy.
The importance of mentoring from a student's perspective:
I'm a sophomore student at On Track. I never really liked going to class before attending this school. Regular school and teaching didn't fit for me. Sometimes the curriculum wasn't that exciting, but the main reason I didn't like school was because some teachers seemed like they only cared about grades.
With mentoring and Summit Learning at On Track, it's completely different. I'm excited to be in class. At On Track your teacher gets to know you personally, and your teacher is genuinely there for you. Sure we talk about grades, but it's more than just "Hey I'm your teacher, and this is your grade." On Track teachers are invested in making sure you are learning and doing well both in and out of class. You get to be authentic, vulnerable and courageous all at the same time. Almost like going to a family event every day.
I've moved around to a lot of schools. I used to go to school every day and stay in my bubble. At On Track we have the opportunity to work with the same teachers the whole time we attend this school. Because we focus on mentoring and relationships, we can talk to any teacher whenever we need support.
Mentoring at On Track has positively impacted by "mindset for self and school." School is relevant to me. I belong here.
We have the freedom of college with the safety of kindergarten.
Why mentoring matters to teachers:
This is my 13th year as an educator. I started teaching in a comprehensive high school in a mid-size urban city in Indiana. Rich curriculum paired with building supportive mentoring relationships that lead to accountability has always been important to me, but I wasn't able to fully realize how impacting this pedagogy could be until I started teaching at On Track.
In some of our classes we use the Summit Learning approach. In our Summit Learning classrooms we have two types of time: 1. Self-Directed Learning, when students work with teachers to decide what they need to do to move forward with their learning, make a plan, and then follow through to get the learning done (helping them practice "adulting" in a space where failure has smaller consequences) and 2. Project time, when students and teachers meet together for collaborative learning to apply their self-directed learning to real world projects.
Here's an example of how focusing on mentoring students builds strong relationships. Earlier this week I met with my students for Humanities Project Time. I noticed one of my students slouching in his seat and not working on the project. Because of our established mentoring relationship, I was able to sit down next to him, talk through what was going on, and motivate him to get started. But that's not the good part of the story, what happened next is. Later that day, another student was struggling to get started on the same project. The other student who I just connected with sat down next to him and got him unstuck.
Mentoring is bigger than just one teacher and one student. It builds a culture of learning with students in the driver's seat.
We believe it makes Summit Learning at On Track Academy something special.
Molly Johnson is a teacher at On Track. Katelyn Good is a 10th grade student at On Track.
Local journalism is essential.
Give directly to The Spokesman-Review's Northwest Passages community forums series -- which helps to offset the costs of several reporter and editor positions at the newspaper -- by using the easy options below. Gifts processed in this system are not tax deductible, but are predominately used to help meet the local financial requirements needed to receive national matching-grant funds.
Subscribe now to get breaking news alerts in your email inbox
Get breaking news delivered to your inbox as it happens.
---