Sports > Outdoors
Washington's first Karelian Bear Dogs, credited with busting poachers and saving kittens, die
Jan. 13, 2019 Updated Wed., Jan. 16, 2019 at 1:43 p.m.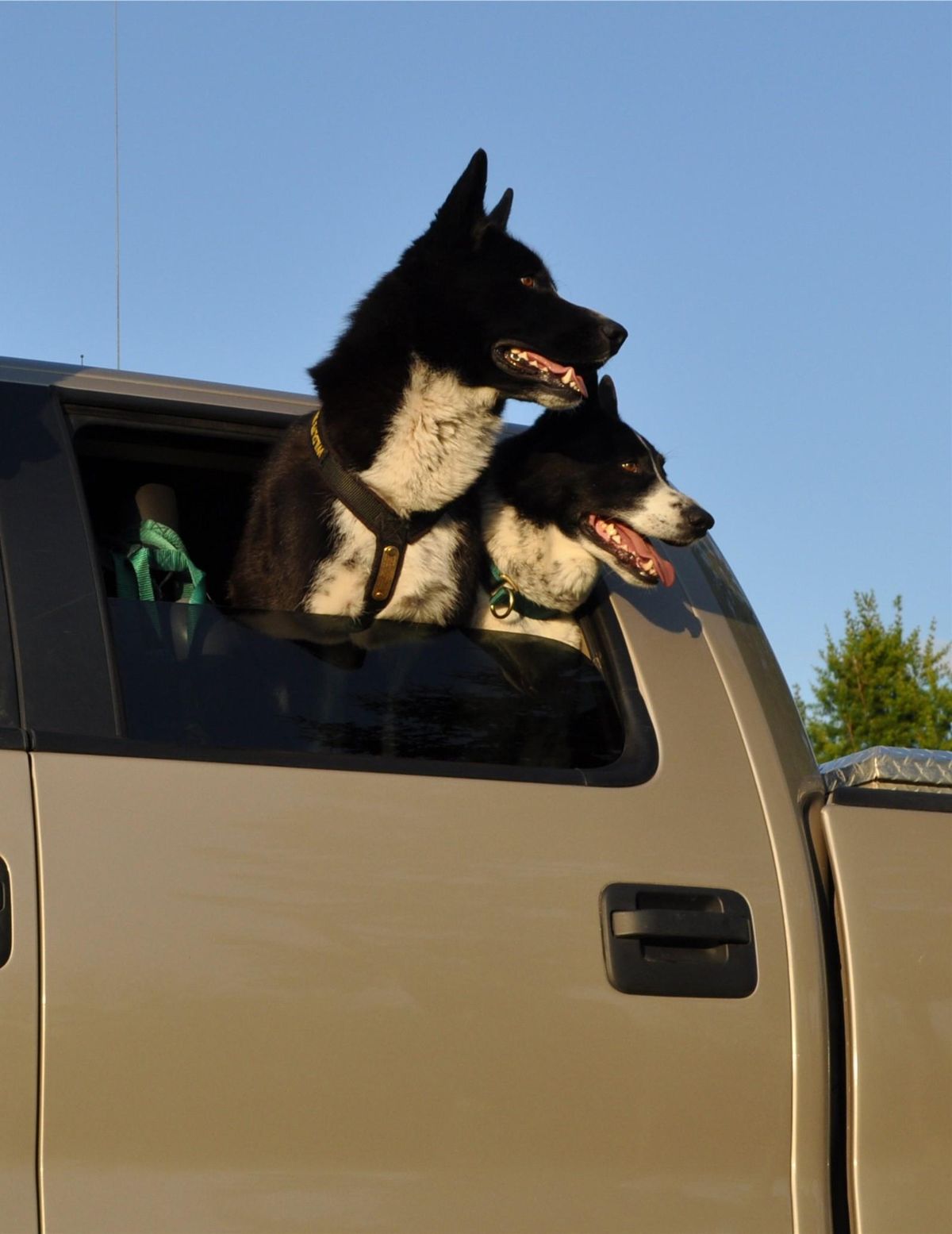 Cash and Mishka, the first two Karelian bear dogs that worked for the Washington Department of Fish and Wildlife, both died in 2018. Mishka died on Dec. 27, 2018 and Cash died on August. (Courtesy / SR)
Two of Washington's most famous and accomplished trackers died in 2018.
Cash and Mishka were the first Karelian Bear Dogs to work for the Washington Department of Fish and Wildlife. Over the course of their respective careers, they assisted in hundreds of wildlife conflict calls. The two canines helped bust poachers, find and save orphaned cougar kittens and proved that a couple lied about being attacked by a cougar.
Mishka first started at the agency in 2003, as a puppy. He worked alongside Rocky Spencer, a wildlife biologist specializing in large carnivores, particularly cougars.
Spencer died in 2007 during a bighorn sheep relocation project when he was struck and killed by the angled blades of a helicopter.
Mishka was orphaned.
That's when retired WDFW enforcement officer Bruce Richards stepped in.
"I'd known him since he was a puppy. I'd worked with Rocky and Mishka," Richards said. "We were pretty good friends."
Mishka became Richards' right-hand dog, and in the process became the first Karelian Bear Dog to work with a wildlife enforcement agency in the nation.
He proved his value to the agency quickly.
In 2007, a bull elk had been poached in the Olympic National Park. Rangers had spent more than 600 hours looking for evidence to pin on the poacher. Trip after trip, they turned up empty-handed.
Until Mishka arrived. Richards, Mishka and the park ranger went searching in the spring, nearly a year after the actual poaching occurred. Richards was not optimistic, and when he saw the rough, steep terrain, his hopes faded even more.
But within 15 minutes, Mishka was digging furiously through the winter debris until he uncovered a stash of elk bones. DNA testing matched the bones with the poached elk and the poacher was convicted in federal court.
Mishka wasn't done. Not long after the elk case, Richards got a call about a couple who had been attacked by a cougar in Puyallup, Wasington. Richards and Mishka arrived at the scene of the alleged attack. Normally, when Mishka smelled a cougar, the hair on his back would raise and he'd react with concern.
That didn't happen.
Richards and Mishka continued walking, eventually arriving at the victims' home. Mishka remained calm the entire time. At the house, they found a pit bull covered in blood. The two had been attacked by their own dog and had lied about it because they worried the dog would be put down.
"If Mishka had not given me a reason to question the scenario, there would have been six game wardens chasing a phantom cougar for weeks, and that story would have gone on national news, knowing how sexy a cougar story is in the news," Richards wrote in a memorial to Mishka.
After 12 years, Mishka retired in 2015.
"He turned into a house dog and a yard dog," Richards said.
He died on the night of Dec. 27, lying next to Richards.
"As far as leaving a legacy, he left one that few animals could surpass," Richards wrote.
Cash is one of those few animals. He started with WDFW in 2005, said his owner Rich Beausoleil, WDFW's statewide bear and cougar specialist.
Cash captured and/or hazed more than 500 bears and 150 cougars. He also pushed bighorn sheep away from roads and up mountains, saving them from vehicle collisions.
He scared numerous moose out of downtown Wenatchee, Beausoleil said. All told, the dog traveled one-half million miles throughout the state.
The canine was instrumental in finding a bear that mauled a Bellevue councilman in 2010. He also helped locate numerous orphaned cougar kittens, who live in zoos across the United States.
Cash died of prostate cancer in August. He was 13.
"He worked all the way through the end," Beausoleil. "Didn't let aches and pains get in his way. It was only the last two weeks or so that he actually got really bad."
Part of the appeal of Karelian Bear Dogs is their ability to be aggressive hunters and yet calm around people. The breed, which was formalized in 1946, originates from Scandinavia.
Cash and Mishka both were minor celebrities making numerous school visits, serving as powerful ambassadors for WDFW.
"These are people-friendly dogs," Richards said. "They're bear and cougar hunters, but they're people friendly."
Local journalism is essential.
Give directly to The Spokesman-Review's Northwest Passages community forums series -- which helps to offset the costs of several reporter and editor positions at the newspaper -- by using the easy options below. Gifts processed in this system are not tax deductible, but are predominately used to help meet the local financial requirements needed to receive national matching-grant funds.
Subscribe to the sports newsletter
Get the day's top sports headlines and breaking news delivered to your inbox by subscribing here.
---