News > Spokane
Church renews effort to build low-income housing; Spokane Valley neighbors object
June 2, 2019 Updated Sun., June 2, 2019 at 9:07 p.m.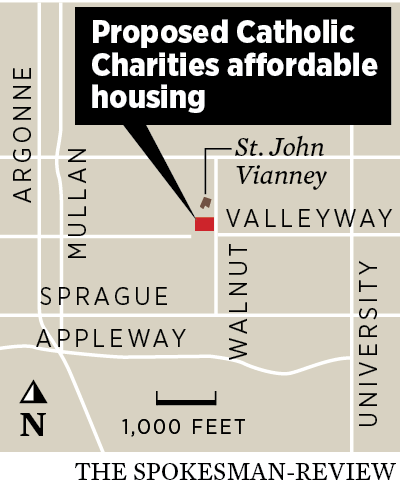 More than eight years ago, St. John Vianney Church filed a request to change zoning for a site in Spokane Valley that would have allowed Catholic Charities to build low-income housing.
The proposal, controversial among residents, was voted down by the City Council. But now, Catholic Charities seeks to rezone the property again through a proposed change to city code, and the nearby neighborhood is concerned.
St. John Vianney Catholic Parish filed the amendment to city code last year, which proposes to allow multifamily housing in single family residential zoning, provided the land is between 10 to 20 acres, and includes a church and a school.
Multifamily housing is currently not permitted in what's called R-3 residential zoning, which allows six homes per acre, according to the city.
Under the proposed city code change, any development would be required to dedicate 51% of units to affordable housing and be under single ownership, which would remain for the life of the project, said Lori Barlow, senior planner for Spokane Valley, at a May 9 planning commission meeting.
She added if the proposal is adopted by the city, St. John Vianney Church has to obtain a conditional use permit for any proposed project, which would be considered by Spokane Valley's hearing examiner.
St. John Vianney Church aims to develop multifamily housing on a site it purchased in 2009 at the northwest corner of Walnut Road and Valleyway Avenue.
Catholic Charities currently provides 1,300 units of affordable housing and intends to develop more to meet housing needs in the region, said Jonathan Mallahan, vice president of housing for Catholic Charities.
"The proposal really is designed in a way to limit how many parcels this applies to. It's no secret that St. John Vianney's Parish is one of those parcels, and that Catholic Charities would like to develop senior affordable housing on that site," he said at the planning commission meeting. "So, this proposal does open that up, subject to a conditional use permit."
This isn't the first time St. John Vianney Church has applied for a zoning change to allow for affordable housing on the same site. In 2011, the organization proposed a low-income, 40-unit senior housing complex and was met with opposition from residents, who were concerned about increased traffic, lowered property values, safety, size of the proposed development and impact on infrastructure in the area.
St. John Vianney's attorney, Matt Daley, argued that the Federal Religious Land Use and Institutionalized Persons Act applied to the church's past proposal, which states that cities can't use zoning to restrict a church's activities that fulfill its religious mission.
City Council ultimately voted down St. John Vianney's request. Though Catholic Charities didn't take legal action, the organization's executive director, Rob McCann, told The Spokesman-Review that plans to build housing on the site is "likely not over."
More than 25 residents testified in opposition to St. John Vianney's current proposal at the May 9 planning commission meeting, citing concerns similar to those expressed eight years ago.
Resident Mark Zielfelder said he is concerned about aging infrastructure and traffic that spills over into the neighborhood from events held at St. John Vianney Church.
"I think this has to be looked at much more deeply than it's being looked at now," he said at the planning commission meeting. "We all pretty much have half-acre lots and we don't want to see it divided up. St. John's is very beautiful the way it is now, and this building is going to be three stories high and block the sun from my backyard. I have kids, I have dogs and we enjoy our little space, and I think it shouldn't hinder that."
Resident Tim Beiber said the founders of Spokane Valley planted walnut trees along Walnut Road to symbolize that it was the hub of the city.
It was the first area that had building restrictions imposed by the planning commission, he said.
"When (St. John's) built the church in 1950s, it was the neighborhood that said, 'Yes, we have codes that say you can't build here, but we welcome you as a church.' We have to respect at least what we consider a written constitution of the city of Spokane Valley," he said.
Resident Kathi Lankford said she understands the need for growth in Spokane Valley, but it has to be constructed in the right neighborhood.
"I don't want to get up, go outside and be looking at all of that, and parking is a huge issue," she said. "There's other places where it could be built. It's come up before, and I would really like to nip this in the bud with the planning commission. I don't know why we need to open up our private residence area for this."
Mallahan contended any development would be different than the organization's proposal from 2011.
"What they saw then is not what we are proposing to do today. We would, from the very beginning, make sure their needs are met," he said. "If City Council does approve this amendment, we would include the neighborhood in the process for project design."
City staff indicated there are not many existing sites where the code text amendment, if approved, could be implemented in Spokane Valley. Out of 25 church-owned sites in R-3 zoning, only one property meets all requirements, according to city documents.
Barlow said it's not out of the question that more sites could develop over time, and if the code text amendment was adopted, anyone – including a profit-based corporation – could propose a multifamily development that includes a church and school.
Planning Commissioner Matt Walton said he was challenged by the fact that affordable housing is a concern in Spokane Valley, but is on the fence about a for-profit entity proposing a similar development if the amendment was approved by the city.
"There's other zones within the Valley that are more conducive to this type of development," he said.
Planning Commissioner Tim Kelley said he's not in support of the amendment because it's against the city's zoning law to build a multifamily development on the site.
"If we are going to change the law, we should change the law to allow 76-unit apartment complexes in R-3 zones, and if we aren't willing to do that, then all these little criteria that come up shouldn't matter," he said.
Planning Commissioner Michelle Rasmussen said she's concerned about traffic and what the proposal could mean for other sites in R-3 zoning.
"I also have to heavily weigh that nothing has changed since the last time it was denied by both the planning commission and the council," she said. "I have a problem with the one part of our comprehensive plan that states we are going to try to retain a resemblance of what Spokane Valley is."
The planning commission voted unanimously to recommend City Council deny the proposal, which will be presented to the council at a June 18 meeting.
Local journalism is essential.
Give directly to The Spokesman-Review's Northwest Passages community forums series -- which helps to offset the costs of several reporter and editor positions at the newspaper -- by using the easy options below. Gifts processed in this system are not tax deductible, but are predominately used to help meet the local financial requirements needed to receive national matching-grant funds.
Subscribe now to get breaking news alerts in your email inbox
Get breaking news delivered to your inbox as it happens.
---