News > Spokane
Pend Oreille County braces for economic losses after closure of last major rock mine
June 30, 2019 Updated Mon., July 1, 2019 at 5:04 p.m.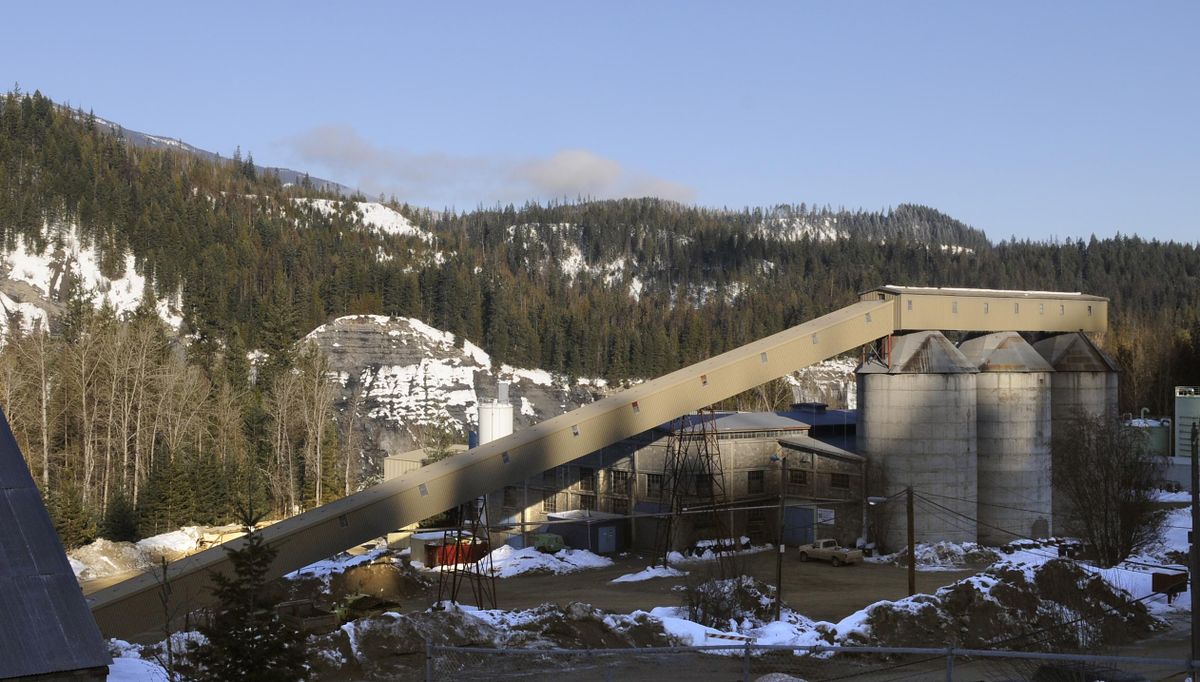 The Pend Oreille Mine near Metaline Falls is seen on Jan. 23, 2009, shortly before it closed due to the global financial crisis. The mine reopened in 2014 but is shutting down again, this time due to slumping demand for zinc, according to its owners. (Dan Pelle / The Spokesman-Review)Buy a print of this photo
METALINE FALLS, Wash. – The last major mining operation in northeast Washington is shutting down, and locals fear it won't reopen again.
The Pend Oreille Mine a couple of miles north of Metaline Falls has shut down before, and for years there have been warning signs it would happen again. But the reality of losing an employer of more than 200 in a community of less than 1,000 has caused anxiety.
"There is a significant indirect impact of the mine closure outside the Metaline Falls area," said Doug Tweedy, a regional economist with the state Employment Security Department.
After the July 31 shutdown, about 40 employees will keep jobs maintaining the lead and zinc mine. As Teck Washington Inc., which owns the mine, works to find jobs for the remaining employees, community leaders are in a wait-and-see stage.
"We aren't turning off the lights," said Metaline Falls Mayor Tara Leininger. "People ask what's going to happen and I don't have a clue now, but by January we will."
Two studies by the Pend Oreille County Economic Development Council offer some clues but no solutions.
The first study, completed in 2013, was done in conjunction with a group of community leaders to examine what, if anything, could be done with the 263 acres of surface mine property and 20 industrial buildings after the closure.
Consultants had to consider restrictions caused by decades of industrial waste deposits, distance from markets and the community's desire to maintain a rural quality of life.
In the end, the study found all three conditions limited opportunities to gain a large employer on the site.
As it became more evident the mine would close, the second study a year ago focused on what would be lost.
The answer was a lot, according to Jamie Wyrobek, director of the economic development council. Millions of dollars in payroll and dollars spent in the community. Thousands of dollars of state funds for the local school district. Impacts on property taxes and power sales by the public utility district.
Selkirk School District Superintendent Nancy Lotze said she budgeted conservatively for next year, anticipating a loss of up to 40 students. That's how many students were lost the last time the mine closed in 2009. The district currently has about 240 students.
Lotze said the district might lose fewer students this time because there were fewer mine employees with children when the mine last reopened in 2014. She said she's more concerned about the reduced tax base and how that will impact special school levies in the future.
The owners of the Pend Oreille Mine said the closure was prompted by slumping demand for zinc and the prohibitive cost of exploring for new deposits. When the mine shuts down, the Galena and Lucky Friday mines in North Idaho will be the only active large mining operations in the region.
"The closure and reclamation of the Pend Oreille Mine are natural stages of the mine life cycle," said Anthony Roeber, a spokesman for the Spokane-based American Exploration & Mining Association. "While its closure leaves less than a handful of operating hard-rock mines in the Inland Northwest, there are many active exploration projects looking for the next resource to develop."
More metal, but not enough money
The mine's general manager, Mark Brown, is from Canada, where Teck Washington's parent company is based, but he has spent a large portion of his career at the Pend Oreille Mine. His four children graduated from Selkirk High School, where his wife coaches track.
Brown came to open the mine in 1997 to feed Teck's smelter in Trail, British Columbia. The mine went into production in 2004 and shut down in 2009 due to the global financial crisis, Brown said.
"We put it on care and maintenance and thought it would last nine to 18 months," he recalled. "But it turned into six years."
Brown returned to reopen the mine in 2014. Miners drive trucks through underground tunnels to get to their work areas 3,000 feet below the Pend Oreille River. With about nine truckloads per day, the mine supplies about 10% of the smelter's metal concentrates.
Before Teck, four other companies owned and explored the area over a 20-year period. The first phase of exploration started at the surface and went 900 feet underground.
The previous operator, Bunker Hill Mining Corp., had found deposits at deeper levels. When Teck began mining those reserves, the company expected them to last five years.
As zinc prices dropped in 2018, the company stopped being able to afford exploration and warned employees and the community of a likely closure, Brown said. The farther miners dig, the harder and more expensive the process becomes, he said.
Brown said Teck's geologists believe there are plenty of deposits in the area but wouldn't predict when or if the mine would reopen.
"We believe that this is one of the best prospective areas around," he said.
The smelter in Canada has a plan for replacing its supply of metal concentrates, Brown said.
He will be one of the last 35 to 40 employees to stay and secure the property, continue meeting permit requirements and keep the mine ready in case zinc prices rebound enough to sustain exploration.
The mine will need to keep two trained six-person rescue teams. Crews also will have to maintain miles of underground tunnels so they can safely enter to maintain water discharge and other systems.
Among those systems is a 40-million-gallon bioreactor in which bacteria break down sulfides in water. Brown said crews will continue to pump 1 million gallons of water each day so the mine won't flood. The mine's power bill will be halved from more than $2 million to about $1 million annually.
Power is among the mine's largest expenses. Last year, crews installed a $1 million electric system to cool water that is too hot to discharge into the river.
Brown said a full closure would trigger expensive requirements in state and federal mining permits.
Among the most expensive would be work on a lagoon that collects waste from a ball mill that processes ore into zinc and lead concentrates. That waste contains small amounts of lead, zinc and cadmium, so the lagoon – which is basically a giant, plastic-lined landfill – would have to be drained, graded and permanently sealed, Brown said. Any solid-waste landfill would be subject to similar requirements, he said.
The Pend Oreille Mine produces more toxic waste than any other site in Washington, about 10 million pounds in 2017, according to the U.S. Environmental Protection Agency's Toxics Release Inventory. That's more than twice the amount produced by the Hanford nuclear site near the Tri-Cities.
"I suspect, as time goes on, we will have to make a decision on closure or opening," Brown said. "I honestly don't know what it will be."
Mine workers look ahead
Tim Carpenter, 66, moved to the town of Ione to operate a video-rental store decades ago. He later turned to the Pend Oreille Mine for steady income and now works in the mine's warehouse.
When it closes, Carpenter plans to retire and stay in the area. He said he believes many co-workers in his age group have the same plan. Managers always said they were one of the oldest mine crews in the industry, he recalled.
Younger mine workers don't remember the ups and downs of the local economy like Carpenter does. He said he struggled through the closures of the Vaagen Brothers sawmill, the Lafarge cement plant and the last Pend Oreille Mine shutdown.
The Employment Security Department recently surveyed mine workers about their future employment plans, said Bryan Raines, a manager at the agency's Colville office. The office also has held a job fair and assisted miners with writing résumés. Retraining programs backed by state and federal funds could be available soon, he said.
Some employees say there won't be a need to replace all of them because they will retire or move back to communities where they still maintain homes. They estimate this could be as many as 50 employees.
Brown, the general manager, said his company has made it a top priority to find new jobs for the employees being laid off. Mining in miles of tunnels and rooms requires a special set of skills, and Pend Oreille Mine employees have an excellent safety record, he said.
The mine pays a family living wage, from $20 to $35 an hour plus benefits, Brown said. He started running the mine with 160 employees and at one point had 280, peaking when the company hired a group of 50 for exploration purposes. Employment also grew as the mine expanded underground.
In addition to miners, the staff includes managers and clerical, maintenance and specialty workers. So far, only a few have found new jobs, Brown said.
"We have been working extremely hard to place them," he said.
Communities brace for economic losses
Leininger believes her community will survive, but she doesn't expect it to be easy.
The 62-year-old has been mayor of Metaline Falls for 13 years. She was laid off as a Selkirk teacher when the Vaagen Brothers sawmill closed in Ione. She remembers when the area had two grocery stores and many bars and cafes. Now, there's only one grocery and a handful of other businesses.
Metaline Falls has a little more than 200 people now, but she fears the count will be lower in the next census.
The mine closure isn't the only factor in the shrinking population. Leininger said some people with health problems have left to be closer to hospitals. The local clinic just lost its only doctor.
Leininger said the community is poised to be more proactive this time, recognizing the mine might not reopen again.
The North Pend Oreille Chamber of Commerce represents the county's three incorporated towns – Ione, Metaline and Metaline Falls – and the group has been discussing what to do next to boost the economy.
The Port of Pend Oreille recently stopped maintenance on the train tracks from Cusick due to a lack of customers, ending popular tourist train rides. But the local Lions Club uses the tracks to offer excursions on pedal-powered vehicles.
U.S. Forest Service, Seattle City Light and the Pend Oreille Public Utility District outdoor recreation areas have been improved. But two hydroelectric projects are coming to an end – and with them, jobs.
The Pend Oreille Apartments in Metaline Falls have housed miners and other workers for decades, and their occupancy has been viewed as a local economic health indicator.
Rick Lungo, who owns the 57 apartments, said that at least for now, he plans to keep them open because more than half of his tenants are not there because of the mine.
The apartments have been advertising more and have received a steady flow of applicants. Lungo noted he's seen some new types of prospective tenants, including two teachers from outside the area who wanted an affordable place to stay for the summer.
Leininger, the mayor, said she and her husband plan to retire in the area, but like others they will find it difficult if basic services continue to decline. She said Teck, the company that owns the mine, has been a good neighbor and always upfront with the community.
Some have underestimated the work and resources needed to boost the local economy. Leininger recalled a time when three successful men purchased property and relocated to the area.
"After about six months, all three came in to City Hall to give me advice. They told me what we needed to do to gain more employers." Leininger said. "I told them we have thought of all that. Then I said, 'Write a check for $6 million, don't plan to get a return for years and we will start.' "
Local journalism is essential.
Give directly to The Spokesman-Review's Northwest Passages community forums series -- which helps to offset the costs of several reporter and editor positions at the newspaper -- by using the easy options below. Gifts processed in this system are not tax deductible, but are predominately used to help meet the local financial requirements needed to receive national matching-grant funds.
Subscribe now to get breaking news alerts in your email inbox
Get breaking news delivered to your inbox as it happens.
---