News > Spokane
Could hemp be Washington's next cash crop? Lawmakers eye new system amid CBD boom, marijuana expansion
March 21, 2019 Updated Thu., March 21, 2019 at 9:55 a.m.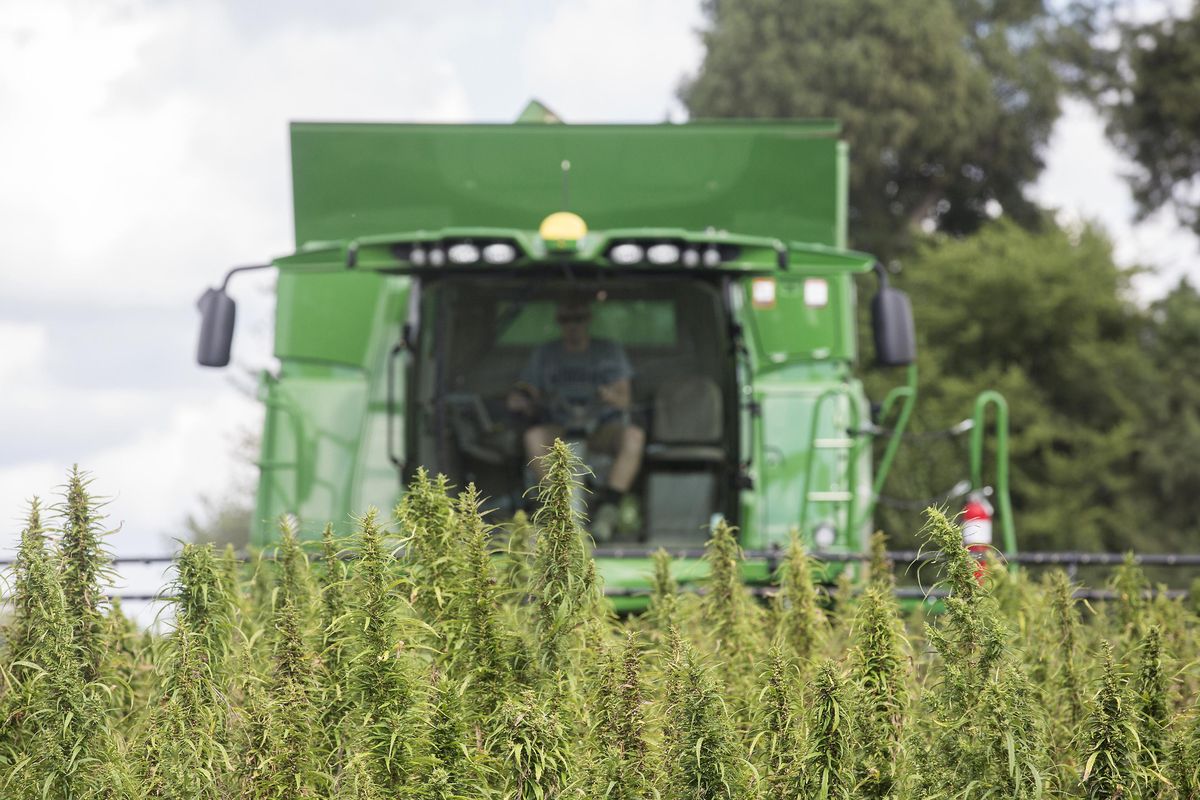 A farmer harvests hemp at Murray State University's West Farm in this August 2017 photo. Kentucky is one of the top-producing hemp states in the country, and Washington legislators are hoping to take a bite of out of the market that's emerging after the federal Farm Bill legalized industrial hemp production late last year. (Ryan Hermens / AP)
Hemp is back, and Washington lawmakers on both sides of the aisle are pushing to make it easier for farmers to plant the long-outlawed cousin of marijuana in time to reap this fall.
"I am absolutely confident we're going to have a system this year," said Bonny Jo Peterson, a prospective hemp farmer based in Tacoma who is heading up lobbying efforts in Olympia as founder of the Industrial Hemp Association of Washington. "We've had unanimous votes in both the House and the Senate."
The passage of a federal Farm Bill in December – influenced heavily by U.S. Sen. Mitch McConnell, whose home state of Kentucky is the birthplace of American-grown hemp – ended the classification of the crop as an illegal substance that began in 1937. The federal law also cleared the way for states to set up their own controlled systems for growing hemp, a directive in both pieces of legislation that could potentially end up on Gov. Jay Inslee's desk this spring.
Such a system would allow Washington to catch up with other states that created more favorable growing conditions for the crop following a previous loosening of restrictions in 2016, Peterson said. Washington set up an industrial hemp pilot program that year, but burdensome licensing costs, restrictions on the sourcing of seeds from foreign countries and the need for significant buffer zones from the state's legal marijuana plants limited production to well below other states, she said.
"The states that have an infrastructure in place, and that have the least amount of regulations involved for interstate transfer, those are the states that will be ahead," Peterson said. "Oregon and Colorado are leaps and bounds ahead of Washington."
Washington lagging behind other states
A national report from the group Vote Hemp, a Washington, D.C.-based advocacy group that has pushed for the legalization of the plant, found that Washington state lagged well behind most states that had created state-sanctioned growing programs in 2018. While Colorado, Montana and Oregon grew several thousand acres of the crop within their borders, only one Washington state grower – the Confederated Tribes of the Colville Reservation – grew 142 acres of hemp last year.
That's likely to change if Washington establishes its own state system, as the state's hundreds of growers of licensed marijuana look to diversify their crop offerings with hemp, a plant that is closely related to marijuana but contains less tetrahydrocannabinol (THC), the chemical that induces the "high" in users. Federal law now classifies any plant that contains more than 0.3 percent THC as marijuana, and anything less than that as hemp.
The Washington state law will set up two parallel regulatory systems for the two crops, with marijuana governed by the Liquor and Cannabis Board and hemp under the control of the Washington Department of Agriculture. Crystal Oliver, a licensed marijuana grower near Deer Park and head of the Washington Sungrowers Industry Association representing outdoor farms, said such a scheme might lead to a potential relaxing of rules for marijuana once regulators note the different hurdles each industry must clear.
"We'll look at putting in a small plot of hemp, if the rule is allowed for us to get licensed in time," Oliver said. "When you look at our hemp plot, it doesn't have to have any cameras on it, fencing around it, or individual tags on every plant. What I suspect is going to happen is that the discrepancy in how we're regulating marijuana and hemp, even though they're both cannabis, is going to become apparent, to both operators and legislators.
"I would say the majority of outdoor marijuana farmers are interested in diversifying into hemp; it's the same thing we've been doing with just less regulation," Oliver added.
That interest could be driven up by an easing of the buffer zone between marijuana- and hemp-producing farms. Under the existing state system, a four-mile barrier is required between the two types of crops to prevent cross-pollination, which could drive the THC level of a hemp crop above what is allowed under federal law and create a seedy product in the marijuana plants that is not desirable for smoking, Oliver said.
The new state law does away with that buffer requirement, which would allow marijuana growers to also plant outdoor hemp plants on their property. In addition, hemp growers are now eligible for crop insurance through the Farm Bill, but such insurance is not yet federally subsidized.
Hemp, marijuana and CBD
Lawmakers who are backing the legislation both in Olympia and the nation's capital are stressing that their support of hemp does not indicate they'll be willing to back looser restrictions for marijuana, which remains a controlled substance under federal law.
"Hemp is not marijuana, I wanted to start with that because there is some confusion out there," state Rep. Matt Shea, R-Spokane Valley, said to a panel of lawmakers reviewing the bill last month. He is a lead sponsor on the legislation that passed the House.
Shea stressed that the bill would include testing to determine whether the level of THC in a particular plant exceeded the federal standard for hemp, as opposed to marijuana.
But both plants share many of the same characteristics, including the chemical compound cannabidiol, or CBD, a substance that has seen a boom in sales as it has been added to topical creams, food products and tinctures in a legal gray area ushered in by a relaxing of the federal regulations on hemp.
For potential Washington growers, distilling flower matter into CBD oil may be the most profitable application in the short run, as other countries have cornered the market on hemp grain and fiber products, including textiles and building materials, said Peterson.
"There's CBD, and the food and grain aspect is there, the seed oil is there, but the rest of the infrastructure is still to come," Peterson said.
That's reflected in the reported uses of the processed hemp grown in the United States over the past several years, and market forecasts indicate the demand for CBD-infused products will continue to grow.
According to a report released last fall by the research firm New Frontier Data, 70 percent of the hemp grown in the United States in 2017 was processed into CBD oil, while 20 percent was for seed production and the other 10 percent for fiber products.
That same report showed that the CBD market grew from $108 million in 2014 to $367 million four years later, with forecasts of the national market potentially reaching $2 billion by 2020.
The fiber market for hemp is already dominated by China, which has been growing industrial hemp for generations, said Randy Fortenbery, a professor of agricultural economics at Washington State University's School of Economic Sciences. Fortenbery has studied the potential market for industrial hemp and reported to legislators in both Wisconsin and Washington as part of his work.
"The higher-end markets are for the seed and the oil, not for fiber," Fortenbery said.
CBD retailers in Washington state, which are selling products without clear guidance from the Food and Drug Administration about what is legal, would probably be more willing to deal with producers that don't have to ship their products across state lines, said Oliver.
"You'll see hemp farmers in Washington try to fill that need," she said. "I think there will be a bit of a bubble there."
Who would want to grow hemp?
As for growing the crop for other purposes, which hemp advocates say could reach into the thousands – including plastics, construction materials and parts for nanotechnology – Peterson said the likely adopters would be those growing alfalfa and other types of hay, particularly in Central Washington where irrigation systems already exist.
But Shawn Clausen, president of the Washington State Hay Growers Association, said he hadn't heard clamoring from his colleagues to get into the hemp market.
"I've never heard of anybody thinking that there's a niche market in hemp," said Clausen, who operates a family farm in Grant County. "A big chunk of Washington state (hay) production is all exported, and with the rules of hemp, it's not worth the hassle."
Fortenbery said hemp could be grown on the hills of the Palouse by wheat and grain farmers, but there hasn't been enough research to determine what variety of hemp would grow best in Eastern Washington's climate, due to the longstanding prohibition on its cultivation.
"What it does do, is if you're cutting it just for the seed, or oil, you can leave some of the stalks to keep soil moisture, just like if you left wheat stubble in the field," Fortenbery said. That would make hemp a potentially attractive crop for rotating fields, but the data on its potential market share also is scant.
The United States Department of Agriculture issued a report in 2000 compiling some market data for hemp based on small-scale growing in Kentucky, Oregon and North Dakota that showed growers in the Pacific Northwest raising the crop for fiber and paper products would likely only post profits if the product-per-acre ratio was high and prices hovered around $125 per ton.
Those numbers were produced well before the CBD boom, however, and didn't consider the prices consumers would pay for hemp that is grown for extraction of the chemical. Peterson said growers can expect to earn $30 to $50 per pound of hemp grown for CBD production, a number that matches reports in other states, including Colorado, where hemp production has ramped up in recent years.
Just like marijuana, however, that price could plummet as growers flock to the newly emerging market with dollar signs in their eyes, said Oliver.
"Some folks who missed the marijuana rush are going to think they want to get in on the hemp rush," she said.
Meanwhile, hay growers in Washington state have collected an average of about $182 per ton over the past decade, according to statistics published by the USDA. Clausen said he wouldn't want to endanger those sales with a new cash crop that could also create new headaches, and without a proven international market.
"I would fear (that) bailing up hemp, and I don't clean the machine enough, I could bail up a product that's going overseas, and some of that stover gets in my feed product to Japanese dairy cows," Clausen said. "That kind of risk is pretty scary."
Local journalism is essential.
Give directly to The Spokesman-Review's Northwest Passages community forums series -- which helps to offset the costs of several reporter and editor positions at the newspaper -- by using the easy options below. Gifts processed in this system are not tax deductible, but are predominately used to help meet the local financial requirements needed to receive national matching-grant funds.
Subscribe now to get breaking news alerts in your email inbox
Get breaking news delivered to your inbox as it happens.
---