News > Spokane
After spearheading new livestock class, East Valley student enters the competition arena
May 2, 2019 Updated Thu., May 2, 2019 at 10:13 p.m. Dakota Hanson grabbed Timmy the goat by his short leash and placed his head on her thigh.
Standing on wood chips and surrounded by fencing inside a barn at the Spokane County Fairgrounds, the two were being observed by a judge in the National FFA Organization's Junior Livestock Show.
Timmy, 8 months old, and Hanson, a senior at East Valley High School, were both competing for the first time – an experience that wouldn't be possible if Hanson hadn't spearheaded the effort to create a class at her high school last year that taught such skills.
"I pushed the school board for a long time to start it," Hanson said. "Once people started to learn about it and what you can do, it caused interest."
The class, called Livestock Production and Development, is the first and only of its kind in the school. It teaches students about livestock practices like making food, clothes and other products, in addition to showing livestock in competitions.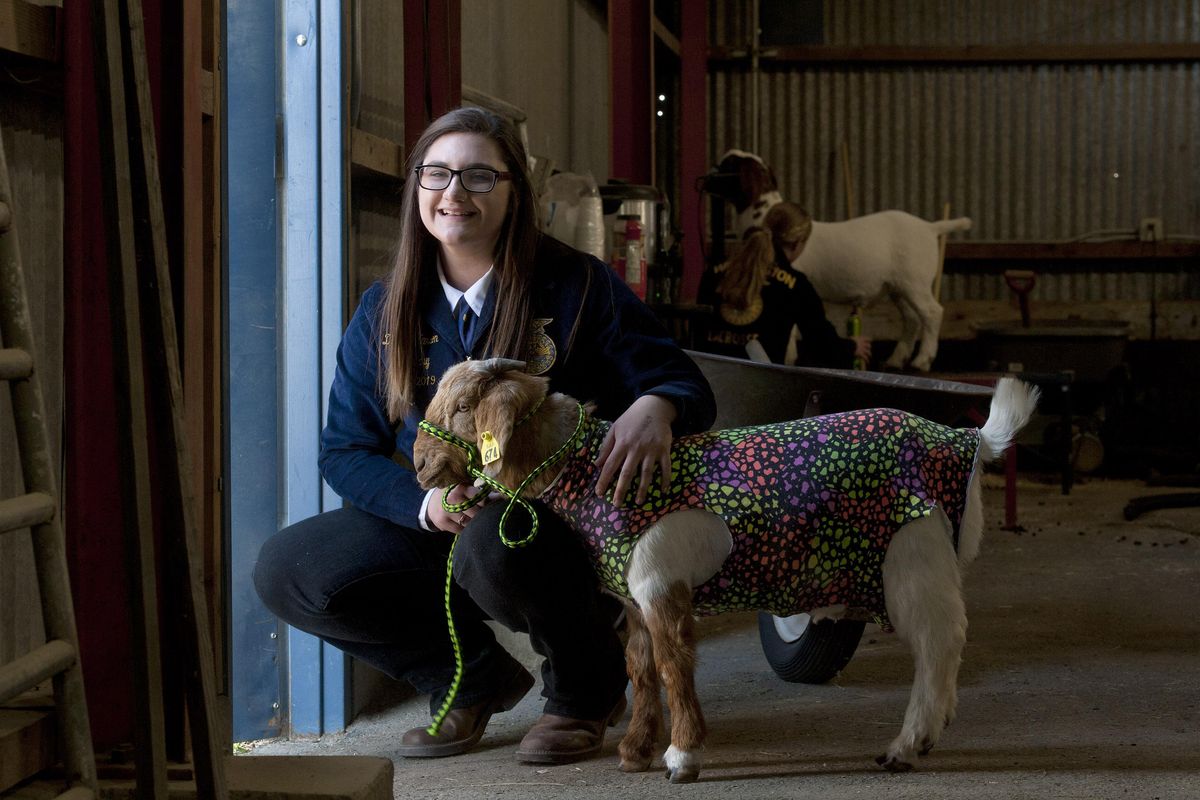 East Valley senior Dakota Hanson poses for a photograph with Timmy her goat before competition during the Junior Livestock Show at Spokane County Fair & Expo Center on Thursday, May 2, 2019. (Kathy Plonka / The Spokesman-Review)
Leah Lucero, the class teacher, has been wanting to have a course like this since she started teaching 21 years ago. But it wasn't until Hanson got to the school that the two teamed up to make it happen.
Lucero said the class is crucial for students who want to own livestock or even enjoy their byproducts.
"They want to eat food and wear clothing. Those both come from agriculture," Lucero said.
Lucero said fewer young people are becoming interested in farming because it's less lucrative and because corporations are buying family farms. But the class is a way to spark more interest in farming practices, and perhaps, start a resurgence in independent farmers.
"It will teach them sustainability and how to produce their own food," Lucero said.
She said the majority of the 26 students in the class don't live on a farm and are simply interested in learning about livestock.
Hanson lives on 5 acres in Newman Lake with 70 head of cattle. Timmy was born on the farm, and Hanson wanted to enter him in fair competitions before selling him.
In the arena and in front of the judge Thursday, Hanson and Timmy were alone in their weight class, but Hanson was still nervous, she said.
The goats are judged on their appearance, like how their shoulders blend with their hips, among other physical traits like muscle mass.
The judge observed Timmy and said, "A nice built individual. I appreciate the levelness on the lines."
Hanson exited the arena, ready to feed Timmy throughout the summer for his next competition at the Spokane County Interstate Fair in September.
Hanson, who will attend Central Washington University next year, said she's also considering competing in livestock competitions in college.
Kaylee Coburn is another student in the East Valley livestock class.
"They teach you pretty much everything about lambs, chickens and cattle," said Coburn, who's also learning how to judge animals in the class – something she plans on doing in the future.
"Judging in the (FFA) would be a good experience for learning," she said.
Local journalism is essential.
Give directly to The Spokesman-Review's Northwest Passages community forums series -- which helps to offset the costs of several reporter and editor positions at the newspaper -- by using the easy options below. Gifts processed in this system are not tax deductible, but are predominately used to help meet the local financial requirements needed to receive national matching-grant funds.
Subscribe now to get breaking news alerts in your email inbox
Get breaking news delivered to your inbox as it happens.
---