News > Spokane
Getting There: No more sleepy Geiger; roadwork begins with eye on Amazon
Mon., May 27, 2019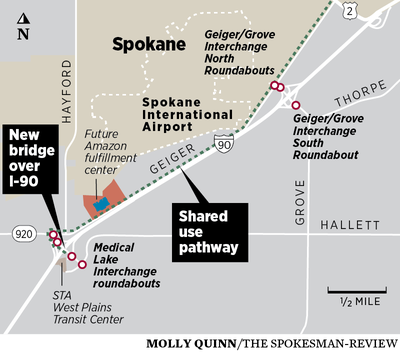 Geiger Boulevard, that sleepy little frontage road hugging I-90 on the West Plains, is about to wake up.
This week, work begins on a two-year, $66 million project to transform Geiger from its two-lane, patchwork, chip-sealed condition into a three-lane asphalt roadway with a center left-turn lane. Traffic signals and roundabouts are coming. A new bridge over the interstate will be built. New bus stops. A 10-foot-wide path next to the road for cyclists and pedestrians.
The work is directly related to continued construction of the Amazon fulfillment center, which sits right on Geiger, where the roadwork will be done. The $181 million, 2.5-million-square-foot warehouse is scheduled to be complete in September. Soon after, more than 3,000 people will be employed there. Transit facilities and the pathway may help lessen the traffic some, but that's a lot of commuters. The number of heavy trucks along Geiger and connecting I-90 ramps is also expected to substantially increase.
The work to rebuild the road was jump-started in December, when the federal government awarded Spokane County $14.3 million for the project through its BUILD – Better Utilizing Investment to Leverage Development – grant program. Beyond that, the Washington State Department of Transportation, the county, the city of Spokane and the West Plains Public Development Authority have committed $30.4 million to improving Geiger.
Amazon is clearly the big addition to the West Plains, but it's far from alone. Besides the airport, there are Kenworth and Shared Fast Fabrication, and mini-storage, hotels and residents, as well as more than 400 acres of undeveloped industrial and commercial properties along Geiger – enough space for six more Amazon warehouses.
To celebrate the start of construction, U.S. Rep. Cathy McMorris Rodgers, WSDOT Secretary Roger Millar and Amazon senior manager for economic development Tom Florino will be on hand, along with Spokane County commissioners, Spokane Mayor David Condon and state legislators, for a groundbreaking ceremony Tuesday at 11 a.m. near the Amazon warehouse.
The work is expected to be complete in summer 2021.
In the city
Work on the massive 2.2-million-gallon stormwater tank near the downtown Spokane Public Library continues to shift traffic. The right lane of Spokane Falls Boulevard between Lincoln and Monroe streets will be closed on Tuesday from 6 a.m. to 2 p.m.
The center lane at the Nevada Street and Holland Avenue intersection closed last week for telecommunications work and is expected to reopen June 14.
The eastbound curb lane of Magnesium Road from Nevada to Crestline streets is closed for telecommunications work until June 14.
The eastbound curb lane of Hawthorne Road at the Newport Highway intersection will be closed for Avista work beginning today through June 27.
Market Street will be reduced to one lane in each direction from Marietta Avenue to Garnet Street starting Tuesday. The work includes installation of a new water main. The $2.4 million project includes relocating and encasing water and sewer mains beneath the BNSF railroad tracks and is related to the construction of the North Spokane Corridor.
A grind and overlay project has closed the north half of Sprague Avenue from Scott to Helena streets. The south half is open for two-way traffic. Sprague will have lane closures from Grant to Scott streets.
Street preservation work is closing lanes on Maple and Ash streets between Francis Avenue and Rowan Avenue.
In the Valley
Argonne Road, from Mission to Valleyway avenues, is getting resurfaced, with work expected to be complete June 10. At least one lane on Argonne Road will remain open at all times.
The Barker Road widening project will bring a three-lane roadway when complete at the end of September. The road remains closed to through traffic, with accommodations for residents and businesses and detour routes posted.
Knox Avenue is getting sidewalk repairs from Sargent to Hutchinson roads, which will bring a new curb and sidewalk along with pavement widening to the south and stormwater improvements. The road is closed to through traffic, and work is expected to be done June 10.
Wilbur Road is also receiving sidewalk work, from Broadway to Boone avenues. It's expected to be done June 11.
In the county
Bigelow Gulch Road from Argonne to Evergreen roads has lane restrictions and reduced speeds related to the yearslong work to widen Bigelow. Flaggers may be present in both directions and all lanes. Work is expected to wrap up at the end of September.
The construction of a roundabout on Glenrose Road near Carnahan Road and 21st Avenue has restricted travel in all directions. The first phase of work, northeast of the existing intersection, is anticipated to be done in September.
WSDOT work
Work to pave I-90 from state Route 21 to Ritzville was completed May 22. Now comes painting and adding rumble strips and guide posts, beginning this week. The speed limit is still reduced to 60 mph through the work zone.
Grind and overlay maintenance work on U.S. Highway 2 from Reardan to Espanola Road is complete, and the road is getting painted and rumble strips. Crews are working weekdays from 6:30 a.m. to 5:30 p.m. The road remains a single lane, with two-way traffic directed by a pilot car. Expect 10-minute delays.
Work to increase safety on U.S. Highway 195 at Thorpe Road continues. One lane in each direction will be closed to traffic during the day. WSDOT will keep both northbound lanes open during the morning commute until 9 a.m., and both southbound lanes starting at 3 p.m. for the evening commute.
Motorists on U.S. Highway 195, from state Route 271 to Plaza Road, can expect nightly lane closures from 7 p.m. to 5 a.m.
Local journalism is essential.
Give directly to The Spokesman-Review's Northwest Passages community forums series -- which helps to offset the costs of several reporter and editor positions at the newspaper -- by using the easy options below. Gifts processed in this system are not tax deductible, but are predominately used to help meet the local financial requirements needed to receive national matching-grant funds.
Subscribe to the Coronavirus newsletter
Get the day's latest Coronavirus news delivered to your inbox by subscribing to our newsletter.
---