A&E
Flexing fitness with ClassPass
Wed., May 29, 2019 Changing up exercise routines helps boost fitness while stemming boredom. But if you're dropping into different types of fitness studios for variety, it gets expensive quickly.
Now there's an app for that: ClassPass. It's a monthly subscription service that became available in Spokane earlier this year that gives customers access to a network of boutique fitness studios and gyms. Users can select classes from choices that include yoga, cycling, Pilates, strength training, dance and barre.
With the national platform offering its service regionally, ClassPass so far offers access to such places as Tailwind Fitness, the LAB, Yarrow Hot Yoga & Wellness Studio, Air-O Fitness, Farmgirlfit, Deliberate Strength, Harmony Yoga, the Bar Method Spokane, and Spokane Barre.
"I was hearing about ClassPass in the bigger markets," said Mary Conklin, Bar Method co-owner. "It's just new to Spokane. We've only seen about five or six clients so far, but it's picking up slowly. In bigger markets, it's really big."
The Bar Method Spokane on the South Hill teaches fitness that uses a person's own body weight, the ballet barre and a few props for a routine that benefits core strength and lengthens muscles.
Conklin said ClassPass seems popular with people who like variety in their fitness. They also can try out different exercise options and facilities to see what works well for them, she added.
"It works great for them because they can just jump from class to class," she said. "You can do multiple things for an affordable amount."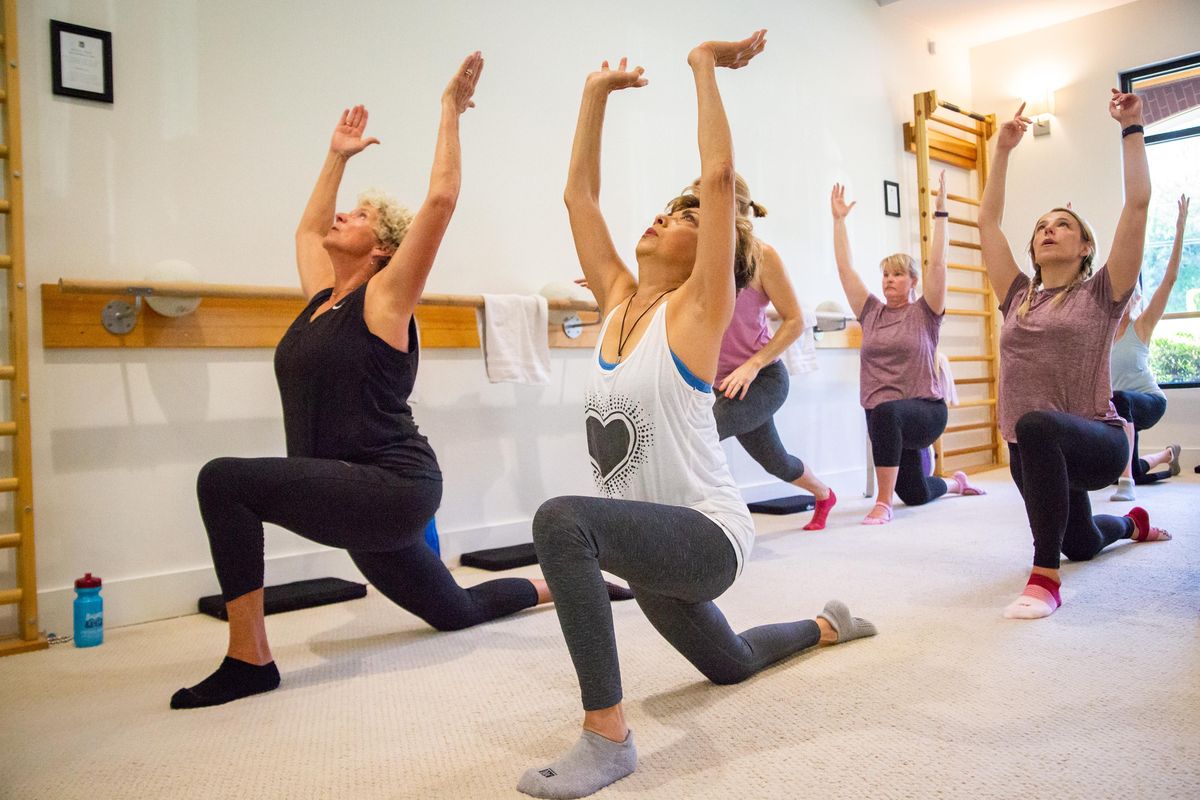 Members of an 8:30 a.m. barre class, including Cece Patterson (left), Sarah Rondeau (center) and Shannon Patterson (far right) exercise under instruction from Daniella Hanson and owner Mary Conklin on May 28, 2019 at The Bar Method Spokane in Spokane, Wash. The boutique fitness studio is located at 2023 E. 29th Ave. (Libby Kamrowski / The Spokesman-Review)
In signing up for ClassPass, its users buy a bundle of credits per month to book classes. ClassPass lists a certain number of credits per class on its platform where people can select sessions to attend. People can choose to use their credits however and wherever they want. Fee structures vary by city locations.
In Spokane, three fee structures are available: $29 per month for 27 credits to take as many as five classes; $49 per month for 45 credits to attend as many as 10 classes; and $79 per month for as many as 20 classes. ClassPass says it offers the first month free with 35 credits and as many as eight classes.
ClassPass visitors don't pay anything directly to a gym site. People sign up for memberships by going online to its website, www.ClassPass.com or downloading its app for both iOS and Android.
Participating fitness studios list their class schedule and spots on the platform, and ClassPass members can search, find and book those classes. Every time they book a class with a studio, the studio gets paid a stipend.
Mitchell O'Hair, Air-O Fitness co-owner, said a few people who have used the app at that facility are visiting Spokane but live elsewhere. Other ClassPass users are local residents who want something different or to see what's offered, he added.
"It allows them to try it on a budget too," O'Hair said. "It's pretty fairly priced for their first couple of visits, and then if they really like the class, I can see them signing up."
Some ClassPass members might book a couple of classes at the site, then opt for the facility's punch-card payment short-term to increase that experience, he said. Air-O Fitness offers 14 group classes a day between 5 a.m. and 8 p.m., with each workout lasting 45 minutes.
"Some people are gym-hoppers," he added. "It works out for people who like the variety and to try out different gyms. That's another bonus of ClassPass."
Peter Clark, co-owner at Deliberate Strength in Spokane, has seen a few people use the ClassPass there, but he said it's relatively new.
"It's for people who like a lot of flexibility and being able to go wherever they want, which is a little different than our program," Clark said. "We want to help people build a foundation for where they're at with fitness to feel confident in their physical ability."
Deliberate Strength offers free individual screening and mobility assessments toward training goals to help people ages 40 and older improve their physical abilities. Workouts might include twice weekly strength training, along with aerobic and mobility moves.
The site's instructors have helped some ClassPass members who received that free screening and then exercised in sessions there, he said.
"It's kind of a marketing bonus for us because more people get to see what we are, and if people like it and use it, we get basically a stipend for that class from ClassPass," Clark said. "It fluctuates depending on the class and how many times they use it."
ClassPass started in 2013 after founder Payal Kadakia struggled to find a dance class to take after work in New York City.
"After countless Google searches, schedule cross-checking and frustrating log-in attempts, Payal never made it to class," but it sparked his idea to create easier technology for people to find and book exercise classes, ClassPass' website says.
Fitness instructors might have to pay a bit more attention to occasional exercisers from ClassPass who aren't used to certain moves, Conklin said. But overall, she thinks the app's usage in Spokane will rise as more people discover it.
"If they're looking for something new to try, it's a great way to try out different studios," she said.
"Some people just want to do a little yoga, a little barre and then they like to run. A lot of our clients like to run but they like the core strength that barre gives them, and then they like to do yoga for flexibility."
Local journalism is essential.
Give directly to The Spokesman-Review's Northwest Passages community forums series -- which helps to offset the costs of several reporter and editor positions at the newspaper -- by using the easy options below. Gifts processed in this system are not tax deductible, but are predominately used to help meet the local financial requirements needed to receive national matching-grant funds.
Subscribe to the Spokane7 email newsletter
Get the day's top entertainment headlines delivered to your inbox every morning.
---