News > Spokane
Spokane mayor releases initial 2020 budget, including money for 20 new police hires and $220 million in construction
UPDATED: Thu., Sept. 5, 2019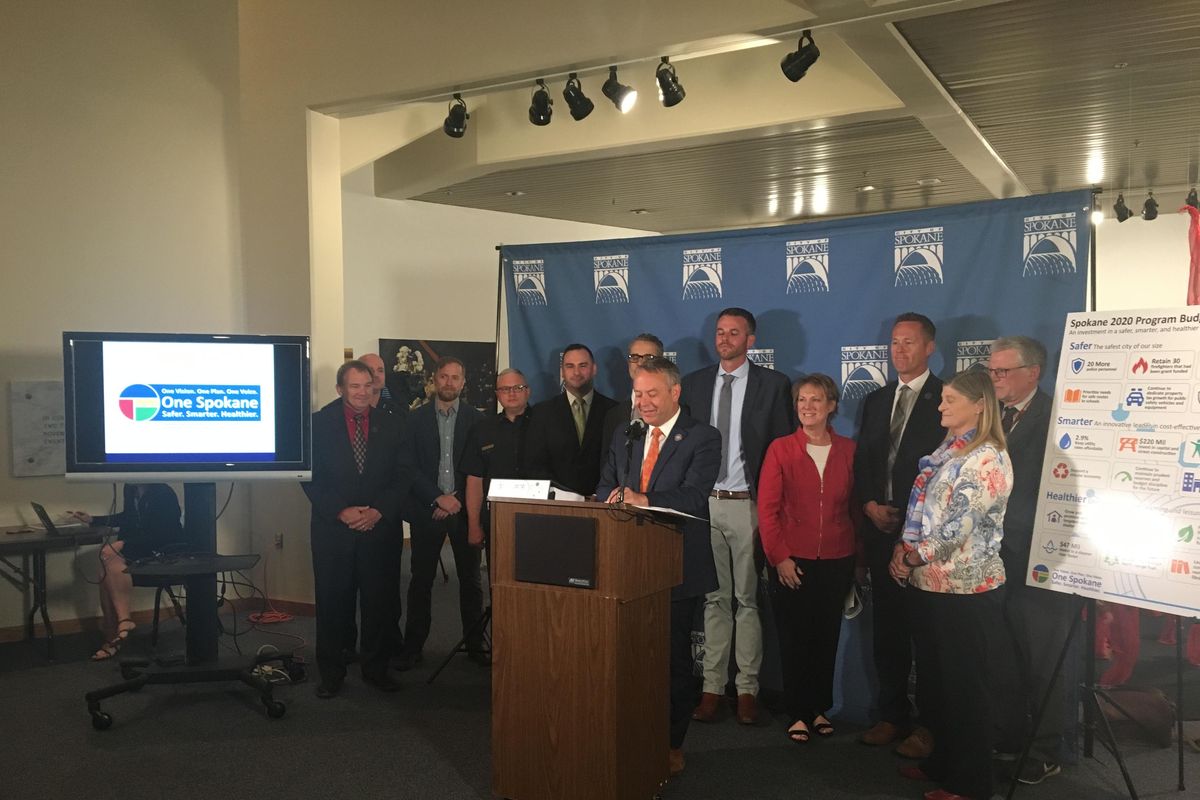 Mayor David Condon, center, presents his plan for city spending in 2020 at a news conference at Spokane City Hall on Thursday, Sept. 5, 2019. The initial budget proposal includes the hiring of 20 additional police personnel and retention of 30 grant-funded firefighters as envisioned in a property tax increase approved by voters in February, though Condon said he continued to have concerns about the longterm viability of that funding source for public safety. (Kip Hill / The Spokesman-Review)
Mayor David Condon's final budget proposal for the City of Spokane includes funding for an additional 20 police officials, roadwork to ease congestion on the crowded Hamilton arterial and continued funding for emergency housing.
What that emergency housing for the homeless will look like in 2020 remains uncertain as the city eyes the purchase of a property at Arthur Street and East Third Avenue.
Condon, who is concluding the final year of his final term in office, released his initial budget Thursday at a news conference at City Hall as those vying to be his successor discussed homelessness issues at the downtown library.
The plan, which includes $207 million in spending on programs directly supported by city taxpayers, incorporates expenses approved by voters this spring to enhance public safety and last fall for the libraries.
The mayor said while he was pleased to be able to give the police department more money to hire additional staff that will address property crime, special investigations and downtown policing, he remained concerned about the long-term viability of the tax increase to cover the future expenses, should the city's current financial strength and growth begin to wane.
"More police officers, more firefighters are not bad to have," Condon said. "But we need to hold ourselves to (considering) what are the outcomes?"
Police Chief Craig Meidl said five of the additional hires will be officers assigned to the downtown core. Another 12 will be assigned in some investigative capacity within the department, either pursuing property crimes in one of the city's policing precincts or handling repeat offenders or special-victims cases. Three of the 20 hires will be support staff, including the processing of police records and potentially a social worker to ride along with officers dealing with members of the public suffering from mental illness.
The 30-cent public safety levy, approved by 64% of voters in February, also included funding for Spokane to retain 30 firefighters out of the 48 hired under a federal grant over the past four years. The levy is expected to raise $6.3 million in 2020. The Fire Department will employ 14 fewer people in 2020 compared to 2019, but those positions are being lost through retirement and attrition, Condon said.
"No employees will lose their jobs," he said.
That's a far cry from Condon's first year in office, in 2012. At the time, the mayor proposed a freeze to general fund spending at $161 million, a move that cost 92 city employees their jobs as the country and local governments continued to face the results of the 2008 economic downturn.
Since that time, the city has expanded its police force by 75 employees and experienced eight years of continued economic growth. Condon said he hoped his philosophy of growth within the city's means would be his legacy of spending while at City Hall, including work to cap the increase of utility rates at 2.9% annually and use the 1% increase in annual property taxes to pay for equipment for police and firefighters.
"One key thing is that we're not in financial duress," Condon said of the city's books heading into 2020. "Remember that eight years ago, unfortunately, we had to make some significant changes."
During the Condon administration, the city's Public Works division has undertaken an expansive rebuilding of Spokane's municipal roadways while also repairing the infrastructure beneath the surface. That will continue with some $220 million in proposed capital spending and road construction next year, including the installation of new left-turn dedicated signaling on Hamilton Street.
Signals will be installed at Hamilton's intersection with Mission Avenue, a stretch that at rush hour becomes a clogged clash of commuters and Gonzaga University students.
The city plans to add left-turn lanes in all directions at Mission and Foothills Drive, and dedicated left-turn signals on Hamilton at Illinois and Indiana avenues, said Marlene Feist, a spokeswoman for the city, in an email. The pedestrian-crossing light at Desmet Avenue near Gonzaga will be replaced with a traffic signal.
Condon's 2020 budget includes funding for emergency housing, which in the past few years has included temporary homeless shelters administered by churches and other nonprofits.
The budget released by Condon on Thursday does not get into specifics about what that emergency shelter would look like. The Salvation Army has been selected to operate this emergency shelter, but a planned site on East Sprague Avenue in conjunction with Spokane Valley and Spokane County appears unlikely to materialize before the winter cold sets in.
"Right now, what we're presenting to the council is we don't have them all over the place, we have them in one location," Condon said.
"Last year, we spent just over about a million dollars on that, and that's in the budget for next year," Condon said of the emergency shelter program. "We think a better way of doing that, to have better outcomes, is to have a single location and have some services available outside the core."
The draft budget Condon presented on Thursday includes $3.5 million in spending that outpaces forecast revenue. Condon will hold a series of public discussions, including a meeting at the West Central Community Center at 5 p.m. Tuesday and a telephone town hall from 6 to 7 p.m. Sept. 18 to weigh in on the city's spending plan for 2020.
The administration will deliver its line-item budget to the Spokane City Council for approval in November. By law, a budget must be adopted by the end of the year. Spokane City Councilwoman Candace Mumm, chairwoman of the council's Finance Committee, said she and other council members were not given the budget proposal ahead of its public release Thursday.
"It's unknown who the mayor's going to be next year," Mumm said. "It's important for the council to have a good grip on the budget before the final comes out in November. The council's going to be very involved in preparing the budget."
Local journalism is essential.
Give directly to The Spokesman-Review's Northwest Passages community forums series -- which helps to offset the costs of several reporter and editor positions at the newspaper -- by using the easy options below. Gifts processed in this system are not tax deductible, but are predominately used to help meet the local financial requirements needed to receive national matching-grant funds.
Subscribe now to get breaking news alerts in your email inbox
Get breaking news delivered to your inbox as it happens.
---