Sports
A Grip on Sports: Gardner Minshew is such a draw in these parts he enticed folks to watch a Thursday night NFL game
Fri., Sept. 20, 2019 A GRIP ON SPORTS • There is no way we are going to watch NFL football on a Thursday night. Nope, no chance. Wait, Gardner Minshew is playing? Where's the remote?
•••••••
• Yes, we succumbed. We had to. It's Gardner Minshew, man. After lifting Washington State to heights never before reached, it's now his turn to, well, I am trying to figure that out exactly.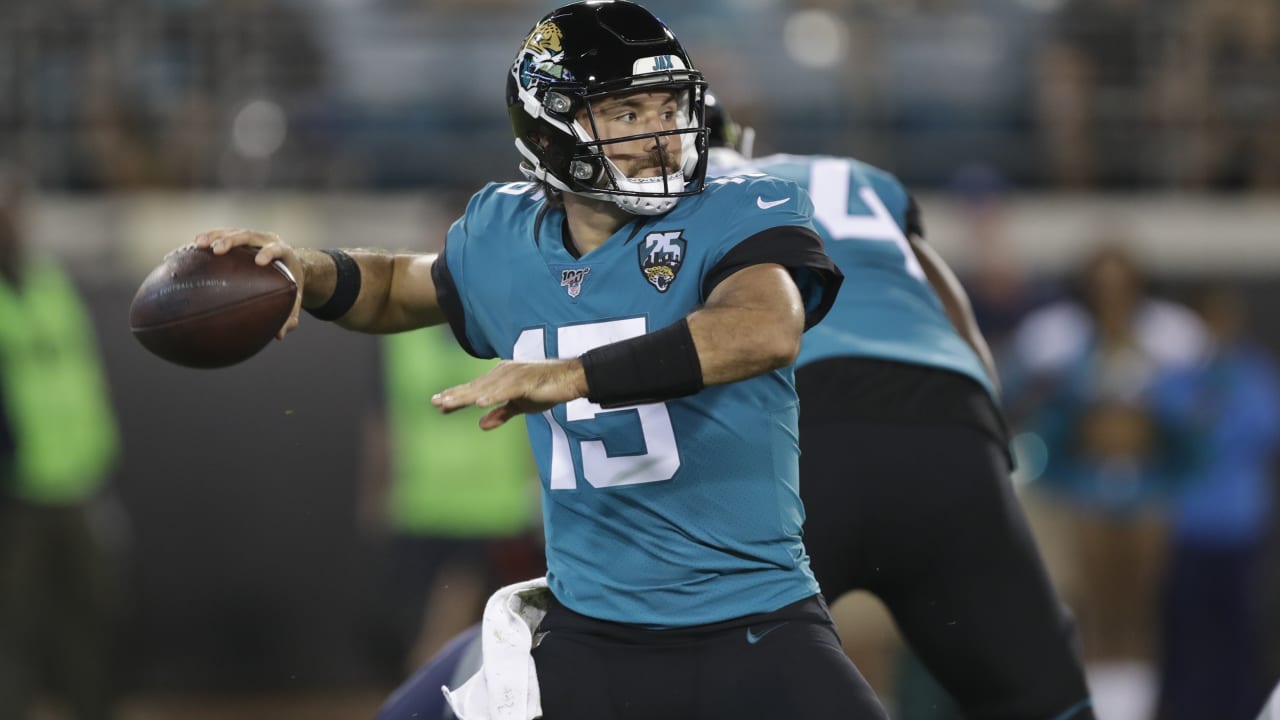 The Jacksonville Jaguars are not a great team. Their coach makes some hard-to-fathom decisions. Their defense is filled with either a) guys that would rather be elsewhere, or b) Myles Jack, whom officials wish would rather be elsewhere.
They certainly aren't the lovable underdogs the NFL Network is trying to portray them as.
But Minshew certainly is.
More than a year ago, just after he announced he would transfer to Washington State, I was on the radio with Rick Lukens. Rick ran down Gardner, I believe via that new-fangled Facebook thingee, and the three of us had a chat via telephone.
When it was over one thing was obvious: Minshew was a smart, level-headed guy who had a great sense of humor. Despite his Mississippi twang, he wasn't going to have any trouble fitting in, even in Pullman.
You know, the Gardner Minshew we've all come to know so well. And hasn't seemed to change one bit even after being swarmed under by the NFL hype-machine.
Minshew wasn't just the quarterback Washington State needed last year, he was the person the Cougars needed. His irreverent personality captured the imagination of Cougar Nation, and even broke down Mike Leach's defenses. Who can forget Minshew trying to pin a fake mustache on Leach after the win at Colorado? It came on ESPN after all and though Leach was initially reluctant to go along with the joke, Minshew's spontaneous act melted the coach's reserve.
He won his heart. Healed it too. The same could be said about everyone with any connection to Pullman. It was needed. Tyler Hilinski's death had broken them. It wasn't just the 11 wins. It wasn't just the locker room stories. It wasn't just the unmitigated joy every day throughout the season. It was all of it.
Minshew rejuvenated the Cougars. And now he's doing it in Florida (fixed from earlier).
What's next? The Nobel Peace Prize? After the past year or so, I wouldn't put it past Minshew.
Heck, I wouldn't put anything past Gardner Minshew.
•••
WSU: Minshew Mania has left Pullman – he told America last night coming back to visit Saturday – but that doesn't mean the Cougars aren't still winning. The next three weeks, however, they will have to stop three of the Pac-12's better running backs if they want to stay perfect. Dan Thompson has a story on the three, UCLA's Joshua Kelley, Utah's Zach Moss and Arizona State's Eno Benjamin. … Theo Lawson spoke with Larry Weir yesterday, and their conversation about UCLA is part of the latest Press Box pod. … Elsewhere in the Pac-12, there is one game tonight and it's big. USC hosts Utah. The Utes haven't won against the Trojans in Los Angeles in more than 100 years. OK, it's just eight games, but still. … Washington has a few questions to answer. … Oregon State's defense is improved. … Oregon has a chance to get over its "Stanford problem" this week. But will the Ducks do it? David Shaw has never lost three consecutive games at Stanford. … Justin Wilcox fits right in with California, who has its hands full this week. … So does UCLA and no one seems to be giving the Bruins a chance. … Colorado and Arizona State meet in Tempe tomorrow night.
Gonzaga: The Bulldogs' "secret" scrimmage this season will once again be with Michigan State. In Denver on Oct. 19. Jim Meehan has more in this story. … Jim also has a story on another highly rated recruit who is going to make his official visit to GU on Oct. 5 for the Kraziness in the Kennel event. … The WCC has added CBS Sports to their list of broadcast networks. Jim has more here.
EWU: An off-season shooting has changed Dehonta Hayes' life. In a lot of ways. Ryan Collingwood delves into all of them in this story about the safety, one of two Eagles who were shot in downtown Spokane over the summer. … Around the Big Sky, Montana State wants to play physically. … Montana faces another record-breaking quarterback. … Weber State feels like its getting closer to being where it wants to be offensively. … Northern Arizona isn't where it wants to be with its run game. … Best game of the weekend? No. 4 UC Davis at No. 1 North Dakota State.
Preps: The football weekend began last night at Albi, as Mead overwhelmed Lewis and Clark. Dave Nichols was there and has this game coverage. … Dave also has a notebook that begins with the news about a Mt. Spokane basketball player committing to Boise State. … Ryan's college soccer notebook has the story of one Central Valley High family and their soccer connections with Concordia College in Portland. … Volleyball season is also upon us and Mt. Spokane is the GSL favorite. Luke Byrnes has a season preview.
Seahawks: As quarterbacks fall all over the National Football League, Russell Wilson is still standing. … Brian Schottenheimer took blame for one turnover last week. … The injuries are not that bad. Will Dissly is healthy and that's important. … There is one Seahawk play you will probably never forget.
Mariners: The M's swept the Pirates in Pittsburgh, winning yesterday in 11 innings. They have been great against bad teams and bad against great teams. … What does Shed Long's future hold?
•••
• Watching the NFL Network's postgame show last night, I felt a little twinge of worry. The tendency these days of building a person up out of proportion of their accomplishments only to tear them down when they don't meet those unrealistic expectations was behind it. Gardner Minshew is such a decent guy, it would be awful if he had to endure that type of treatment. If anyone can handle it, however, it is he. He'll ride the wave until it throws him off. Then get up and catch the next one. Until later …
Local journalism is essential.
The journalists of The Spokesman-Review are a part of the community. They live here. They work here. They care. You can help keep local journalism strong right now with your contribution. Thank you.
Subscribe to the sports newsletter
Get the day's top sports headlines and breaking news delivered to your inbox by subscribing here.
---