A&E
Forging artistic connection: Ruly Deen imbues her jewelry pieces with meaning
Sept. 21, 2019 Updated Sun., Sept. 22, 2019 at 12:06 a.m.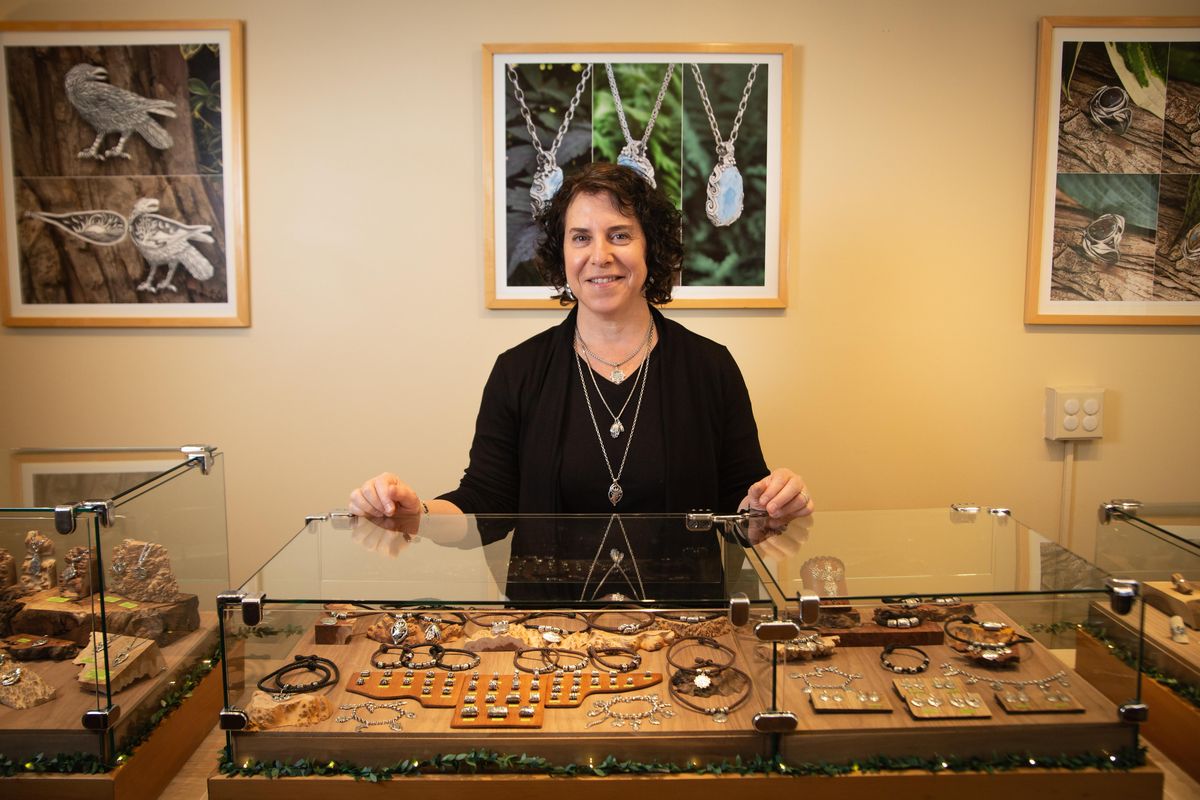 Metalsmith Ruly Deen is seen in her studio Silver Element Jewelry on Thursday. Deen, who has been making jewelry for 43 years, is one of the featured artists of the Little Spokane River Artist Studio Tour on Saturday. (Libby Kamrowski / The Spokesman-Review)
A necklace is never just a necklace for jewelry-maker Ruly Deen. From the initial carving to the final polishing, the artist imbues all her works with emotional intent.
Her rings, necklaces and earrings are not merely pretty. They actually mean something. Deen describes her jewelry as "art to be worn on the body" as an amulet or talisman.
"My art is not an abstract thing that you are seeing on the wall in a gallery setting. You wear it on your body, so you bond with it your own self," Deen said. "When that happens, it transcends what I originally did. For many women, that piece becomes their signature piece, the piece that they are known for."
Dressed in gray jeans, sneakers and a gray T-shirt, the fit 57-year-old artist with tousled dark hair and a ready smile sipped an iced coffee. She was between client appointments at her private gallery space hidden just off the beaten track in Kendall Yards.
Deen's blue/green eyes widened and her voice almost hushed as she explained the meaning behind the thimble-sized silver hands dangling from a chain around her own neck.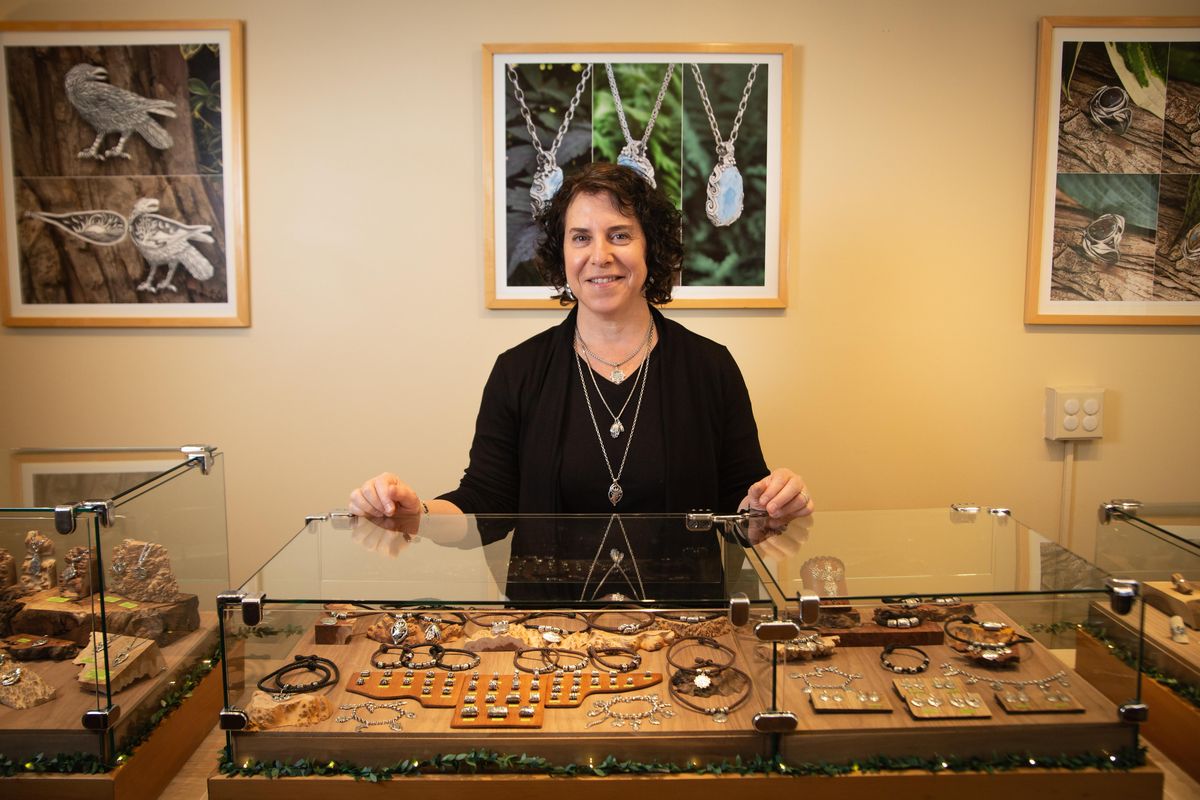 Metalsmith Ruly Deen is seen in her studio Silver Element Jewelry on Thursday. Deen, who has been making jewelry for 43 years, is one of the featured artists of the Little Spokane River Artist Studio Tour on Saturday. (Libby Kamrowski / The Spokesman-Review)
"On the inside of this hand, I carved a lotus with energy lines radiating down to remind the wearer to reach back through the murky water to touch where they came from," Deen said, leaning into her story with a quiet reverence and a hint of pride.
"This is a spiral representing the galaxy and one's own DNA, the journey to the center and the coming back from the center. Drops of life-giving water rain down, but the water could also represent tears because the journey is hard."
"On the outside of this hand it is the sun with the peace symbol because I want that strong, peaceful, masculine energy; and then the other hand has the phases of the moon for the cooling, changeable feminine energy," she said, turning one tiny silver hand open like a metalsmithing fortune-teller.
"And on the inside of this palm here, that is not a broken heart but a heart cracked open because that's where the potential is, and the small stars here represent that potential."
"A talisman connects us, so the hands are a perfect symbol," Deen said, clasping the little hands together. "Put them together, and they represent 'namaste,' which translates into 'I see you.' "
Deen dropped her necklace back onto her chest and chuckled at herself. "That's why an amulet is so satisfying," she said. "I always say to people that you can tell how I'm feeling by what I'm wearing today. And for me right now, it's the Letting Go Hands. "
Donning a Deen creation gives the term "wearing your heart on your sleeve" new meaning. Deen is used to strangers being moved to tears when she tells them a resonant story about her jewelry.
"They get emotional because it's talking about some aspect of their lives that they want to be able to hold while they are in a meeting, while they are in a conversation," Deen said.
"Wearing the piece reminds them, 'Oh yeah, I have a bigger connection to a spiritual side of my own life and to the life of those who appreciate that side and who are also connected.' "
Deen's own life has been dominated by devotion to her craft for the past 45 years. She was only 12 years old when she enrolled in her first jewelry-making class at the museum closest to her small hometown of Sharon, Massachusetts.
By the time she hit high school, her metalsmithing teacher handed her the keys to the school's shop so that she could come and go as she pleased. She was 16 when she landed her first job in the jewelry trade.
Deen earned a BFA from the University of the Arts in Philadelphia. After graduation, she refined her skills working alongside European masters on the city's Jewelers' Row.
She moved to Florida to become the head model maker for a large company. In 1991, after just two years in Florida, Deen moved to her then-partner's hometown of Spokane, a place she had never even heard of at the time.
"I remember flying over Riverfront Park and saw the water and all the trees," Deen said. "Spokane was just like the little town back East where I was born."
Deen started operating a small craft business called Argentum Aurum, meaning silver and gold, creating whimsical charms and pendants. After a few years touring the region and selling at fine craft festivals, Deen opened a retail store and workshop on Main Avenue in 2004.
The store did well, and the artist formerly known as Debra Brehren change her name to Ruly Deen in 2012 to mark her evolving artistic sensibility. She changed the name of the store, as well, to Silver Element Jewelry.
Two years later, Deen was devastated to have to close her brick-and-mortar space after her rent was raised out of reach. But like the phoenix that reveals itself in some of her works, Deen rose from the ashes.
She created her own website and Etsy store for Silver Element. She hit the road to tour at art festivals again. Now that she is not tied to manning a retail shop six days a week, she has found more freedom as an artist.
On Saturday, Deen will offer her wares in person at the Little Spokane River Artist Studio Tour. She also plans to hold two holiday shows at her Kendall Yards gallery in December. For more information, go to silverelementjewelry.com
Deen's desire to instill symbols and meaning into her pieces, and to connect her jewelry with the wearers' personal experiences, has led her to an obsession with all the spiritual arts and metaphysical studies. Books on the I Ching, chakras, runes, mythology, animal power, shamanism and astrology line her bookshelves.
For custom pieces, she has clients fill out a questionnaire that feels more like a therapy session than a design consultation. Along with her collection depicting the signs of the Zodiac, Deen offers personal astrology readings.
Like most artists, Deen's work is ever-evolving. Her next line of jewelry will be about courage. The Letting Go Hands was the genesis of the new collection. "The new collection is about letting go of fear," Deen said.
The fears can stem from anything, from unpaid debts and worries for teenage children to the rainforests burning and the ice sheets melting.
"When you are in an environment when you are so afraid to be 'present' every day, that's the kind of courage I'm talking about," Deen said. "I create amulets for the soul to connect with the tribe and make life beautiful."
Local journalism is essential.
Give directly to The Spokesman-Review's Northwest Passages community forums series -- which helps to offset the costs of several reporter and editor positions at the newspaper -- by using the easy options below. Gifts processed in this system are not tax deductible, but are predominately used to help meet the local financial requirements needed to receive national matching-grant funds.
Subscribe to the Spokane7 email newsletter
Get the day's top entertainment headlines delivered to your inbox every morning.
---