News > Spokane
When a town loses its clinic: how residents in Fairfield are fighting to get health care back
Tue., Sept. 24, 2019 Ena Leitz knew she would one day live on the top of the hill with panoramic views of the wheat fields at Palouse Country Assisted Living in Fairfield.
If she had not lived long enough to make it, she said she would have haunted the place. Leitz is a part of the history of health care in the small town of about 600 people south of Spokane. She moved to Fairfield in 1948 from North Dakota, joining a cousin who lived here. She married a farmer and worked at the nursing home on the hill for two decades and now benefits from a community dedicated to keeping it running years later.
Down the bluff from Palouse Country Assisted Living and up on Main Street, there used to be a health clinic, staffed by local doctors since the 1940s. In recent decades, it became a Columbia Medical Associates clinic.
But in January the trends and economics of modern health care caught up with Fairfield.
Kaiser Permanente acquired Columbia and relocated the clinic 30 miles north to Spokane Valley.
Leitz gave birth to two of her three children in the clinic. Doctors would make house calls for her residents when she worked as a nursing aide. She would bake cookies for the staff there and had continued to visit the clinic to get her blood checked every two weeks – until January.
"The community has been connected with that clinic down there for years," said Leitz, who will turn 91 in December. "I told somebody that I lost half of my life when they closed it."
The clinic's closure has put Palouse Country Assisted Living, home to 46 residents, in a tough situation. . Administrator Helda Fuchs said 90 percent of her residents were going to that clinic. And the closure is hard on the town.
Previously, Fuchs could send residents to the clinic for same-day walk-ins and nonemergency medical needs. Now her residents, the majority of whom do not drive, have to get to Spokane for appointments. Her staff calls ambulances more than previously for any urgent medical care, too.
"It's scary because as a facility here (we're) among one of the last remaining health care facilities, most are closing their doors," Fuchs said.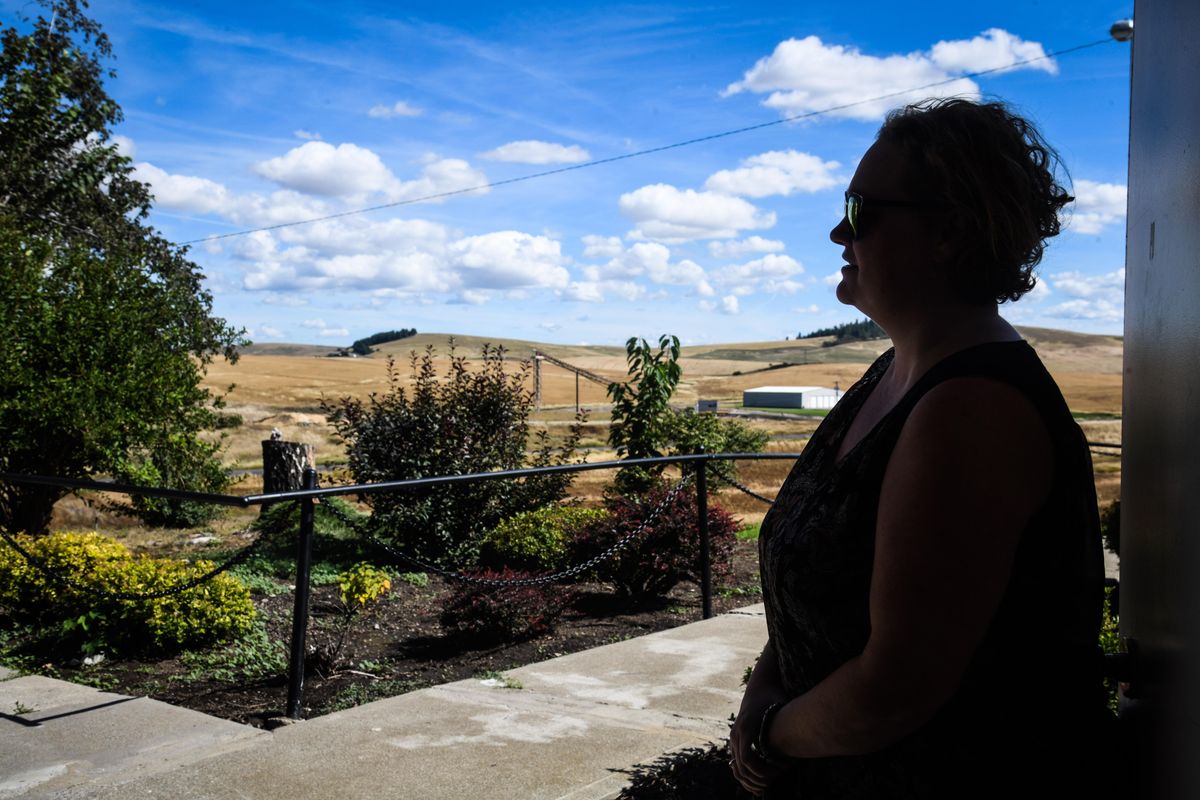 After Fairfield's health clinic closed in January, community members donated a van to Palouse Country Living, administrator Helda Fuchs said, and they use it almost daily now to take residents up to Spokane for appointments and medical needs. Fuchs hopes that the clinic can reopen to ease costs as well as increase access that her residents previously had to health care. (Dan Pelle / The Spokesman-Review)
Community members donated a minivan that Fuchs can use to transport patients to Spokane, but not for any emergencies. Rising health care costs, low Medicaid reimbursement rates and the transformation of health care systems all contribute challenges to offering care in rural areas, and Fuchs has had to contract with health care providers to come to her facility. She is already on a third company.
"The consistency that we had before is nonexistent," she said.
Half of the residents at Palouse Country Assisted Living are on Medicaid, Fuchs said. Medicaid reimbursement rates, which the state sets, are not even close to private insurer rates, state Rep. Joe Schmick said, which can make it financially challenging for providers offering care in rural areas.
"There are very, very few independent doctors going out and putting their shingle out; we're seeing a pretty consistent pattern of consolidation," Schmick said. He represents Fairfield and many rural communities in the Palouse.
Schmick and other lawmakers have been discussing how to re-open the clinic in Fairfield.
"We're going to continue to look for answers and things that work," he said. "It's more catered to each individual community rather than a one size fits all."
Most Fairfield residents went to the local clinic on Main Street for decades.
When you ask Fairfield residents about the clinic closing, many recall a town hall meeting in January where Kaiser officials explained their reasons for leaving and implied that Spokane also was "rural." Jaws dropped at that assertion, Fairfield residents who attended said. Spokane is the second-largest city in the state.
"The Fairfield office has closed, but patients continue to have access to medical care at the Veradale Medical Center which is less than 30 miles from Fairfield," a Kaiser spokeswoman said in a statement about the clinic.
By the time Kaiser acquired Columbia, a doctor visited Fairfield two days a week. He had stopped accepting new patients, but would make exceptions for new patients from Palouse Country Assisted Living, Fuchs said. Some of his patients stayed with him when he moved to the Veradale clinic in Spokane Valley.
"Dr. (Rom) Markin's established patients, both Kaiser Permanente member and nonmembers, can move their medical care to our Veradale Medical Center, which offers many services not currently offered in Fairfield," a Kaiser spokeswoman said in a statement.
After Kaiser closed the clinic, a group of Fairfield residents came together to brainstorm how they could bring a doctor to town. Meeting monthly in the basement of the community center throughout the summer, residents did their own research, called lawmakers and talked with various health care providers.
The primary question potential partners would ask presented the first challenge: How many patients would the clinic draw? While the volunteer committee members are hopeful they can court a health care provider to their community, it has become clear that a doctor won't return without a critical mass of patients.
Mayor KayDee Gilkey said they are working on a contract with the Spokane County Health District to conduct a survey on the population that the clinic could serve to see how many potential patients would return to Fairfield for care, if it is offered.
"We need something to say yes or no, it would be viable to have a health clinic," she said.
Gilkey's volunteer health care committee is also considering forming a nonprofit to have a more established organization to get the job done. Fairfield residents have tried and succeeded doing this previously: with Palouse Country Assisted Living.
Evangelical Lutheran Good Samaritan Society ran the nursing home for decades, but in 2009 announced it was trying to sell the property. Community members sprang into action, forming a nonprofit, Fairfield Care, to run the facility instead.
Karl Felgenhauer, who also owns the building the clinic was in on Main Street, helped form Fairfield Care. He said it took almost two years to repair and improve the nursing home building and get residents back inside, but with the nonprofit fundraising and community members volunteering time, Palouse Country Assisted Living reopened in 2011.
"We had the impetus to do it because we had the doctors in the community, who had been there since the 1940s, and we didn't want to lose the doctors," Felgenhauer said.
Keeping the assisted living facility open was important to community members, especially with the clinic in town. Fairfield now must cope with the reverse, an assisted living facility with no clinic.
Owl Pharmacy remains open and residents still get their prescriptions filled – but not as many as used to do so, said Amanda Goyke, owner of Owl. Goyke said she primarily lost the clinic's patients when it closed.
Many residents at Palouse Country Assisted Living still get their prescriptions filled at Owl, including Leitz. She said it just takes longer to fill than previously. Leitz used to be able walk out of the clinic after an appointment and pick up the prescription just ordered for her by the doctor. A small-town luxury, gone with the vacancy of the clinic.
The clinic was convenient and a family practice for rural Spokane County residents, who now have to take time off work if a family member needs care. Fuchs has 47 staff employees, many of whom live in the country, and she thinks about the surrounding small towns that feed into the Liberty School District with people who could receive care in Fairfield.
"I'm not saying being rural is better than being raised in town, but it's a life that people want to choose to live, and not having a clinic makes it harder to age here because I have my spaces here, but I'm limited," she said. "But there are families out here who are struggling, and they can't really drive to Spokane, so now they've got to call their kids to come pick up mom and dad and take them to appointments. There are a lot of intricacies with it."
Local journalism is essential.
Give directly to The Spokesman-Review's Northwest Passages community forums series -- which helps to offset the costs of several reporter and editor positions at the newspaper -- by using the easy options below. Gifts processed in this system are not tax deductible, but are predominately used to help meet the local financial requirements needed to receive national matching-grant funds.
Subscribe now to get breaking news alerts in your email inbox
Get breaking news delivered to your inbox as it happens.
---