News > Spokane
Race to represent northwest Spokane on City Council pits candidates with different styles
Sun., Sept. 29, 2019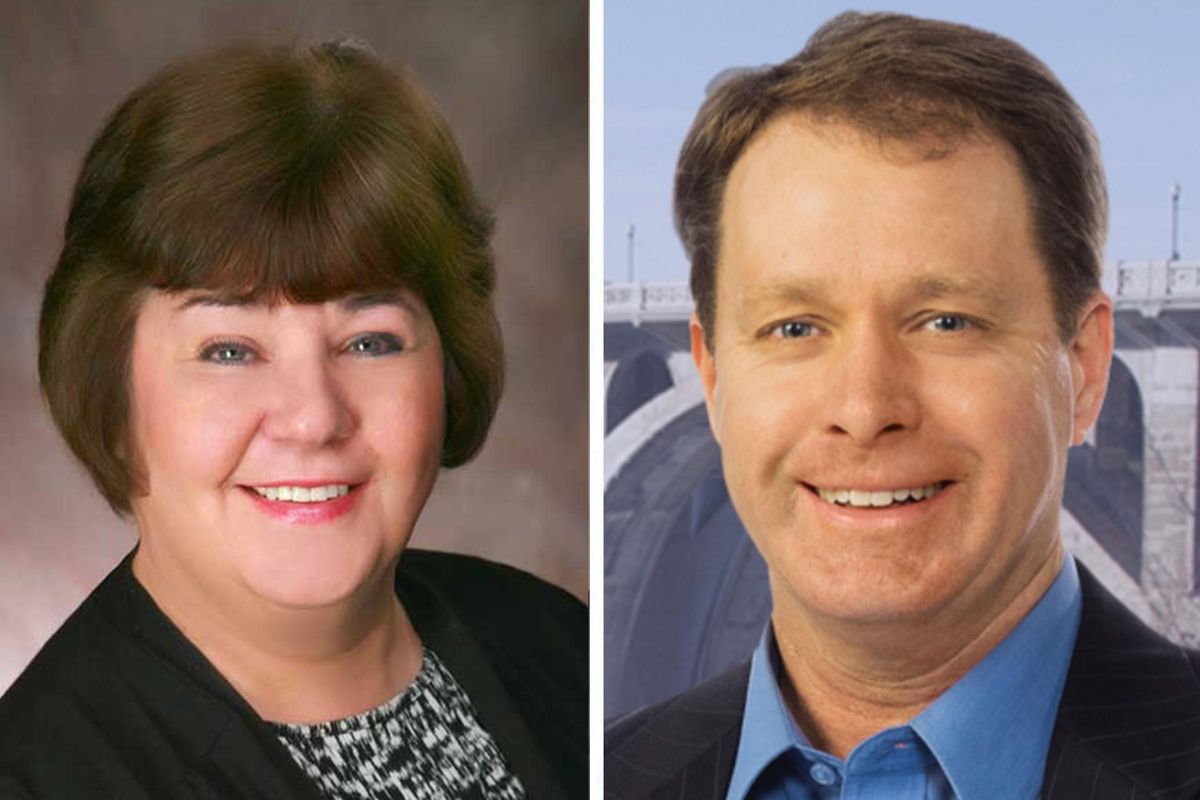 Incumbent Karen Stratton faces Andy Rathbun in the race for a Spokane City Council seat representing northwest Spokane in the November 2019 election. (Courtesy photos)
Karen Stratton shows up.
Whether or not a constituent will vote for her, even if they outright dislike her, Stratton pledges to sit down with anyone, grab a cup of coffee and work through an issue.
"You may not like who I am, but I'm here to help, and if there's something I can do, I will, and if I can't, I will tell you," Stratton said.
But Andy Rathbun, Stratton's opponent in her re-election bid to represent northwest Spokane on City Council, questions why she hasn't been able to hash out her differences with the office down the hall.
"She's almost proud of the fact that she won't speak to the mayor," Rathbun said. "How can you tackle all of the complex issues facing the city when your legislator and executive can't even talk to each other?"
Stratton is running on her record of protecting city employees, fighting against development in northwest Spokane neighborhoods, and being accessible to constituents as she seeks a second term in office. At times, that path has put her at odds with the city's executive branch.
Rathbun, a retired Air Force veteran who touts his longtime involvement in the West Central community, applies his military training to city problem solving – focusing on collaboration.
"We get together, we solve problems," Rathbun said.
Rathbun senses a change is in the air in Spokane politics. He said that's reflected in the number of candidates who sought election this year, and the fact that only one incumbent council candidate – Lori Kinnear – topped 50% in the primary election.
"I've been watching what's been going on in the City Council for a long time. I think we can do better," Rathbun said.
In knocking on the doors of more than 4,000 homes, Rathbun said property crime, homelessness, infrastructure and traffic are among northwest Spokane residents' primary concerns.
As a longtime member of the board of directors of the West Central Community Center, Rathbun helped West Central organize to combat crime and encourage community policing. To address crime downtown, Rathbun said the approach should be similar.
"We need to have more of a police presence and a community-oriented approach," Rathbun said.
Stratton, who positions herself as neighborhood-focused, would support an enhancement of neighborhood resource officers.
"That's an opportunity for residents to build relationships. They can go to a C.O.P.S. shop and report something, and they don't have to dial 911 or crime check," Stratton said, referring to neighborhood offices of Spokane Community Oriented Policing Services.
The candidates also have sought to respond to residents' concerns about homelessness.
It's not a crime to be homeless, Rathbun said. People should be held personally accountable but also offered services like mental health or addiction treatment.
"Some people are giving the homeless a very bad name due to very bad behaviors downtown," Rathbun said. "There comes a point where jail is the correct response for a small portion of what's going on down there."
Rathbun supports a new booking facility to reduce delays after arrests, and said there needs to be more space in the jail – whether it's made by addressing bail policy or improving technology for tracking people accused of lower-level crimes before their case is resolved.
"Even if we built (a new jail) right now, it's going to be four years before it's available. We need help now," Rathbun said.
Stratton attributes the rise in homelessness to a lack of affordable housing.
She was one of several members of the council to introduce a resolution last week imploring the mayor to fund the lease or purchase of a new emergency homeless shelter, with a promise to fund it through city reserves.
"We need to have a central service area for homeless. I'm not saying it has to be on Riverside. I know that there's a big concern with businesses, I understand it," Stratton said. "But we have to have a central area where people can get all kinds of services, and they're not having to get on buses."
Spokane needs more affordable housing and other housing options, said Stratton, who believes development should be focused along central corridors instead of in neighborhoods near the city's borders. Stratton highlights her opposition to a planned development in Indian Trail during her first term in office.
"People moved to Indian Trail and Five Mile because they didn't need to be five minutes from downtown. Their expectation up there is that they will have bigger lots and they won't have traffic issues. Well, they're having them because of all of the development," Stratton said.
Many people qualify for housing assistance, but still can't find a place to live. With Stratton's support, the city also adopted a law to prevent landlords from flatly rejecting to consider any applicant with a section 8 housing choice voucher.
Rathbun agrees that the city needs more housing, but supports a slightly different approach.
"We have to build up and out into the surrounding areas. We need lots of homes, we need it all through the housing ladder – we need houses of all types," Rathbun said. "We need to build up, but we also need to build out. There is no other solution."
To mitigate the impact of developments in the northwest, Rathbun proposed solutions like building a road connecting Nine Mile Road and Indian Trail Road around the perimeter of a capped landfill, which he said would provide travelers with another outlet.
After decades of delays, Rathbun said it's also imperative that the North Spokane Corridor be completed.
"That would serve as an extra thoroughfare, plus it would take all of the commercial traffic off of our north-south arterials that we're constantly fighting to rehabilitate because of all the heavy traffic and congestion," Rathbun said.
As a former city employee herself, advocating for city employees has been a hallmark of Stratton's tenure in office. When she arrived in office, she was "very concerned about employee environment and the morale and health of our employees, and I've maintained that."
Recently, she has sharply criticized Mayor David Condon's proposed migration to a new regional emergency communications system, expressing concern about the impact it would have on city dispatchers.
Amid her re-election campaign, Stratton has become the subject of an ethics complaint due to her support of a Spokane marijuana retailer who hoped to open a location in Pasco.
Stratton, who operates a marijuana production business with her husband and other family members, said she is prepared to answer any questions about the complaint and stands by her decision to write the letter of support for Lucky Leaf to Pasco officials on city letterhead.
"I would do it again for any business," Stratton said, arguing that her production business can not sell directly to a retailer like Lucky Leaf and that she did not stand to gain financially from the retailer's success.
Local journalism is essential.
Give directly to The Spokesman-Review's Northwest Passages community forums series -- which helps to offset the costs of several reporter and editor positions at the newspaper -- by using the easy options below. Gifts processed in this system are not tax deductible, but are predominately used to help meet the local financial requirements needed to receive national matching-grant funds.
Subscribe now to get breaking news alerts in your email inbox
Get breaking news delivered to your inbox as it happens.
---