News > Spokane
Kalispel Tribe opens $26 million apartment complex in Airway Heights
Sept. 30, 2019 Updated Mon., Sept. 30, 2019 at 7:31 p.m. The Kalispel Tribe is bringing more housing to Airway Heights with Salish Flats, a luxury apartment community adjacent to Northern Quest Resort & Casino.
The complex at 304 S. Kalispel Way will ultimately have a total of 216 units in six buildings. It includes a clubhouse, exercise room, meeting areas, outdoor pool, dog park and sand volleyball court, among other amenities.
The Kalispel Tribe developed the $26 million project – which contains a variety of one-, two- and three-bedroom apartments – through a partnership with Indiana-based real estate development company TWG Development.
Brandon Haugen, Kalispel Development Co. general manager, said Salish Flats adds much-needed housing options to Airway Heights.
"In Spokane, especially this west side of town, there's just a huge influx of jobs and there's a huge shortage of housing," he said at a grand opening event Monday. "This area right here – this micro-cluster of housing – is going to become an asset, and there's going to be a lot of demand for more multifamily as well as single-family (housing)."
TWG Development opened the first of the six buildings earlier this month. One-third of the building is already leased, and there's a waiting list for a handful of units, said J.B. Curry, vice president of market rate development for TWG Development.
The new apartments include stainless steel appliances, granite countertops and designer pendant lighting. Rent starts at $1,025 for a one-bedroom unit, $1,200-$1,300 for a two-bedroom unit and more than $1,400 for a three-bedroom unit.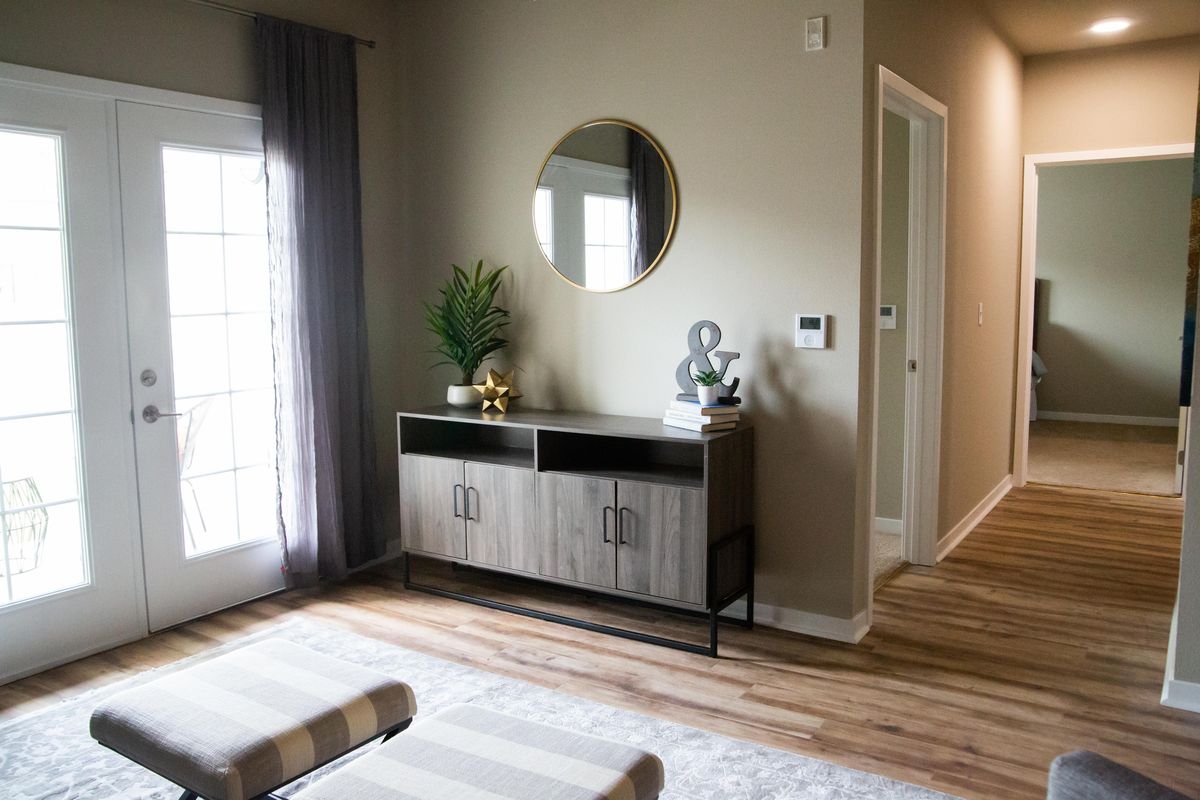 A staged two bed, two bath apartment is seen during a grand opening tour of the Salish Flats apartment complex in Airway Heights, Wash. on Sept. 30, 2019. The unit is 1,079 square feet. (Libby Kamrowski / The Spokesman-Review)Buy a print of this photo
TWG Development plans to open an additional building every month through early 2020.
"We just like to do good projects," said Curry, adding Spokane's booming housing market and employment base attracted the real estate development company to the region. "We want good partners and (the project) means more to us than building apartments. It really is a part of the community."
Columbus, Ohio-based KeyBank and mortgage loan company Freddie Mac provided financing for the project.
TWG Development, founded in 2007, specializes in commercial, market-rate, affordable- and senior-housing projects. The real estate development company has completed more than $459 million in development and built more than 7,600 units nationwide, with another 2,100 units in the pipeline.
The Kalispel Tribe intends to further develop the 300 acres of land its owns south of Northern Quest Resort & Casino with the addition of more retail stores and housing units.
Northern Quest Resort underwent a large expansion project last year that added a retail store, movie and dinner theater, an arcade and entertainment center for children and a $14 million luxury RV resort.
The Kalispel Tribe employs more than 2,300 people in Spokane and Pend Oreille counties.
Local journalism is essential.
Give directly to The Spokesman-Review's Northwest Passages community forums series -- which helps to offset the costs of several reporter and editor positions at the newspaper -- by using the easy options below. Gifts processed in this system are not tax deductible, but are predominately used to help meet the local financial requirements needed to receive national matching-grant funds.
Subscribe now to get breaking news alerts in your email inbox
Get breaking news delivered to your inbox as it happens.
---