News > Washington
Weathercatch: 'Ghosts' ignite wildfires from California to Washington state
Thu., Aug. 27, 2020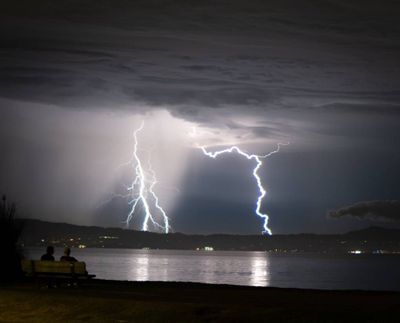 The ghosts of two tropical storms that died more than a thousand miles away in the Pacific Ocean played a role in the smoky haze that drifted over the Inland Northwest this week.
A little more than a week ago, the remnants of Tropical Storm Fausto streamed from the coast of Mexico into Northern California and ignited a historic barrage of lightning strikes from San Francisco to the Pacific Northwest. Early this week, the offshoot of former Hurricane Genevieve funneled unstable air from Mexico's Baja California Peninsula into the Western U.S. and triggered a second, less intense round of lightning strikes.
As the two storms' remnants moved inland, atmospheric instability triggered isolated thunderstorms that spit out a high volume of lightning but little rain. This, combined with hot temperatures and dry vegetation at the end of summer, sparked multiple wildfires that have scorched hundreds of thousands of acres from California and Arizona to Oregon and Washington state.
Although several large fires are burning here in Washington, they are nowhere near the magnitude of those raging through California and Oregon. Even so, Gov. Jay Inslee declared a state of emergency through Sept. 30 due to the continuing threat of wildfires and the COVID-19 pandemic that's limiting resources to fight them.
Nearly 30 large fires are burning in California, 14 in Oregon, and four in Washington , according to the National Interagency Fire Center. Washington's largest blaze is the Palmer fire that's burning in Okanogan County, 7 miles from the community of Oroville. The wildfire has scorched close to 18,000 acres of brush, grass and timber and prompted dozens of evacuations since it started on Aug. 18.
Chances are, you've been hearing the term "dry lightning" in reference to the August burst of fire-starting lightning strikes. In reality, it's a misused term, as lightning is neither wet nor dry. What it means is this: a cloud-to-ground lightning strike occurs that's accompanied by little or no rain. Hot temperatures cause any precipitation to evaporate before hitting the ground where it can quench the dry landscape.
In the West, dry lightning is a wildfire scourge. This month, the impact has been particularly widespread as two withering tropical storms fueled multiple storm systems that helped unleash thousands of lightning bolts on parched earth.
Photographs have captured the beauty of lightning-veined skies and the destructive power that followed on land.
Local journalism is essential.
Give directly to The Spokesman-Review's Northwest Passages community forums series -- which helps to offset the costs of several reporter and editor positions at the newspaper -- by using the easy options below. Gifts processed in this system are not tax deductible, but are predominately used to help meet the local financial requirements needed to receive national matching-grant funds.
Subscribe to the Coronavirus newsletter
Get the day's latest Coronavirus news delivered to your inbox by subscribing to our newsletter.
---