News
Spokane Public Schools prepares for weekly meal pickups as USDA extends food programs
UPDATED: Tue., Sept. 1, 2020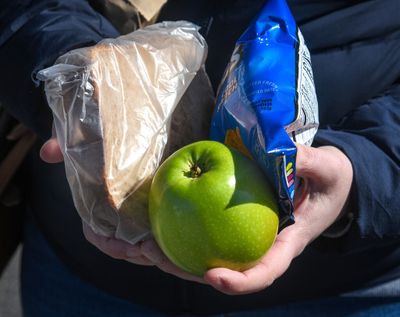 The U.S. Department of Agriculture announced the extension of a school meal program that has provided free meals to millions of children since schools closed in the spring.
The extension will allow schools and community groups to continue feeding students with fewer restrictions than are typically in place under the National School Lunch and Breakfast Programs.
It also will allow organizations that serve students meals in the summer months continue doing so in the fall.
"We're excited about this," said Doug Wordell, director of nutrition for Spokane Public Schools. "We want to feed kids and then get them to school when it's safe." Beginning Sept. 14, eligible families may pick up 5-day meal packages every Monday or Friday. That move was in response to a survey showing that 63% of families in need found a daily pickup too difficult.
About 90% of parents surveyed wanted their child to receive meals even as the district begins the year with distance learning only.
"But we still need free and reduced-price meals applications filled out," Wordell said. About 57% of students in Spokane receive free and reduced-price meals.
The extension is a reversal of an earlier USDA decision. The reversal drew praise from state Superintendent of Public Instruction Chris Reykdal, who said that "with these waivers, schools can continue providing healthy, nutritious meals at no cost to students who need them."
Larry Delaney, president of the Washington Education Association, praised the action for providing "critical supports for students, especially those who are from low-income families, are English learners or those who face food insecurity."
Until this week, federal officials were planning to let parts of the program lapse by the end of September.
Most notably, families would have had to pay for their food and to pick it up from the school their child attends.
On Aug. 20, Secretary of Agriculture Sonny Perdue said in a letter to members of Congress that some restrictions were justified because he believed that Americans were a "generous people" and would help provide a variety of opportunities to provide children with meals, while the waiver extensions would represent a step toward a "universal meals program" not authorized or paid for by Congress.
However, school officials around the nation argued the pandemic has heightened feelings of food insecurity, making flexibility more essential.
They were backed by both sides of the political aisle.
In a letter to Perdue, Republicans on the House Education Committee said that "Given the broad range of (school reopening) plans, we should ensure the federal programs that help feed students are flexible, easy to operate, and free of unnecessary burdens."
Local journalism is essential.
Give directly to The Spokesman-Review's Northwest Passages community forums series -- which helps to offset the costs of several reporter and editor positions at the newspaper -- by using the easy options below. Gifts processed in this system are not tax deductible, but are predominately used to help meet the local financial requirements needed to receive national matching-grant funds.
Subscribe to the Coronavirus newsletter
Get the day's latest Coronavirus news delivered to your inbox by subscribing to our newsletter.
---