A&E > Entertainment
'A Christmas Carol' virtually returns to the University of Idaho
Dec. 3, 2020 Updated Thu., Dec. 3, 2020 at 3:27 p.m.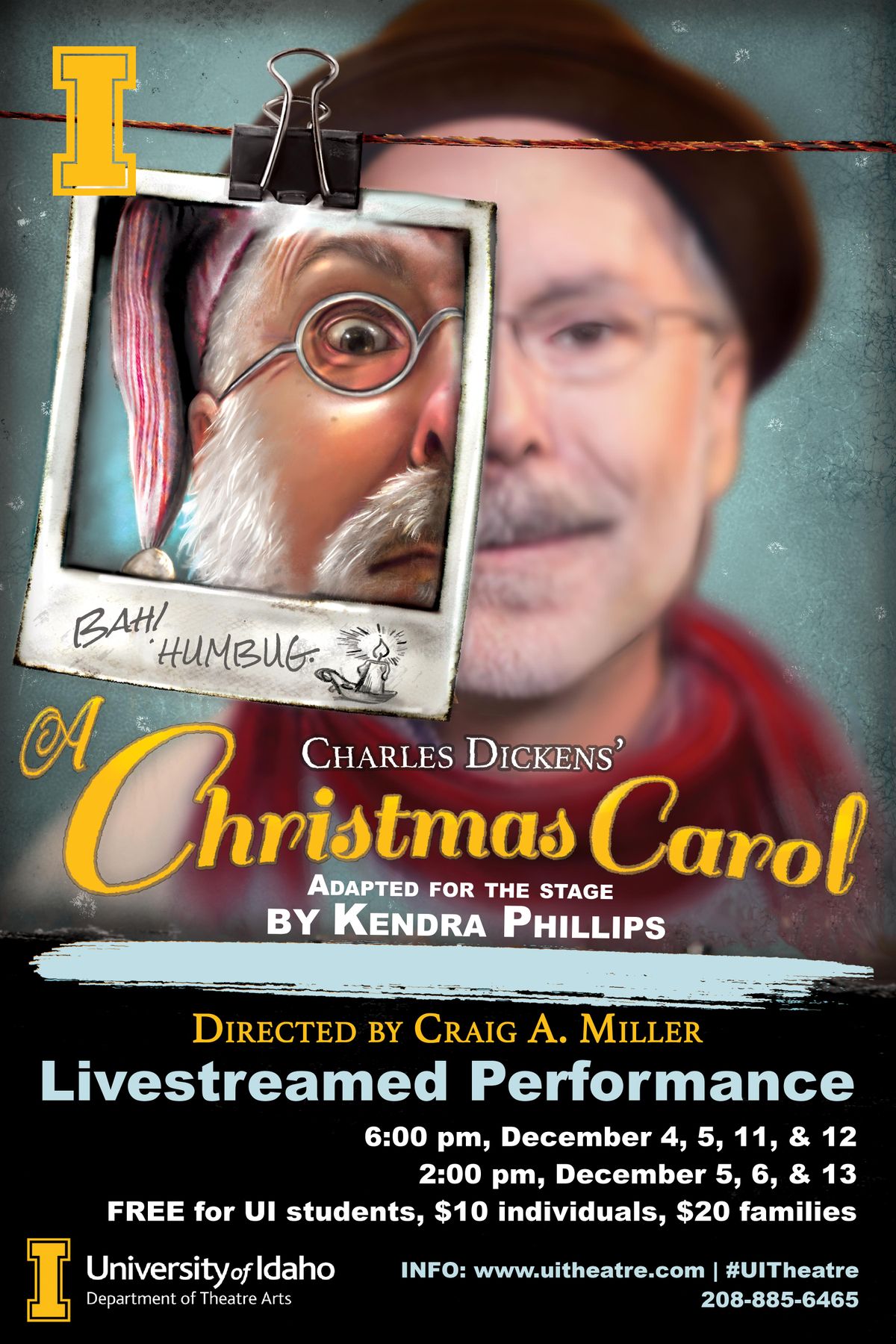 Charles Dickens' "A Christmas Carol" (Courtesy)
From casting call to final dress, the University of Idaho's family-friendly production of Charles Dickens' "A Christmas Carol" from Friday to Dec. 13 has been organized entirely over Zoom.
In Dickens' classic tale, Ebenezer Scrooge (David Lee-Painter) undergoes a series of supernatural visitations during which he finds himself slowly converted from miser to merrymaker, and all in time for Christmas.
Adapted by MFA playwriting candidate Kendra Phillips, "A Christmas Carol" will be the university's second Zoom production following Lauren Gunderson's "The Revolutionists" in October.
"We rehearse over Zoom, we have all of our design meetings and our production meetings over Zoom, our actors are meeting with dialect coaches over Zoom, and the whole production is going to be presented in the Zoom format," show director Craig Miller said.
"A Christmas Carol" was originally slated for the 2021 season. But as Miller and his colleagues started reorganizing the 2020 season in light of public health guidelines, moving up the show seemed an obvious choice – and for more than one reason.
"It's really kind of nice to get to bring this old chestnut back out again in a completely new and different way," Miller said. "Of course, our audiences would otherwise love to go and see it in the Hartung Theater, but now they get to sit by the fireplace and grab their eggnog, sit in their own comfy chair with their pajamas on, light the fire and watch 'A Christmas Carol' as acted live on Zoom by the fine actors from our community and students in our department."
While producing an entire play over Zoom is challenging, Miller said, there have been silver linings, especially with respect to Phillips' new adaptation.
The crew may have come up against a few roadblocking plot elements along the way, but "theater people are awfully creative folks," Miller said.
Miller's team opted for a semi-staged readers theater production with lighting, special effects and costuming – from the waist up.
"We're really exploiting Zoom for all of its bells and whistles," he said. "My amazing design team has figured out quite a few workarounds to make the Zoom format really work nicely with telling a story set when there were no such things as even telephones."
The readers theater-style offered a unique opportunity for workshopping, Miller said. Because actors weren't having to memorize their lines, Phillips could easily change scenes one minute and hear it play out in front of her the next.
"This is really helping Kendra figure out what works and what doesn't work about her play right now," Miller said, explaining how he believes Phillips has managed to infuse the classic tale with an exciting and contemporary feeling. "I think every playwright brings their own aesthetic and sensibility to this classic story, and Kendra certainly has done that."
As rehearsals come to an end and final edits fall into place, Miller said, the cast is thrilled to perform and grateful for this opportunity "to keep their creative juices flowing."
"Even though we can't hear the audience reacting to the production live in real time, it's still nice to know that there are going to be people out there who are enjoying our work."
For more information, visit uidaho.edu/class/theatre.
Local journalism is essential.
Give directly to The Spokesman-Review's Northwest Passages community forums series -- which helps to offset the costs of several reporter and editor positions at the newspaper -- by using the easy options below. Gifts processed in this system are not tax deductible, but are predominately used to help meet the local financial requirements needed to receive national matching-grant funds.
Subscribe to the Spokane7 email newsletter
Get the day's top entertainment headlines delivered to your inbox every morning.
---