News > Business
Study: Airline passenger satisfaction hits record high during pandemic
UPDATED: Wed., Dec. 16, 2020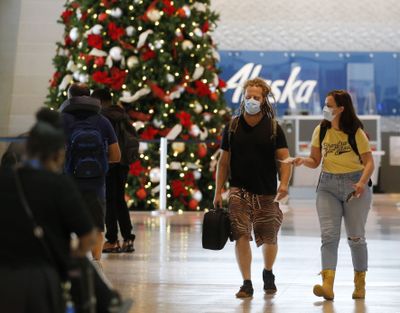 Half-empty flights, a less-crowded airport terminal and shorter lines for security are signs of the impact of the pandemic – but in normal times they would be markers of a pleasant travel experience.
That may be why airline passenger satisfaction is up this year, when COVID-19 has caused historic cuts in the airline industry and the Centers for Disease Control and Prevention is advising Americans to avoid travel for the holidays.
In fact, passenger satisfaction is at an all-time high for the airline industry, according to the American Customer Satisfaction Index study for April to September. Satisfaction reached a score of 76 for the period, up from the previous high of 75 in April 2019 to March 2020, based on interviews with thousands of travelers.
ACSI in its report said "less crowded flights mean better service for those that do fly."
For December holiday travel, AAA forecasts a 58.8% decline in air travel in Georgia. Automobile travel in Georgia is expected to decline by 22.9%.
Southwest Airlines took the No. 1 spot in the ranking, followed by Delta Air Lines in the No. 2 position. Delta is the dominant carrier in Atlanta, and Southwest is the second-largest. Both airlines improved their scores and rankings from last year.
Delta stands out in the industry for its pandemic policy of blocking middle seats through March 31 and ranks highest for cleanliness and seat comfort. But Southwest ranks higher for the check-in process and for the best value.
Airlines saw a decline in satisfaction with call centers, in a year when hundreds of thousands of travelers were trying to get refunds for canceled trips due to the coronavirus pandemic.
Even though airlines slashed their flight schedules this year because of the steep decline in travel, satisfaction with flight schedules dropped only 1%, according to ACSI. Carriers also significantly cut back their in-flight food and beverage service, but that did not play a big role in overall satisfaction.
The ACSI COVID-19 travel report was based on interviews with 4,642 customers chosen at random and contacted by e-mail between April 1 and Sept. 30, 2020. ACSI is a national economic indicator started at the University of Michigan and licensed to ACSI LLC.
Local journalism is essential.
Give directly to The Spokesman-Review's Northwest Passages community forums series -- which helps to offset the costs of several reporter and editor positions at the newspaper -- by using the easy options below. Gifts processed in this system are not tax deductible, but are predominately used to help meet the local financial requirements needed to receive national matching-grant funds.
Subscribe to the Coronavirus newsletter
Get the day's latest Coronavirus news delivered to your inbox by subscribing to our newsletter.
---