News > Spokane
Here's how the Christmas Bureau has changed 75 years later — and hasn't
UPDATED: Tue., Dec. 22, 2020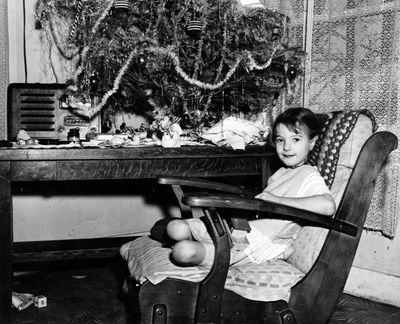 The Christmas Bureau has changed a lot in the last 75 years, but the one thing that has remained the same is the desire to help those in need.
When it first began, it was an effort to help a single World War II soldier, Cpl. William Schwenk, who lost his sight, one arm below the elbow and part of his other hand in battle. He didn't even live in Spokane, but a Red Cross worker from Spokane asked the newspaper to help and the community rallied to do so.
At first, specific groups were helped, such as the group of widows and children of 18 airmen stationed at Fairchild Air Force Base who died in a plane crash in 1949. In the 1950's, donated food and clothing were distributed to those in need.
The Christmas Bureau as it is currently organized began in 1980, when the focus shifted away from clothing to giving out food vouchers and toys. That's also when local charities became more involved in the effort and when the Spokesman-Review started running frequent fundraising stories.
Spokesman-Review publisher Stacey Cowles took over his position in 1992 after his father, William Cowles III, died unexpectedly. He remembers his first meeting with Donna Hanson, who headed up Catholic Charities, and Marilee Roloff, who led the Volunteers of America, to plan that year's Christmas Bureau. "That was my first initiation behind the scenes," he said.
Cowles said he'd always read the fundraising stories that the newspaper ran each year. "I know dad took a lot of interest in it," he said of the Christmas Bureau. "My dad was always a fan of having the checks go directly to the cause and not administration."
The Spokesman-Review collects all the donations, which are processed by the newspaper's accounting office, and gives the money to the two charities that operate the Christmas Bureau. The newspaper also commits to giving space on the front page of the newspaper for daily stories between Thanksgiving and Christmas, and pays a reporter to write the stories. The paper has also been in charge of paying for the Christmas Bureau location for a number of years, Cowles said.
Even as newspapers, including The Spokesman-Review, have struggled financially in recent years, Cowles said it was important to maintain the Christmas Bureau tradition. "It's such a community institution," he said. "I think it's part of the role of a newspaper to bring people together. It makes all the sense in the world to continue."
On a personal level, Cowles said he believes the Christmas Bureau gives people hope, and it's impossible to know just how much of an impact even a small gift can have. "The idea that kids would not have a gift on Christmas morning, for my family, was disturbing," he said.
As the Christmas Bureau has changed over the years, so has the person working as the Christmas Bureau Coordinator. In recent years, that has been someone on the Catholic Charities staff. Karen Orlando was the coordinator for five years in the early 2000's.
"I, to this day, miss that part of that job," she said. "It was amazing. It was busy, a lot of work, but it wasn't hard work because people were so willing to be a part of it."
Back when she was in charge, there were food vouchers and toys and books and small gift bags for single adults. Everyone got a bag or two of candy orange slices on their way out the door. "Now there's pajamas and great things," she said.
It was also during her tenure that the Christmas Bureau first started receiving hand-made wooden toy trucks to give out. Back then, it was one man who would make about 1,000 of the small, unpainted trucks a year. Now, a small army of woodworkers spend their year making toy cars and trucks, some of them decorated and painted elaborately.
Orlando recalled working with Father Frank Bach, who had been the Christmas Bureau coordinator previously. He was the director of Catholic Charities from 1965 to 1978 and spent decades involved with the Bureau. "He was the coordinator for a number of years, back when they were bouncing from warehouse to warehouse and had to find a new warehouse every year," she said.
In the earlier days, when clothes and shoes were handed out, the Bureau wasn't able to help a large number of families. Now it's not uncommon for the Bureau to help nearly 30,000 people every year. The mission hasn't changed, Orlando said, but the way the Christmas Bureau goes about helping people has. "It reaches more people," she said. "The heart of the organization is exactly the same."
Anne Marie Byrd, the Director of Development at Catholic Charities, was the co-coordinator of the Christmas Bureau in 2008 and 2009. "I had been a volunteer with the Christmas Bureau before with my family," she said. "That experience helped."
She said the community and the dedicated volunteers are the keys to the longevity of the Christmas Bureau. "The Christmas Bureau success is a great testament to the incredible, generous and compassionate community we have here in Spokane," she said. "The volunteers, there's nothing like it. The longevity of these volunteers is amazing. They just keep us running."
In the first years after the Christmas Bureau found a permanent home at the Spokane County Fairgrounds, recipients stepped inside a plain building with concrete floors to pick out their books and toys. But 15 years ago, Clint and Cheryl Branz of Jim Custer Enterprises stepped in to create a more festive look, Byrd said.
"Now you have the red and white drapes, the white lights, the wreaths and music," she said. "It just makes it more beautiful and festive. It just puts everybody in the holiday spirit."
Judy Lee, who was the Christmas Bureau coordinator from 2010 to 2016, agreed that the involvement of the Branzes brought the experience up a notch. "To me, that's huge," she said. "It looks like a Christmas event. It looks like a party."
The Christmas Bureau hasn't changed much since Lee was in charge, but Lee says it has changed in many little ways. The goal was always to improve the experience for recipients and volunteers alike. "Every year, we tried to fine-tune things," she said.
Things now are far from where they used to be decades ago. "They used to write the vouchers out by hand," she said. "By the time I took over, we were doing it by computer."
The volunteer toy buyers used to shop via toy catalogues and would travel to at least one toy trade show a year, Lee said. Now they work directly with the toy manufacturers so they can get the best deals , which helps the Christmas Bureau's reputation of having high-quality toys , she said.
"Everybody involved is proud that it's such a community program, and that's what makes it special," she said.
Lee remembers being exhausted every time the Christmas Bureau closed, but said the hard work was worth it. "It's probably the hardest thing I ever did, but also the most rewarding," she said. "I know how much it helped recipients, but I also saw the dedicated volunteers and how hard they worked."
Donations
The community is celebrating the 75th anniversary of the Christmas Bureau by officially passing the all-time donation record of $578,404.44 set in 2013. New donations of $6,085 have brought the year-to-date total to $583,206.03, which is also well over this year's goal of $535,000.
An anonymous Liberty Lake donor sent $2,000, writing, "My business partners and I have decided to contribute to the fund this year in lieu of sending out holiday gifts to our clients. We have let them all know that a gift has been made to this great fund to help those less fortunate in our communities."
Sheldon Luck gave $1,000 via PayPal. The Brooke Family gave $1,000 "in loving memory of Philip and Jeannette Brooke." An anonymous donor contributed $500 via PayPal.
Dorie and Jerry Berger, of Spokane, donated $400 "in honor of dad, Don Kelly, who was a longtime Christmas Bureau volunteer."
Jan Patterson, of Spokane, gave $300 "in honor of Lindsay, CJ and Taylor McLeod and Kelly, Shane, Brennen and Adalynn Steinbauer. Thank you for all you do for Spokane."
George and Joyce Schroeder, of Spokane, contributed $250. David McCabe donated $250 via PayPal.
Delila Draper, of Spokane, sent $200. An anonymous donor sent $200 via PayPal.
Scott and Barbara McArthur, of Spokane, gave $100, as did Scott and Nancy Stowell. Andrew and Pamela Forsyth, of Spokane, sent $100. Gerald and Dorothy Ullrich, of Spokane, donated $100, writing, "Given in honor of my mother, Virginia Ullrich, who turned 100 years old in 2020."
Kris and Shelley Mader, of Spokane, gave $100, as did Philip and Brit Penberthy, also of Spokane. Curt and Sheila Schillinger, of Spokane Valley, donated $100.
Victoria Harris, of Spokane, donated $50. Devon Greyerbiehl and Shirley Cannon, of Spokane, each sent $50, writing, "Our first time donating. Glad we can help." Gary Miller sent $50 via PayPal.
Ann Shaw donated $40 via PayPal.
Duane and Janece Scheele, of Spokane Valley, sent $25. Thomas Latimer gave $20 via PayPal.
Local journalism is essential.
Give directly to The Spokesman-Review's Northwest Passages community forums series -- which helps to offset the costs of several reporter and editor positions at the newspaper -- by using the easy options below. Gifts processed in this system are not tax deductible, but are predominately used to help meet the local financial requirements needed to receive national matching-grant funds.
Subscribe to the Coronavirus newsletter
Get the day's latest Coronavirus news delivered to your inbox by subscribing to our newsletter.
---