Marketing > EVERCANNABIS
Stormy Daniels teams up with Spokane processor for CBD lubricant
Tempest By Stormy newest venture from adult actress-turned-entrepreneur
Fri., Feb. 7, 2020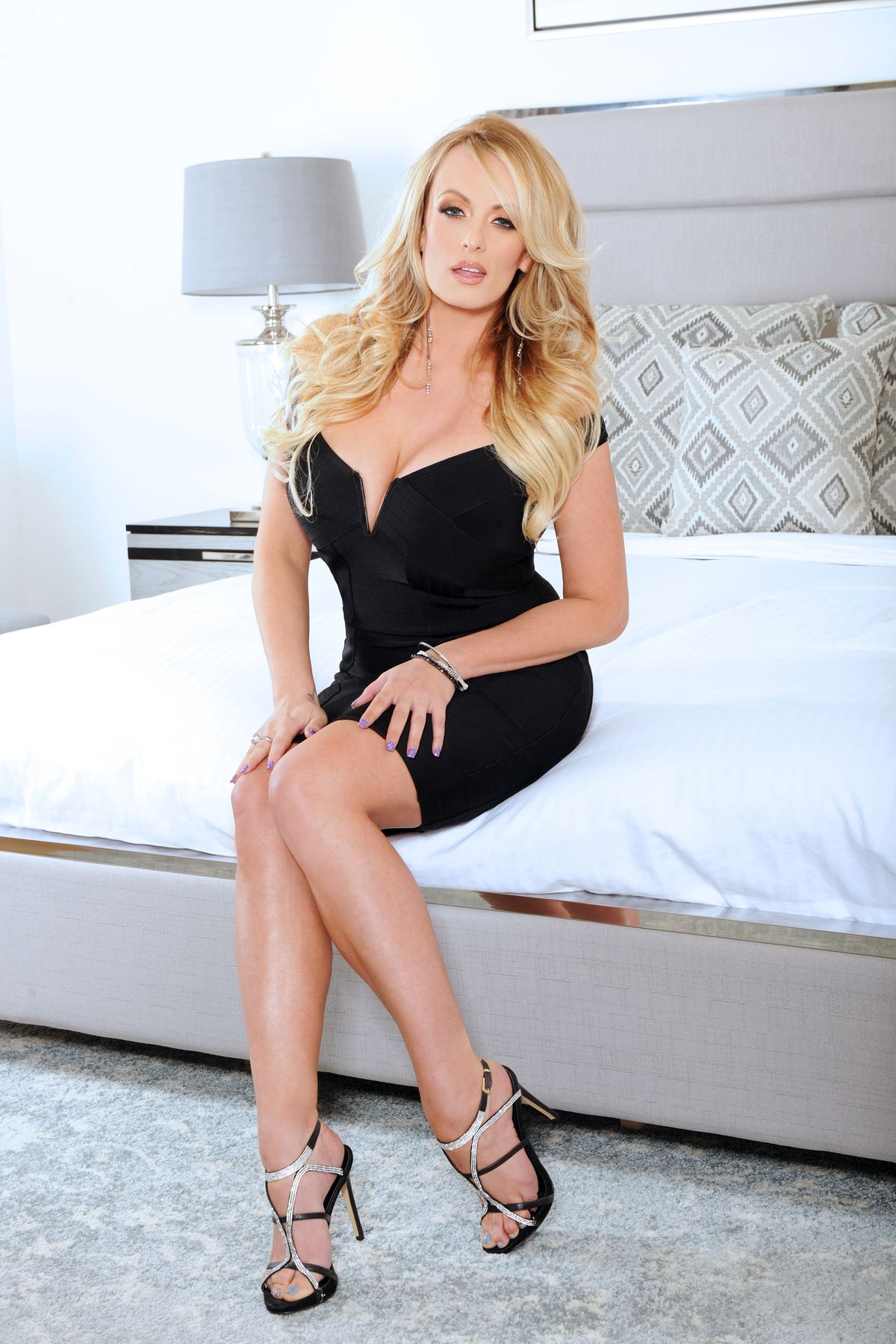 Entertainer Stormy Daniels is collaborating with a Spokane cannabis processor for a CBD personal lubricant. (Courtesy Stormy Daniels)
Stormy Daniels is known for a lot of things – actress, director, author, businesswoman, foe of President Trump – but now she's entering the cannabis space with assistance from Mike Forest, a Spokane-based processor. Forest, owner of Forest Pharms, recently developed a CBD-infused water-based lubricant using an innovative nanotechnology which allows the fluid to be absorbed into the skin and take effect faster. When he heard that Daniels was interested in starting her own CBD line, he reached out. Their collaboration resulted in Tempest By Stormy, a water-based, oil-free, lubricant that's considered safe for everyone, even those with pH sensitivities. It's very minimal, containing only natural hemp terpenes and a light floral scent. The product is designed to reduce friction and create a more enjoyable sexual experience. It can reduce inflammation when applied, and is described as providing a gentle all-over body buzz. Forest has been focusing on using nanotechnology in the production of CBD products since 2011. He enjoys working with new products and cannabis plant genetics to further progress the ways the body utilizes cannabinoids, the natural compounds in cannabis plants. By using this nanotization process, he produces CBD products from hemp that absorb into the skin faster, allowing the plant's natural benefits to take effect quickly and efficiently. "The problem is that cannabis is not very bioavailable," explained Forest. "This is why THC and CBD are typically suspended into something that increases absorption when applied to the skin, like an oil. We use a new technique that involves a fat-bonded, full-spectrum, nanotization process." Forest Pharms uses an ultrasonic process to break down microparticles into nanoparticles, which allows the hemp to be water-soluble. This creates a much easier way to dissolve and absorb the product and increase bioavailability. Knowing that the nanotechnology would allow for the benefits of CBD to quickly absorb, Forest knew that using it in a lubricant form made a lot of sense. Daniels said she was initially skeptical of CBD and brushed it off as a fad. "Two summers ago, I had a serious fall while jumping my horse," she said. "I had a fractured spine and severely sprained pelvis. I was told it would be a minimum of six weeks until I could walk even using crutches. I hate pain pills, so when a friend sent me some CBD products, I thought I'd try them." Within 12 hours, she said she stopped all pain medication. "I rubbed the cream on my injuries and was walking without crutches less than two weeks later," she said. "I was back on my horse in less than a month, much to my doctor's dismay. That's when I became an advocate for CBD." Daniels had never heard of nanotechnology, but learned a lot from Forest. "Once it was explained and I had done the research, I was amazed by it – I am incredibly proud and excited to be using it in the Tempest products," she said. "Because I am 40 and a parent, most of my friends are also moms around my age. They have said the Tempest lube has improved their intimate relationships by helping the symptoms of menopause that can make intimacy less enjoyable." A spokesperson for Daniels added that Tempest can appeal to everyone. "We have heard many wonderful stories from friends and loved ones, about how CBD has changed lives, alleviated pain and anxiety, and helped people open up to life. We love Tempest because it uses the magic of CBD to change love lives for the better, helping people of all stripes and ages connect to one another and have better sex. And the nanotechnology makes all the difference in the world. It makes CBD absorption almost instant, so you never lose the thrill of the moment." Adding CBD or THC to personal lubricants is not new, but most on the market take a long time to be absorbed. Some CBD lubes use medium-chain triglyceride (MCT) oil, a type of saturated fatty acid, as the base. Oil-based lube can be messy and may cause reactions for those with skin sensitivities. And since oil can break down the material in latex condoms, those practicing safer sex should avoid oil-based lubes. Forest said Tempest users not only get more CBD by volume, but the CBD is immediately absorbed and begins working on contact as soon as it's applied.
Stormy Daniels is making public appearances around the country to launch her product. She's also visiting cities, including Spokane, with her stand-up comedy/storytelling show. She'll appear at the Spokane Comedy Club (315 W. Sprague Ave.) on Feb. 17…which just happens to be Presidents Day. Event information can be found at spokanecomedyclub.com. For other events and updates, follow twitter.com/StormyDaniels.
Local journalism is essential.
Give directly to The Spokesman-Review's Northwest Passages community forums series -- which helps to offset the costs of several reporter and editor positions at the newspaper -- by using the easy options below. Gifts processed in this system are not tax deductible, but are predominately used to help meet the local financial requirements needed to receive national matching-grant funds.
Subscribe now to get breaking news alerts in your email inbox
Get breaking news delivered to your inbox as it happens.
---