Sports
A Grip on Sports: As Don Larsen passes into our memories, his biggest accomplishment changed a life forever
Thu., Jan. 2, 2020 A GRIP ON SPORTS • One day changed two lives forever. Oct. 8, 1956. The Yankees' Don Larsen, a journeyman right-handed pitcher, pitched the only perfect game in World Series history, lifting New York past Brooklyn and lifting himself into baseball immortality.
•••••••
• We mentioned two lives. Larsen's is obvious. The other is mine.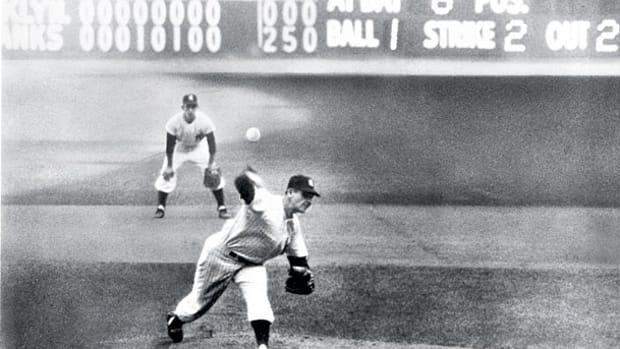 Being born is not something you choose, nor is the day it happens. But by arriving on this earth the same day as Larsen's gem, we became connected in perpetuity. Even if only one of us knew it.
Don Larsen died last night in Hayden, Idaho, just down the road. He had lived there for years after his long major league career, and ensuing careers selling liquor and paper, were done.
Hardly a day went by as a youngster that my dad didn't remind me he had missed the best-pitched game in World Series because of me. Or how I must be destined for baseball greatness due to something that happened 3,000 miles away while I was exiting a womb.
It's seems odd now, but made so much sense then. It felt like an omen. And played no small part in this kid wanting to follow in Larsen's footsteps someday.
No chance. Still, people noticed. Whenever my birthday rolled around, Larsen's name would be mentioned by anyone who was even a casual baseball fan.
His accomplishment, and the day it occurred, lives on.
Now, after 90 years, he doesn't.
It's odd, I know, but it feels as if a part of me has passed with him.
• Watching the Rose Bowl yesterday two things hit me: It's still the most beautiful day at the most beautiful venue in all of college football; and Justin Herbert isn't the quarterback he's been touted to be for the past four years.
The first thought is hard for anyone to argue with. The sky, the mountains, the sunset, the stadium's perfect symmetry, it's a visual feast. It rarely disappoints.
The second thought would be considered fighting words in Eugene, I know. Too bad.
Herbert is a fine quarterback, one with a strong arm and quick feet – the latter which he showcased in a crucial manner yesterday.
But throughout his career at Oregon, in the games I was able to view at least, he didn't seem to be the most accurate thrower. His completion percentage was fine, but where the ball arrived at the receiver seemed off way to often, even if it was a completion. And then there was his inability at times to find the open guy, something that seemed to show often against Washington State's oft-porous secondary and reared up again yesterday.
A couple of times in the second half last night the Ducks needed to convert big third downs. Both times replays showed receivers coming open. Both times Herbert didn't find them.
Sure, no college quarterback is ever perfect, not even Gardner Minshew. And maybe Herbert isn't as good as the hype machine would have you believe. He was good enough, though Wednesday to lead the Ducks to a 28-27 Rose Bowl victory over Wisconsin. And that better be enough.
•••
WSU: The Pac-12 basketball season begins tonight. USC travels to Pullman to open the conference slate, facing a Washington State team that has posted a better record (9-4) than many thought it would. … Larry Weir took one last look at the 2019 football season with Paul Sorensen on a recent Press Box pod. … Elsewhere in the Pac-12, we start with basketball from now on, including Washington ready to host disappointing UCLA tonight. The conference had a pretty good nonconference season. … Oregon State and Oregon open with the trip through the mountains, against Utah and Colorado. … The Bay Area schools open against each other. … In football news, we linked most of the Rose Bowl items above, but we have a couple more stories here. … UCLA is losing a tight end to the NFL. … Arizona State is losing one to a medical condition. … Washington is looking for an offensive coordinator.
Gonzaga: The WCC schedule also kicks off in earnest tonight, with both Zag teams on the road. The men are in Portland, where they will face the improved Pilots. Jim Meehan has a preview of the game as well as his key matchup. We will be back this evening with our TV Take. … The women have a showdown in Provo, where they will face BYU, which defeated the Zags three times last season. Jim Allen has a preview and a look at Gonzaga's recent player rotation. … As we mentioned yesterday, a former Georgetown player has decided to attend Arizona. Jim Meehan has more in this story. … Around the WCC, Saint Mary's and San Francisco, two teams that expect to challenge GU for conference supremacy, meet tonight at USF. … One of BYU's key players came from Arizona. The school, not the state.
Seahawks: It looks as if the Hawk secondary will be closer to full strength Sunday. … One wonders if there will be more pass interference calls this week.
•••
• You know, yesterday was by far the best day of the year. I wonder if today will meet or exceed it? Hopefully. Until later …
Subscribe to the sports newsletter
Get the day's top sports headlines and breaking news delivered to your inbox by subscribing here.
---