Sports > Area sports
Former Idaho athletic director Bill Belknap dies at 81
UPDATED: Tue., July 21, 2020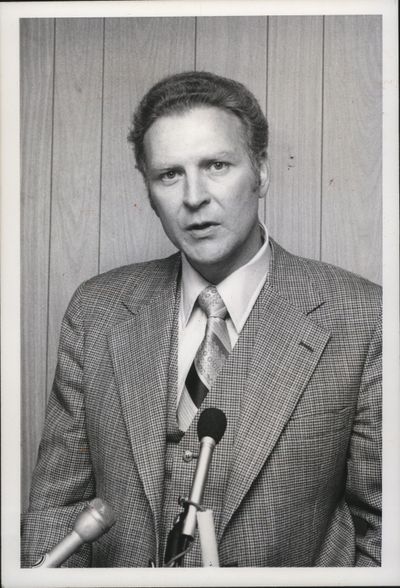 Bill Belknap, who guided the University of Idaho athletic department to unprecedented success during his 10-year run as athletic director, died Friday at the age of 81.
Belknap took over as A.D. in January 1978 and made a string of key hires, including football coaches Dennis Erickson and Keith Gilbertson and men's basketball coaches Don Monson and Tim Floyd.
"He took a chance on me when I was a young coach and gave me an opportunity to go to Idaho and build that program," said Erickson, whose teams won one Big Sky Conference title and advanced to the Division I-AA playoffs twice in four seasons from 1982-85. "If it wasn't for Bill, who knows where I would have ended up.
"What he did for that athletic department is beyond what anybody else has done."
Gilbertson, who succeeded Erickson and led the Vandals to two Big Sky titles and three playoff appearances from 1986-88, echoed Erickson's comments.
"Tremendous guy to have as a boss," Gilbertson said. "In my nine years as a (collegiate) head coach, I had 10 different athletic directors, which is probably some kind of a record. I had three in one year at Washington. Bill was far and away the best guy I worked for."
Belknap graduated from the U.S. Military Academy at West Point in 1961 and was an assistant coach for Army football for two seasons. He was an assistant coach at Arizona for 10 years and served as an assistant athletic director for the Wildcats before making the move to Idaho.
After 10 years leading Vandal athletics, Belknap became executive director of the university's foundation. He returned to athletics as commissioner of the Southland Conference. He was athletic director at Wichita State for six years before retiring in 1999.
Belknap was inducted into the North Idaho Hall of Fame in 2003 and the University of Idaho Hall of Fame in 2008.
Seven UI teams combined to win 13 conference titles during Belknap's tenure as A.D. The football team had two winning seasons in the 10 years prior to Erickson's arrival. The Vandals reeled off 15 consecutive winning seasons under Erickson, Gilbertson, John L. Smith and Chris Tormey.
"He coached, so he kind of knew what you were going through," Gilbertson said. "A lot of time people that are your superiors are wearing the same shirt with the same emblem, but they're not always behind you. With Bill, you always knew where you stood and he supported you."
Men's basketball reached new heights under Monson, who led the team to three consecutive 20-win seasons, including a 25-4 mark and a 1981 NCAA Tournament berth. The Vandals followed that with the most successful season in program history, a 27-3 campaign with an 1982 NCAA Tournament victory over Iowa in Pullman before falling in the Sweet 16.
The women's basketball team, coached by Pat Dobratz, another Belknap hire, won 28 games in 1985 and lost to Cheryl Miller-led USC in the opening round of the NCAA Tournament. The Vandals won the 1986 WNIT.
Bill and wife Donna settled in Moscow in 2001. Son Bill works for the city of Moscow and daughter Kim lives in Priest River, Idaho.
Belknap had been battling congestive heart failure. There is no funeral service planned. The family asks those wanting to do something in remembrance of Belknap contribute to the Bill Belknap Endowed Scholarship with the University of Idaho Foundation.
Local journalism is essential.
Give directly to The Spokesman-Review's Northwest Passages community forums series -- which helps to offset the costs of several reporter and editor positions at the newspaper -- by using the easy options below. Gifts processed in this system are not tax deductible, but are predominately used to help meet the local financial requirements needed to receive national matching-grant funds.
Subscribe to the sports newsletter
Get the day's top sports headlines and breaking news delivered to your inbox by subscribing here.
---