News > Spokane
Protests continue peaceful push for reforms
June 1, 2020 Updated Mon., June 1, 2020 at 11:34 p.m. Peaceful protesters spent part of their day using chalk to fill the sidewalk with colorful emblems representing peace and support for the Black Lives Matter movement, following a protest that ended in the deployment of tear gas and rubber bullets.
About 100 people, most of whom participated in yesterday's march, stood in Riverfront Park to protest police brutality and call for justice for George Floyd, a Black man who died in police custody in Minneapolis last week.
"I know that this doesn't really solve anything yet, but to me it's making a statement that even when you're trying to fight violence, violence isn't the answer," said Jacqueline Dobson, referring to the looting that took place yesterday.
A smaller group had arrived at the park earlier that morning to clean up some of the graffiti in an attempt to "bring out something beautiful to the ugly situation." They had also planned to clean up some of the graffiti around town but noticed most of it had already been cleaned, she said.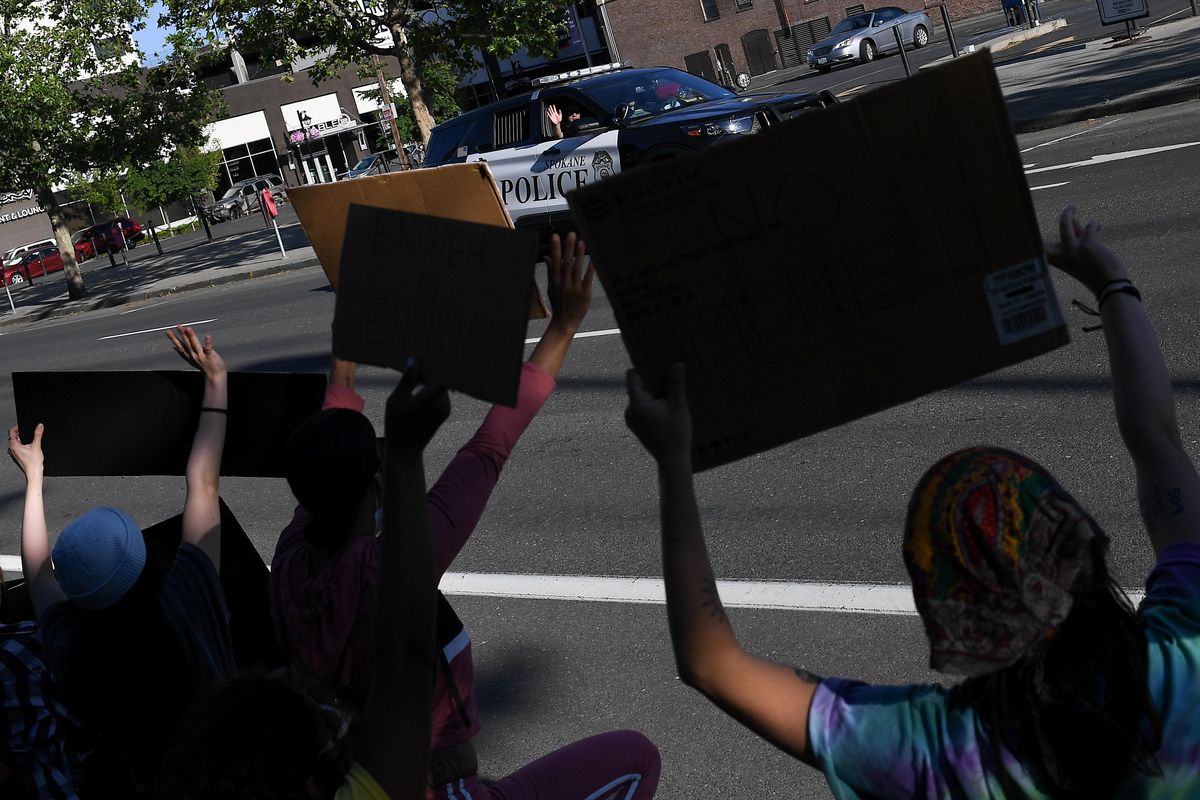 A Spokane Police officer waves at crowds who wave back and flash peace signs during a protest on Monday, June 1, 2020, at Riverfront Park in Spokane, Wash. (Tyler Tjomsland / The Spokesman-Review)
"It was peaceful (Sunday) during the day and it was sad to see the destruction that happened, so we wanted to do something to rectify that," she said.
Amie Jaro, who stood holding a Black Lives Matter sign, said yesterday's protest was meaningful to her as a Black woman who grew up in a predominantly white city.
"Seeing so many Black brothers and sisters coming out here in support and then to get the retaliation we did, it scared me," she said. "I thought, 'Well, what are my children going to face? What are my family members going to face?' "
Jaro had been one of the protesters hit by the first deployments of tear gas near the looted Nike business. Five minutes before officers used the first set of tear gas, they announced to protesters that they were unlawfully assembling and they needed to disperse the area, she said.
"But no one really knew what they were trying to insinuate at that point, so we were still chanting and we were still being peaceful and yet they threw them anyway," Jaro said.
Standing at the front of the peaceful crowd was Iyanna Holman, she said people felt like they weren't able to get the word out about why they were protesting because of the actions of a few rioters. They violated the purpose of the protest and made it about looting that is not what it was about, it was meant to be peaceful, she added.
The group she was with had knelt on the pavement to show they were peaceful protesters but were still met with tear gas, she said.
Local journalism is essential.
Give directly to The Spokesman-Review's Northwest Passages community forums series -- which helps to offset the costs of several reporter and editor positions at the newspaper -- by using the easy options below. Gifts processed in this system are not tax deductible, but are predominately used to help meet the local financial requirements needed to receive national matching-grant funds.
Subscribe now to get breaking news alerts in your email inbox
Get breaking news delivered to your inbox as it happens.
---