News > Idaho
Demonstrators and armed citizens coexist peacefully in downtown Coeur d'Alene
June 2, 2020 Updated Tue., June 2, 2020 at 11 p.m. A group of around 25 protesters, mostly young people in their teens and 20s, gathered Tuesday night in the city's downtown to protest police brutality.
Not far away, a dozen or so men and women in leather jackets and combat fatigues stood by, rifles strapped to their backs.
Despite what might seem like two extremes in opposition to each other, both protesters and armed spectators said they were on the same side.
"I think the armed guys are here to ensure there's no looting tonight, mostly," demonstrator Frances Smith said. "They're guardians for Coeur d'Alene, ultimately. They've stood up for us a few times tonight."
The demonstrators held signs with messages in memory of George Floyd and in support of Tyler Rambo, a young black man who lost both legs after being shot 10 times by Coeur d'Alene police last year. Chants rang out across the narrow street as families ate on restaurant patios and made their way through the crowd.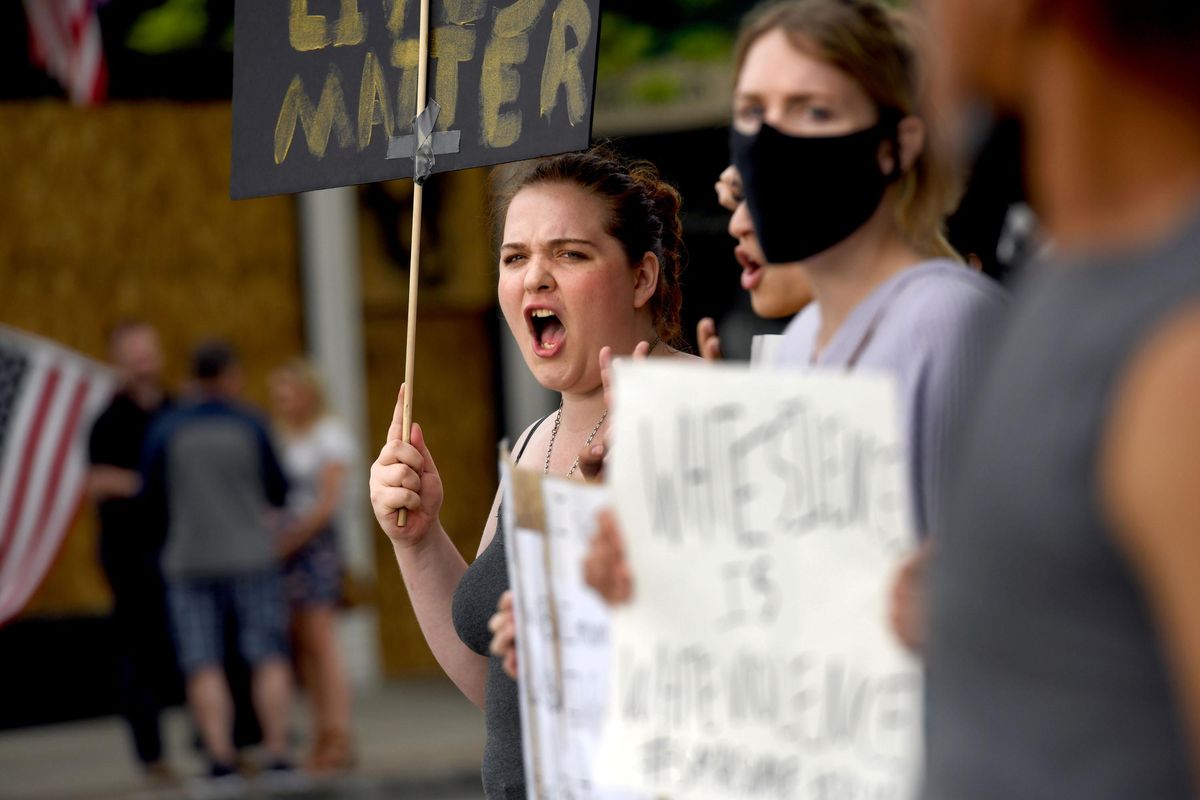 Frances Smith, far right, of Spirit Lake shouts during a protest about the killing of George Floyd in Coeur d'Alene, on Tuesday, June 2, 2020. (Kathy Plonka / The Spokesman-Review)
Smith said she had been one of the first to arrive at Tuesday's protest, around 2 p.m. She said she had seen more support than disagreement, with passers-by and drivers honking, waving and flashing peace signs.
The protest had spread mostly through word of mouth in a "very grassroots way," Smith said, with no one group organizing the event.
Laura Tenneson, chair of the Kootenai County Democratic Central Committee, said the committee had not been encouraging people to protest due to the ongoing pandemic and the potential for escalation.
Around 7:30 p.m., one man passing through the crowd of protesters got into an altercation with a demonstrator, the cause of which was not immediately clear. As several of the armed men standing by stepped in to separate the two, protesters chanted, "We love you," as the man left the crowd.
Demonstrator Joseph Pleasant said the unofficial guardians made him feel a little safer. The protest had been largely uneventful, Pleasant said, with only a few detractors yelling profanities or expressing opposition to the demonstration's message.
"There have been a couple guys trying to silence us, but the Trump supporters down there are helping keep it under control," Pleasant said. "We won't be silenced, and I guess I'm glad people with guns are here to make sure that happens."
Kathy Plonka - The Spokesman-Review
Mike Marquardt stood near the protesters, a rifle slung across his chest. He and others had heard rumors of anti-fascist militants causing riots and looting in other cities, including Spokane.
"I think there are two types of people," Marquardt said. "The good people who are here to get a message across, and we are here to support and protect them. Then there are those who come to take advantage of the situation and cause trouble. We are here to protect against those."
Dan Carson attended Tuesday's event as well as an earlier protest at the Coeur d'Alene Winco. He "was 100 percent in support" of the demonstration's message, but said he wasn't the protesting kind. Carson said the guns he carried were simply a projection of power to discourage any would-be opportunists.
He said those standing by with firearms didn't want to fire them.
"We're making sure they're heard in a peaceful way, plain and simple," Carson said. "But if things go bad, we do whatever we have to. We will not let our city burn."
Local journalism is essential.
Give directly to The Spokesman-Review's Northwest Passages community forums series -- which helps to offset the costs of several reporter and editor positions at the newspaper -- by using the easy options below. Gifts processed in this system are not tax deductible, but are predominately used to help meet the local financial requirements needed to receive national matching-grant funds.
Subscribe now to get breaking news alerts in your email inbox
Get breaking news delivered to your inbox as it happens.
---