Thousands of protesters gather in downtown Spokane for Sunday demonstrations against police brutality Thousands of people gathered in downtown Spokane for the second straight Sunday to protest police brutality following the death of a Black man in police custody in Minneapolis.
A series of speakers and marches that began at 2 p.m. and lasted through sundown remained largely peaceful, with the crowd calling for police reforms, up to and including defunding the department. As the sun began to set, some men carrying rifles began appearing downtown, as several hundred remaining protesters marched through the downtown streets claiming their right to protest, stopping at the Courthouse and ending near the Intermodal Center downtown.
Police said they used a law enforcement helicopter that buzzed overhead most of the day to monitor the march. The information was used by police on the street to block intersections and redirect traffic, and a trail of officers on bicycles trailed the marches for most of the afternoon.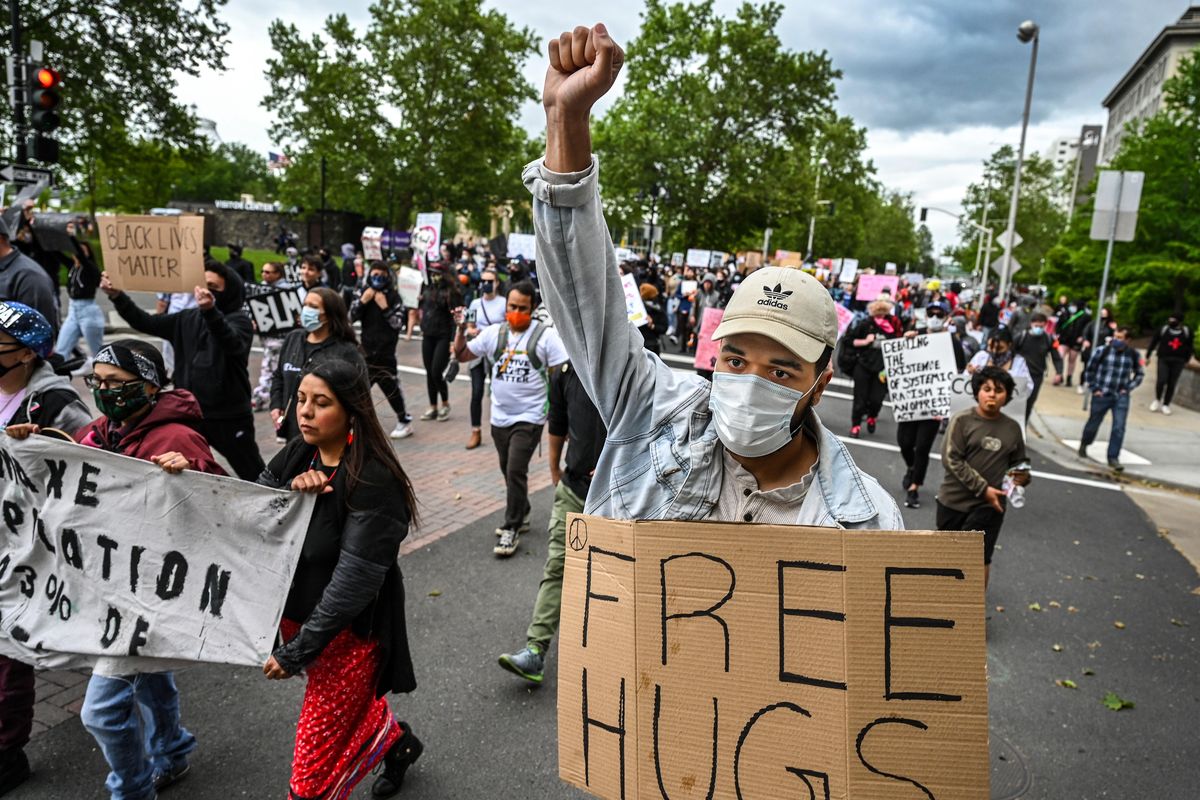 Speakers call for recognition, police reform
Several members of the local chapter of the NAACP spoke into a microphone that reverberated across the Lilac Bowl of Riverfront Park on Sunday afternoon, many of the onlookers carrying signs and raising their fists in solidarity.
The demonstration was prompted by the killing of George Floyd, a Minneapolis man whose neck was pinned to the ground by officer Derek Chauvin, who has since been fired, arrested and charged with second-degree murder. They were also marching for Breonna Taylor, a Louisville emergency medical technician shot by police while in bed inside her home in March, and several other Black Americans who've died at the hands of law enforcement recently.
Many of the afternoon speakers urged protesters not to be goaded into violence.
"You are better than that, I believe you are better than that," said Kiantha Duncan, a vice president of the local NAACP, to a crowd that numbered several thousand by midafternoon. "This is not the day, this is not the time and this is not the place."
Other speakers included Anwar Peace, a former Seattle police activist, who was involved in a tense situation with Spokane Police in December. Peace called for both a national and local monument to the people whose lives had been lost at the hands of law enforcement.
David Casteal, a local educator, compared Floyd's death to the lynchings of Black people in the past. He urged the crowd to vote, participate in the U.S. Census and become politically involved.
"We're all here together, another step in a long journey of justice," Casteal said.
Other speakers such as Inga Laurent, a Gonzaga University associate professor, directed their message directly to Black people. Laurent acknowledged the pain many are in and the centuries of suffering many Black Americans have endured, and still endure, while working for equality.
"Your ancestors survived some of the most ungodly cruelty," she said, "and today you survive the wrath of those who would continue to do you harm, physical, economic and spiritual."
Laurent said American society has not been willing to acknowledge its past, much of which was built on the backs of other communities.
"We know the identity of America's worst looters," she said.
She said she was proud of the resilience of Black Americans, and said she planned to work to make the country come to terms with its past and its potential future.
Local attorney Natasha Hill called for a defunding of the city's police department. Earlier Sunday, a veto-proof majority of the city council in Minneapolis, where Floyd was died in police custody, announced they would move forward with a plan to disband the police department there and focus on community policing efforts.
"We don't have trust in that system. We have no reason to have trust in that system," Hill, holding a sign that said "Don't shoot," said of police.
Defunding or shrinking the police department or prisons was a common theme throughout the protest.
Ava Sharifi, a recent college graduate who went viral in 2016 for a speech she gave to her classmates at Lewis and Clark High School on race and acceptance, spoke to the crowd about the disproportionate number of Black men incarcerated and killed, and the continued violence.
Sharifi said the arrest of the officer accused of killing George Floyd and promises of more training are not enough, and called for systemic change, including defunding police and stopping the building of prisons, jails and detention centers:
"It is not enough to have better-behaved police, we need to shrink the size and power of the police."
The crowd began forming in the Lilac Bowl on Sunday afternoon, many of them making and sharing art to support the protest's message.
Local artist Israel Blackwell was painting a portrait of George Floyd. All four officers involved in the incident have been fired and charged with crimes in Floyd's death.
Blackwell said the footage depicting Floyd's death, which showed Chauvin with his knee on Floyd's neck for nearly nine minutes, was horrifying and clearly spoke to a deeper issue.
"That video is the worst thing I've ever seen," he said.
He hoped his painting, which he completed next to the stage where speakers addressed the crowd, will remind everyone why they gathered.
"I think it's really important not to lose focus on why this started, and it's George Floyd," he said.
Last week, Audwyn Cromwell made hundreds of Black Lives Matter banners, Cromwell's first venture into screen-printing.
Cromwell printed them on sheets and handed them out to protesters as they arrived. Cromwell is currently a stay-at-home mom, but used to be a firefighter.
"I have the energy, and I wanted people to feel included and unified," Cromwell said of the project.
Marching and preparing
Organizers had set up tables stocked with donated food, water, sunscreen and first aid supplies.
"It's an important part of keeping people safe," said Sailor Guevara, who was helping organize the medical workers. Guevara said staff on hand had, at a minimum, training in first aid, and physicians and registered nurses also were present.
Guevara had a medic station set up at last Sunday's protest, but had left before nightfall, when officers began using tear gas and rubber bullets to disperse crowds.
This week she organized with Occupy Spokane to bring more than 20 physicians, nurses and other people trained in first aid to set up stations throughout the park. Medics had yellow crosses taped on their clothing.
Over $1,000 in supplies were donated, Guevara said.
Rachel House, one of thousands of protesters who filled the Lilac Bowl by 3 p.m., carried a sign reading "No justice, no peace" and a hashtag reference to Taylor. The 26-year-old emergency medical technician was shot and killed in her Louisville home by police officers executing a no-knock search warrant on March 13.
House said educators need to spend more time teaching young people about Black history and other persons of color.
"Some people don't know my history, and that's why this keeps happening," House, 31, said. "My biggest disgrace is that I didn't know my history until I got to college."
She said people's willingness to forget past acts of violence and their continued support for a what she called a racist President of the United States has incited her anger.
Black people are policed all the time, House said, recounting the time she was held by police in California because of a light-rail ticket. With no ID on her, she remembers having a gun pointed at her and handcuffs being cinched so tight it made her wrists bleed.
"I watched that George Floyd video and I threw up, I was sick to my stomach," she said. "That was the most disgusting thing I've ever seen."
Ethnic studies should be a part of high school curriculum, she said.
She said witnessing protesters support the movement in such a peaceful manner has been a "beautiful response."
"I just hope this doesn't die, don't get woke today and fall asleep tomorrow," House said.
Reggie Howard has been in a few situations with police officers that could have escalated if not for responding the way they had been taught to interact with police as a Black person by "knowing their place."
"We shouldn't have to live our lives like that," the 30-year-old said. "Our system is corrupted, we need to break that system."
Peaceful protests like these and the ones led by Martin Luther King Jr. will propel the voices of underrepresented groups in the United States, and is what will lead to change, Howard said.
Albert Walker stood back in the crowd, alone, with his hands in his pocket as people began marching and chanting. Walker, who has lived in Spokane for the past 19 years, said it was his experiences with police that brought him out to protest today.
"It's beautiful to see people want change, because too many innocent people are getting killed," he said.
The 54-year-old said he's seen protests against police brutality spring up before, but he's never seen so many white people stand in solidarity and fight against issues Black communities are facing.
"We've heard it all before so let's see if this brings real change," he said. "We can just talk about it, or we can talk about it and then make changes. We've got a long ways to go."
Later, when protesters marched to the Spokane County Courthouse, they were urged on by members of the Spokane Fire Department.
"We think it's important that firefighters stand with our Black brothers and sisters," said Spokane Valley firefighter Darrin Coldiron, noting that Taylor was an emergency medical technician.
"People look up to firefighters. We're like pillars of the community, " said Scott Coldiron, a lieutenant at the Spokane Fire Department's Station 4. Showing up to demonstrate, he said, "makes it so they can't say these are a bunch of antifa low-lifes."
Dan Wilson, another Station 4 lieutenant, added, "It's not a select group of people. It's everybody."
Protesters confront armed man
After an initial march around the Spokane Arena shortly after 3:30 p.m., rain began to fall and a large portion of the crowd left downtown. Those that remained danced in the rain and lined Spokane Falls Boulevard, chanting and soliciting honks from passing cars.
One man, who would only identify himself as "Connor," arrived downtown and walked toward protesters carrying an assault-style rifle and pistol after the march was finished.
He claimed he was there to "keep the peace" and would use his weapons if he was attacked. When asked if he supports the protesters' cause, he replied, "I support their right to protest."
The other people with him were not openly carrying weapons.
MMA fighter Jose Ferreri said he also was standing near the armed man to keep the peace.
"He's probably the first person I would tackle," Ferreri said.
"It doesn't make sense that you're looking like you're going to a war zone when you're just in our city."
Many protesters were unhappy to see "Connor" and taunted him with chants. Some confronted him, attempting to argue.
Following reports of many more people openly carrying rifles downtown, city spokesman Brian Coddington said the armed men would be treated "like everybody else." Police were closely watching them to ensure there would be no physical clashes.
Coddington said there had been no activity that warranted further action from the city.
"We are observing and monitoring them, but it is an open carry state, so they are allowed to be there," he said.
Second protest stretches around downtown
The group of a few hundred protesters that stayed after the main demonstration in Riverfront Park marched around downtown Spokane for hours Sunday night, calling for police reform and systemic change.
The later gathering at march started at around 7 p.m. until nearly 10 p.m., winding through downtown, down to the Peaceful Valley neighborhood, to the courthouse and back to Riverfront Park.
That longer protest was led by activist Renee White.
White kept the crowd together and urged everyone in the protest to stay peaceful and not agitate police officers.
"Do not give them a reason," she shouted, "do not cross that that line."
She urged demonstrators to support Spokane City Council's only black council member, Betsy Wilkerson, and get involved in local politics. Before the crowd dispersed, she asked them to get involved in politics, research and stay active.
She also addressed members of the state patrol who gathered around the courthouse, urging them to stand up for the black community.
"Don't ignore me, don't turn the other cheek," she said. "We cannot look the other way no more."
White told officers they need to find it in their heart to stand with the people and support them like they swore to do.
"I can't take this oppression no more," she said. "Hate is not the answer, pride is not the answer."
Protests follow last week's unrest
The demonstrations occur one week after a peaceful protest ended with the use of tear gas and rubber bullets against those that remained downtown after night fell. Authorities initially said that the damage of property downtown was committed by people not from Spokane, but many of the arrests last week were people who live in and around the city.
Downtown businesses began taking precautions late last week, including boarding up their windows, anticipating potential damage on Sunday. Mural artists had begun painting images on the boarded-up windows of the downtown Nike outlet, site of property damage last week, as well as businesses near the Parkade parking structure.
Spokane Police Chief Craig Meidl said late this week that the department would begin to limit its use of a controversial technique where an officer uses their knee to pin someone to the ground. The technique became the source of widespread criticism after it was used on Floyd. It has also been employed in Spokane.
Reporters Emma Epperly, Rebecca White, Daisy Zavala, Chad Sokol and Adam Shanks contributed to this report.
Editor's note: This story was changed on June 10, 2010 to remove incorrect pronouns used in relation to Audwyn Cromwell.
---