News > Spokane
Spokane police use tear gas, rubber bullets to disperse crowds downtown
May 31, 2020 Updated Mon., June 1, 2020 at 1:18 p.m. A peaceful protest that drew thousands of people to downtown Spokane on Sunday afternoon later erupted into looting, violence and confrontations with police, who used tear gas and rubber bullets to disperse crowds.
Mayor Nadine Woodward issued an immediate curfew that lasted through 5 a.m. Monday in the downtown core.
Additionally, Spokane County Sheriff Ozzie Knezovich has asked for the assistance of the Washington National Guard.
"By tomorrow morning, our men and women in uniform will have been on their feet for almost 24 hours, so we needed resources," said Spokane County Commissioner Al French after asking Gov. Jay Inslee to activate 200 members of the National Guard.
The curfew was put in effect for an area bordered by Division and Maple streets between Fifth and Boone avenues. Woodward said the curfew was ordered immediately "because of the civil unrest we are experiencing this evening."
Shortly before midnight, dozens of lingering protesters held a final demonstration at First Avenue and Howard Street, many sitting cross-legged in the intersection and chanting "hands up, don't shoot."
Minutes later, police who had been waiting a couple blocks to the north began advancing and firing more tear gas.
A Lenco BearCat armored vehicle was seen entering the downtown core from the east and then moving slowly south along Howard Street with many other police vehicles, pushing the protesters toward Third Avenue. It wasn't immediately clear if any arrests were made there.
Police first fired tear gas after a group smashed into and began looting the Nike Factory Store downtown. Police later used rubber bullets, tear gas and flash bangs to disperse crowds congregating at Riverside Avenue and Howard Street, just east of the STA Plaza.
While the vast majority of protesters downtown remained peaceful, at multiple police barricades a handful of protesters pitched rocks and other small objects – including spent tear-gas canisters – at the officers who stood roughly a block away. Some also spray-painted graffiti on downtown storefronts.
As the night went on, small groups of people who appeared to be far-right militia members roamed the protest zone, openly carrying firearms. Additionally, a handful of black-clad agitators smashed the windows of a few other businesses, including Garland Resale Boutique at First Avenue and Howard and caused property damage to many other downtown businesses – but they were quickly confronted each time, sometimes with violence, by larger groups of protesters upset with the destruction and looting. One man was beaten by several others about one block from Garland Resale for allegedly causing damage.
The protest shifts
The spark that turned the evening into violent confrontations was the looting of the Nike store on Main Avenue early Sunday evening.
A group had broken into the store and were running out of the store with stolen items. But other protesters linked arms to try and prevent more looting. Some took items out of looters' hands and threw them back into the store through the smashed windows.
When police arrived at the chaotic scene looting had been halted at Nike, but they used tear gas to clear the area.
Protesters scattered, some around a corner. There, half a block away from police, Owen Ennis, a Black Spokane resident, knelt down and raised his hands in the air. Other protesters did the same as SWAT officers approached them slowly.
These protesters who escaped the first round of tear gas shouted "hands up, don't shoot," seconds before police launched canisters of the gas for the second time.
"They don't care about Black lives, they don't give a damn about nobody but themselves," Ennis said, having just caught a whiff of the tear gas.
Protesters who weren't struck ran up to pour saline in others' burning eyes.
Other confrontations
As people retreated, police fired more tear-gas cans into Riverfront Park, where crowds were gathering and homeless individuals were lying in the grass, including a woman and her dog.
Confrontations between those who remained downtown escalated throughout the night. Authorities continued to use tear gas, rubber bullets and flash-bang devices to attempt to get crowds to disperse, generally in the area of Riverside and Howard, as well as outside Spokane City Hall.
Around 8 p.m., a water bottle was thrown at police near Riverside and Howard, said Logan Dechenne of Spokane. Tear gas was deployed there and the crowd largely dispersed. Other witness disputed the claim that a water bottle was thrown.
Just before 9, another round of tear gas and rubber bullets was used at the intersection.
A masked man was seen attempting to shatter the glass of a business on Washington Street with a hammer, but others in the area stopped him before he could break it. Graffiti and smashed glass were seen elsewhere downtown.
Jesse Tinsley - The Spokesman-Review
A fight broke out between protesters upset at the violence and those causing the violence about 7:30 near a police barricade along Main Avenue near the Davenport Grand Hotel. One man boldly walked along the police line and was promptly arrested, sparking anger from the nearby crowd of more than 100 people.
Police responded, firing tear gas, rubber bullets and bean-bag rounds.
A woman who was shot with a rubber bullet near her knee hopped away screaming. The woman, who declined to give her full name, said she was disappointed in the looting at the Nike store, but said the protests across the county are sparking a revolution.
Nearby, someone painted spray-painted Standard Printworks with "George Floyd RIP."
As people dispersed from the area, others gathered near Sprague and Howard. At about 9, dozens of loud pops indicated police shooting tear gas and rubber bullets at protesters. The crowd, mostly teenagers, ran screaming.
People continued standing around, watching the scene rather than active protesting.
Chad Sokol / The Spokesman-Review
Just before 10, two men started smashing the windows at Garland Resale Boutique.
A 13-year-old girl in a blue hoodie was carried around the corner of the STA Plaza after being sprayed with tear gas and shot in the leg with a rubber bullet. Her friend who had also been hit limped behind her. The teens passed another teen spray-painting "Justice for Floyd" on a nearby steel door.
Just before 7:30 near Riverside and Stevens Street, a man lying face down with his hands over his head was being beaten by a police officer with a baton. It was not immediately clear what occurred in the moments before the beating.
A protester standing by him yelled at the line of police, "You didn't have to shoot him!"
"Why are you the only ones with weapons?" another man repeated to officers, who held what appeared to be rubber bullet rifles.
A group of people lifted the man and carried him down the road seconds before police shot the first canister of tear gas at that intersection, without warning.
Police threw several more canisters at about 30 dispersed protesters, several carrying the injured man. Amid the gas hissing and clouds of it spreading, an officer fired seven loud, possibly rubber bullets, toward protesters running the other direction.
On another block, protester Tiana Taylor said she was hit in the arm with a tear-gas canister as she was trying to get away.
Though police dispersed a group of protesters at Riverfront Park, officers continued toward the crowd and shot more rounds of tear gas at them, some landing at the pedestrian bridge near the Looff Carrousel.
"We can't be peaceful – we'll still be shot at and it makes me feel horrified," Taylor said. "We have no options."
Protesters and police were engaged in another standoff at the intersection of Bernard and Riverside around 9:30. Dashea McDowell was using milk and a spray bottle of baking soda water solution to remove what he said was tear gas from his eyes and mouth.
Kayama and Kahles Young provided him with the milk and spray bottle, which they said they had taken from a table of supplies at the Spokane County Courthouse earlier in the protest.
They said they had helped 30 to 40 people who had been tear-gassed.
Asked why they were protesting, Kayama Young said, "Black lives matter."
Elected leaders respond
Councilwoman Betsy Wilkerson, the only Black member of the Spokane City Council, questioned whether the protest warranted the use of rubber bullets and tear gas. She expects council members to raise a number of issues with police department leaders on Monday.
"It seems pretty heavy-handed. It's a crowd, but it's not, like, 500 people. I'm challenged by the show of force of the amount of people down there," Wilkerson said.
Police did not assist with traffic as people marched down city streets, said Wilkerson, who participated in the protest on Sunday.
"I was concerned. Why couldn't there have been a police presence to help with traffic? We were walking across the Monroe Street Bridge and cars were still coming down Spokane Falls Boulevard. It was crazy-making," Wilkerson said.
In a video statement last week, Wilkerson pleaded with the community to "come together." That did not happen on Sunday, she said.
"There's enough blame to go around, but this is my question to the people who marched today – and I am glad they acknowledged George (Floyd) and what his family is going through – What are they going to do tomorrow? You can march, but are you going to show up, are you going to commit, are you going to make change, or are you just going to be upset today and forget about it tomorrow? That's what has historically happened. What will be different?"
The mayor commended those who had engaged in the earlier peaceful protest and said Spokane County Sheriff's deputies and Spokane Police officers engaged in "patience," but that the events of Sunday evening were "not Spokane."
"These people who stayed behind are here only to cause trouble," Woodward said. "We are seeing our downtown businesses' windows broken, we are seeing looting at several businesses, and we are seeing individuals who refuse police orders to disperse."
Spokane Police Chief Craig Meidl said some police officers had objects thrown at them and were assaulted, but did not provide details.
After an earlier rally at the courthouse ended, a group of about 500 people marched through downtown for about and hour and a half and police "tried to facilitate that as best we could," Meidl said. But the "march turned into breaking into multiple buildings, looting the buildings," he said.
"It continues to be an evolving situation," said Meidl, who urged people to stay away from downtown.
Spokane City Council President Breean Beggs said he and his family participated in the march to the courthouse, and that "the police that I watched during the day were doing a great job under difficult circumstances."
Beggs refrained from making immediate judgments on the police response on Sunday night, saying "it's too soon to know and I'm not there."
"As far as now, it's hard to watch police shooting things toward our community members," Beggs said. "At least the footage that I saw, it was fairly indiscriminate. It wasn't focused on people who were causing crime and doing that, it was just people in Riverfront Park."
French said he thought Sunday's march, and the police handling of it, were both respectful, and that the protesters got their message across.
"The majority of this community, if not a large portion of this community, agrees with the message, so I thought that went very well," French said.
But those downtown on Sunday night were "obviously a different group," he said.
"This is not the African American community in Spokane County that's doing the rioting," French said, blaming "antifa and others that are here to be disruptors."
The unrest followed a day of peaceful protests that drew thousands of people. They marched through downtown Spokane on Sunday in a show of anger, strength and unity following the death of George Floyd, a Black man who died in police custody in Minneapolis last Monday.
Sunday night's violence will have an effect on city and county operations Monday. The Spokane County Courthouse campus, the site of the peaceful protest Sunday afternoon, will be closed Monday, the county announced in a news release late Sunday. Spokane Transit Authority coaches also will delay the start of their service day until 6:30 a.m. due to the curfew.
In a special meeting on Sunday night, Spokane County commissioners voted to close Spokane County buildings on the Spokane County Courthouse campus on Monday.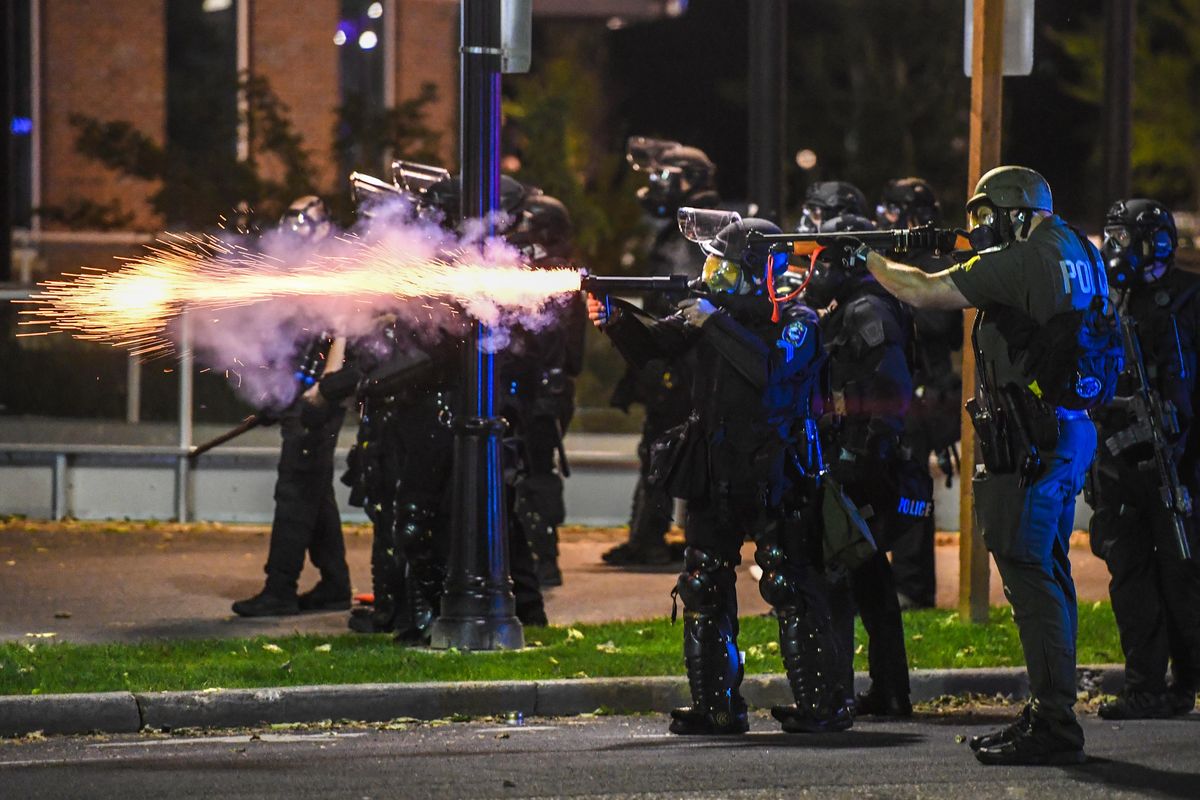 Spokane Police fires upon advancing protesters on Spokane Falls Boulevard after warning them to get back, Sunday, May 31, 2020. (Dan Pelle / The Spokesman-Review)
This story was reported by Daisy Zavala, Emma Epperly, Chad Sokol, Ted McDermott, Maggie Quinlan and Adam Shanks.
Local journalism is essential.
Give directly to The Spokesman-Review's Northwest Passages community forums series -- which helps to offset the costs of several reporter and editor positions at the newspaper -- by using the easy options below. Gifts processed in this system are not tax deductible, but are predominately used to help meet the local financial requirements needed to receive national matching-grant funds.
Subscribe now to get breaking news alerts in your email inbox
Get breaking news delivered to your inbox as it happens.
---