News > Spokane
Getting There: WSDOT watches traffic movement, aiding officials monitoring virus' movement
March 30, 2020 Updated Mon., March 30, 2020 at 8:18 a.m. The way to get to the end of this strange and difficult situation is not to get anywhere.
Stay home, stay safe, the governor has instructed.
That's easier said than done.
Going nowhere goes against our nature – and the virus'.
So Gov. Jay Inslee has asked us politely not to get too close to each other. And he has limited where we can go, closing schools and bars and restaurants, banning gatherings and events. And he has ordered us not to leave at all, unless absolutely necessary. And he has closed all but what his office deemed "essential."
But are we listening? Are we doing what Inslee and so many others, from the president on down to our friends and family, have implored us to do? Are we being sufficiently sedentary?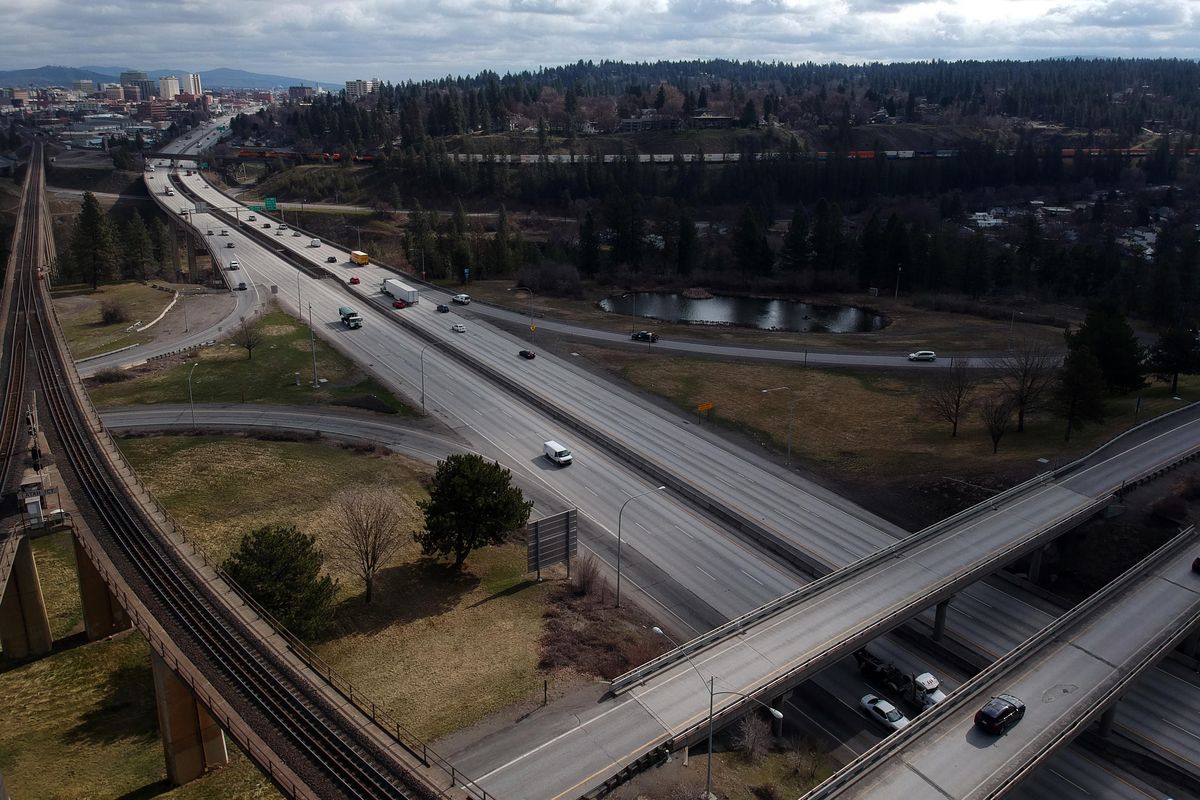 Traffic on I-90, seen here at the interchange with U.S. 195, is greatly reduced during the COVID-19 shutdown period. (Jesse Tinsley / The Spokesman-Review)
Becky Spangle said she got a call on about March 13 to help come up with an answer.
That was the day Inslee announced he was shutting down schools and universities, and all gatherings of more than 250 people in the state.
That drastic order came, Inslee said, after it was determined that localized, incremental efforts to contain the virus were "not sufficient."
"We need to get ahead of this wave, and we need to do it today," Inslee said.
Spangle's job was to start collecting data that would help show whether the new order worked.
From her office inside downtown Spokane's Intermodal Center, where she oversees one of the Washington State Department of Transportation's six Traffic Management Centers, Spangle got to work pulling together data from WSDOT's existing infrastructure of traffic sensors and monitors.
In the the department's Eastern Region, sensors are set up all around the Spokane highway system, with radars spaced out every half-mile to 1 1/2 miles on Interstate 90, U.S. 195 and the North Spokane Corridor. They collect traffic data 24/7.
Those sensors take two snapshots of each passing car, both counting it and gauging its speed. When a global pandemic isn't raging, that data is used "continuously by our operators for real-time data," Spangle said.
That data helps officials identify – and respond to – slowdowns that might be indicative of an accident, obstruction or other issue. That data is also made publicly available on the Spokane Regional Traffic Management Center website, srtmc.org, where drivers can follow along and view where slowdowns and stoppages exist.
But with a global pandemic raging, Spangle has turned that traffic data to a different purpose: comparing historical traffic data to current traffic data. That allows her to determine if fewer cars are on the road, an indication of how well people are obeying directives not to leave home unless necessary.
Her "baseline," she said, is February, a "pretty normal month, with no real weather issues." Using February data, she created an average weekday volume and an average weekend volume.
And ever since March 16, the day before the no-school and no-gatherings order took effect, she has spent a significant chunk of her work day determining whether traffic has declined compared to that February average.
Spangle said she saw a "definite decrease" right away and has seen further, significant declines that correspond with the tightening of restrictions on movement. Traffic was down about 10% that Monday and "as much as 25%" the next day, she said. Volumes then dropped more gradually and steadily after that until the weekend, when there was "a more significant drop," she said.
When Inslee announced his "Stay Home, Stay Healthy" executive order last Monday, traffic was down sharply. At the Argonne Road exit of I-90, Monday traffic was 38% lighter than an average weekday in February.
But traffic wasn't down everywhere. In fact, at the Appleway Avenue exit, traffic was up 8%. Spangle's job is just to gather, sort and analyze the data. After that – around 8 a.m. each weekday – she hands that information off, and it goes to the governor's office.
That's where Mike Faulk works, as deputy communications director.
Faulk said late last week that the data Spangle and other WSDOT officials collect on the West Side is "one way to tell if the proclamations that encourage social distancing work."
And traffic is down, overall, which is an "indication of fewer people moving around, fewer people ultimately making contacts and transmission of the virus," Faulk said.
But is the decline sufficient? Are the proclamations?
"It's not an exact methodology to making the decision to close or change other things," Faulk said. "It's twofold: We're mitigating the virus and we're mitigating the economic impacts. But mitigating the virus is kind of part of that, because it's going to cause we don't know how much more damage, if we just stay like things are normal right now."
So while traffic declines indicate "that the orders are working and increasing social distancing," Faulk said it was "premature" to say whether the declines were sufficient for restrictions on movement to be eased.
Inslee went further on Saturday, saying that an extension of his social distancing order in some form is "highly likely."
So we may not be going anywhere for a while – at least nowhere not essential, nowhere except the grocery store and the doctor. And all the while, we hope, we'll be getting back to where we were, even if that place is a crowded highway, stuck in a resurgent flow of traffic.
Work to watch for
The southbound curb lane on the Monroe Street Bridge will be closed until April 10 for Zero DB work.
Driscoll Boulevard between Alberta and Lacrosse avenues will have alternating lane closures until April 10 for Sefnco work.
The west curb lane of Monroe Street between Second and Third avenues will be closed until April 10 for Avista work.
The north curb lane of Third Avenue between Monroe and Post streets will be closed until April 10 for Avista work.
Fifth Avenue between Chandler and Hatch streets will have both directions of traffic flagged until April 10 for Avista work.
The northbound lane of Ray Street between 20th and 21st avenues will be closed until April 10 for Avista work.
The northbound curb lane of Washington Street between Sinto and Boone avenues will be closed until Friday for Quanta work.
The northbound curb lane of Nevada Street between Magnesium and Holland avenues will be closed until Friday for Quanta work.
The east curb lane of Ruby Street between Sinto and Augusta avenues will be closed from tomorrow until Sunday for WM Winkler work.
Local journalism is essential.
Give directly to The Spokesman-Review's Northwest Passages community forums series -- which helps to offset the costs of several reporter and editor positions at the newspaper -- by using the easy options below. Gifts processed in this system are not tax deductible, but are predominately used to help meet the local financial requirements needed to receive national matching-grant funds.
Subscribe now to get breaking news alerts in your email inbox
Get breaking news delivered to your inbox as it happens.
---