A&E > Entertainment
Coeur d'Alene comedian Dan Cummins overcomes COVID-19, livestreaming via Zoom
UPDATED: Thu., Nov. 5, 2020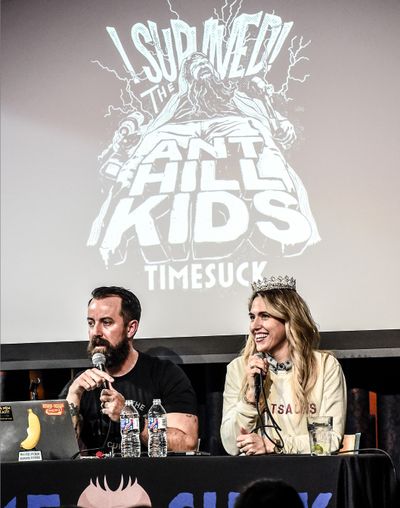 Stand-up comedy has come to a virtual standstill thanks to the novel coronavirus. Some clubs in states where the restrictions are relaxed, such as Oklahoma, Florida and Texas, are hosting shows.
Dan Cummins is a comic who is not down with making such a trek.
"I don't need to tour if it's going to be super stressful," Cummins said while calling from his Coeur d'Alene home. "There are a number of unknowns such as what if the show will be canceled.
"I don't want to deal with that. Fluctuating pandemic protocols that vary wildly from state to state, city to city and that change from week to week make planning a tour damn near impossible."
A significant unknown is whether coronavirus will be contracted on such a trip. However, COVID-19 can be caught at home, as well. Just before Cummins was slated to record his horror podcast "Scared to Death" last month at Honey Eatery and Social Club in Coeur d'Alene, he and his wife, Lynze Cummins, were stricken with the coronavirus.
"I think we got it at a Coeur d'Alene restaurant," Cummins said. "I had severe body aches. I definitely had a fever. I was shivering so hard it was like I almost had convulsions. I had the night sweats.
"My skin felt incredibly sensitive. It was as if I was allergic to my clothes. My vision was off. I wasn't seeing things the same way, but I had no respiratory issues. The doctors told me that coronavirus symptoms are all over the map."
After 1½ weeks, Cummins and his wife were fine again. Just don't expect Cummins to tour.
"I don't want to go out on the road and deal with the unpredictable," he said. "I don't want to hate comedy. So, I'll stick around here."
Cummins, 43, who rarely crosses the state line, will keep it close to home. Cummins, who headlined the first virtual show produced by the Spokane Comedy Club in April, will only deliver comedy if it's live.
"Zoom is not for me," Cummins said. "That show with the Spokane Comedy Club was a one and done for me. If that's what comedy has become, I'll stick with podcasts."
Cummins is doing just fine delivering stories and humor via spoken word courtesy of audio files. Cummins' "Timesuck" podcasts are typically amusing, informative and surprising.
Cummins, who sports an unironic mustache, detailed the life of the late martial arts icon/actor Bruce Lee. Cummins is reminiscent of comic/podcast master Joe Rogan, as he delivers his take in a confident and compelling manner.
"Scared to Death," co-hosted with Lynze, 36, is comprised of creepy horror and true crime stories. Dan Cummins is a gifted yarn spinner. "Scared to Death" benefits from the relatable touches rendered by his wife, particularly when she waxes about their children. Cummins is adept at delivering comedy and horror, which aren't the easiest genres to nail.
"It's either I'm looking for a laugh or a scare," Cummins said. "I'll build tension, and the release for those listening is with a laugh or a gasp. It's a challenge to pull off either, but I enjoy it. I try to have fun and keep people off balance."
Cummins, who likes thrillers such as "The Ring," "Insidious" and "The Conjuring," is a huge fan of horror movies, particularly supernatural flicks. "I loved horror before comedy. … I love 'Halloween' and the original 'Child's Play.' A lot of the horror movies made over recent years skimp on the story and get very formulaic. That's not what I like."
What Cummins does like is that few horror films have been made over the last year due to the coronavirus, so anyone with a horror fix can check out "Scared to Death."
"I'm fine right now doing my podcasts," Cummins said. "I can do those here, and there is an audience for them. It's nice not to have to go out on the road. I get to stay here with my family and focus on the podcasts.
"I miss going out on the road, but when I go back, I hope, one day sooner than later, it goes back to how it was. For now, I have plenty to keep me busy. I love how people are reacting to 'Scared to Death.' "
What frightens Cummins?
"Doppelgangers," he said. "They freak me out. If there is someone out there who looks just like you … and what if he wants to take over my identity? I would have to kill him. So, I don't like doppelgangers, followed by mirrors and clowns."
Cummins is happy his coronavirus experience is over.
"I'm relieved," he said. "I survived it. It felt like it was inevitable. Enough is enough. You have to support businesses, or they won't exist. I did reach the point where it was like, 'Just let's get this over with.' You can only hide for so long. I have the antibody."
But Cummins is staying home even though he has lived through the illness.
"It would be aggravating traveling right now," he said. "I'm fine here right now. One day, we'll move past this, and then I'll be back on the road again."
Local journalism is essential.
Give directly to The Spokesman-Review's Northwest Passages community forums series -- which helps to offset the costs of several reporter and editor positions at the newspaper -- by using the easy options below. Gifts processed in this system are not tax deductible, but are predominately used to help meet the local financial requirements needed to receive national matching-grant funds.
Subscribe to the Spokane7 email newsletter
Get the day's top entertainment headlines delivered to your inbox every morning.
---