Supreme Court Justice Helen Whitener defends seat against former school administrator Richard Serns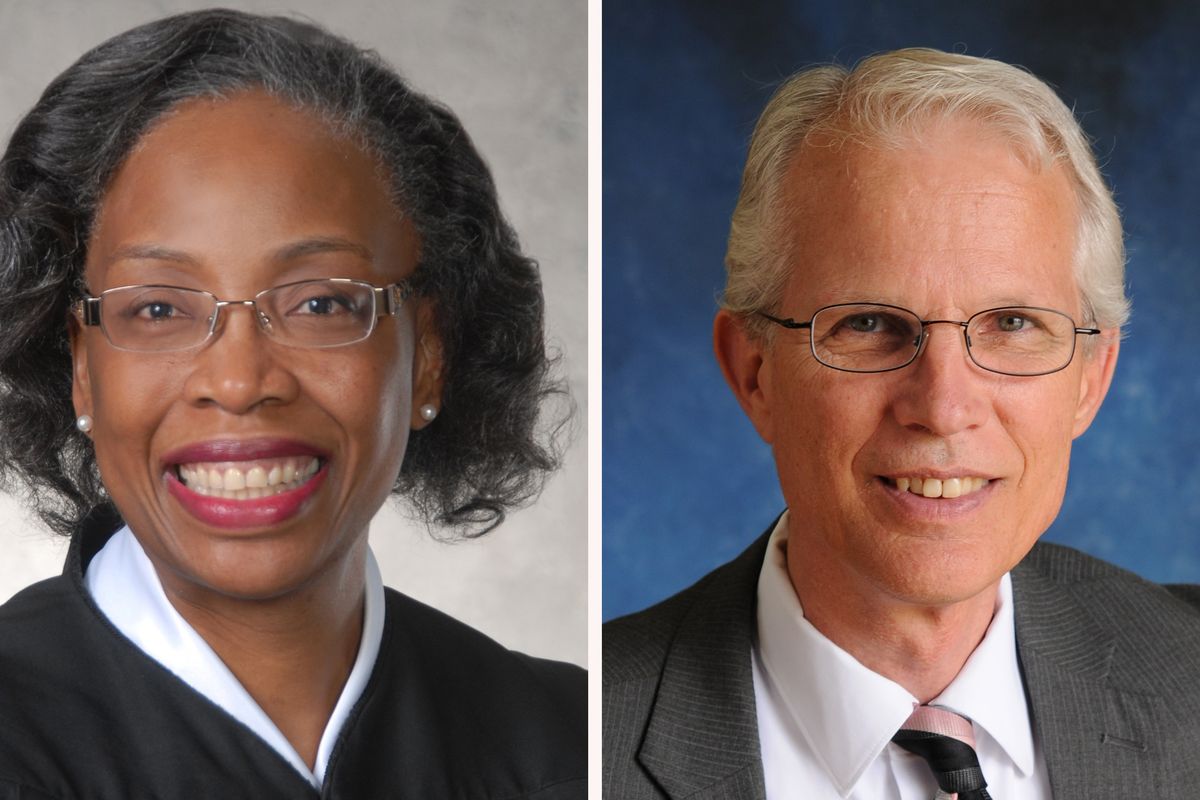 One of the November races for a seat on Washington's Supreme Court is a contest between two candidates whose professional lives changed dramatically this spring.
Incumbent Justice G. Helen Whitener is defending the seat to which she was appointed in April by Gov. Jay Inslee. Her opponent is Richard Serns, a longtime school administrator who passed the bar exam in February.
Whitener, the first Black woman to sit on the state Supreme Court, said she hoped to continue practicing her philosophy that judges have a duty to interact with and educate the public. An immigrant from Trinidad, Whitener maintains a social media presence and taught a civics course to seniors at Lincoln High School in Tacoma prior to the pandemic shutdown.
"I know, for me, if I'm just hearing oral arguments, researching and writing decisions, I think that's wasting the opportunity I have to interact with the community, and let them know what their court is about," Whitener, 55, said.
Serns acknowledged that his path to candidacy for the high court was an unorthodox one. But he noted a long career working with statutes and administrative codes in the handling of public records requests, collective bargaining and federal funding and privacy laws that would help prepare him to sit on the bench.
"I'm not running against her because I think she's doing a bad job," Serns, 69, said of his opponent. "I just have a different set of qualifications."
The state Constitution requires only that Supreme Court judges be licensed to practice law to serve.
Serns said the relatively loose requisites indicate the state's founders intended people with diverse backgrounds like his to serve on the court. He attained his law degree from the University of Washington Law School in 1999, but continued working in school administration before taking the bar exam this year.
Whitener was appointed to fill the seat of retiring Justice Charles Wiggins. Her law degree is from the Seattle University School of Law, earned in 1998 after an earlier career working in international marketing.
"I try to apply the law as broadly as possible, to encompass as many as possible," said Whitener, who notes that she's part of several communities that have traditionally been marginalized by society.
Not only is she a Black immigrant, she is openly gay and arrived in America to receive treatment for paralysis to her right side.
It's her work in the community and building relationships, that make campaigning for a seat easier than it might otherwise be right now, Whitener said.
"I'm so marginalized, that I try to see similarities more than differences," she said.
Serns has said he will not accept campaign donations as part of a pledge to remain politically neutral.
"Judicial officers really need to be nonpartisan, not only in name but in reality," Serns said. He has invested $550 of his own in the campaign, according to financial filings in early October.
Whitener has raised $68,00 in cash and in-kind contributions, according to filings with the Washington State Public Disclosure Commission in early October.
The justice said she's sought endorsements from both political parties (and has received one from the Mainstream Republicans of Washington, an organization supporting candidates run by moderate members of the GOP) and approached cases with an unbiased eye.
"It's about covering anyone that you can with the law," Whitener said. "Somebody's got to win, somebody's got to lose."
Both candidates have ties to Eastern Washington. Whitener previously served as a judge on the Washington State Board of Industrial Insurance Appeals, where she frequently heard cases east of the Cascades. Serns previously worked as a physical education teacher at Upper Columbia Academy in Spangle.
---