News > Pacific NW
Record-breaking poor air quality continues to affect Spokane on Sunday
Sept. 13, 2020 Updated Sun., Sept. 13, 2020 at 10:03 p.m.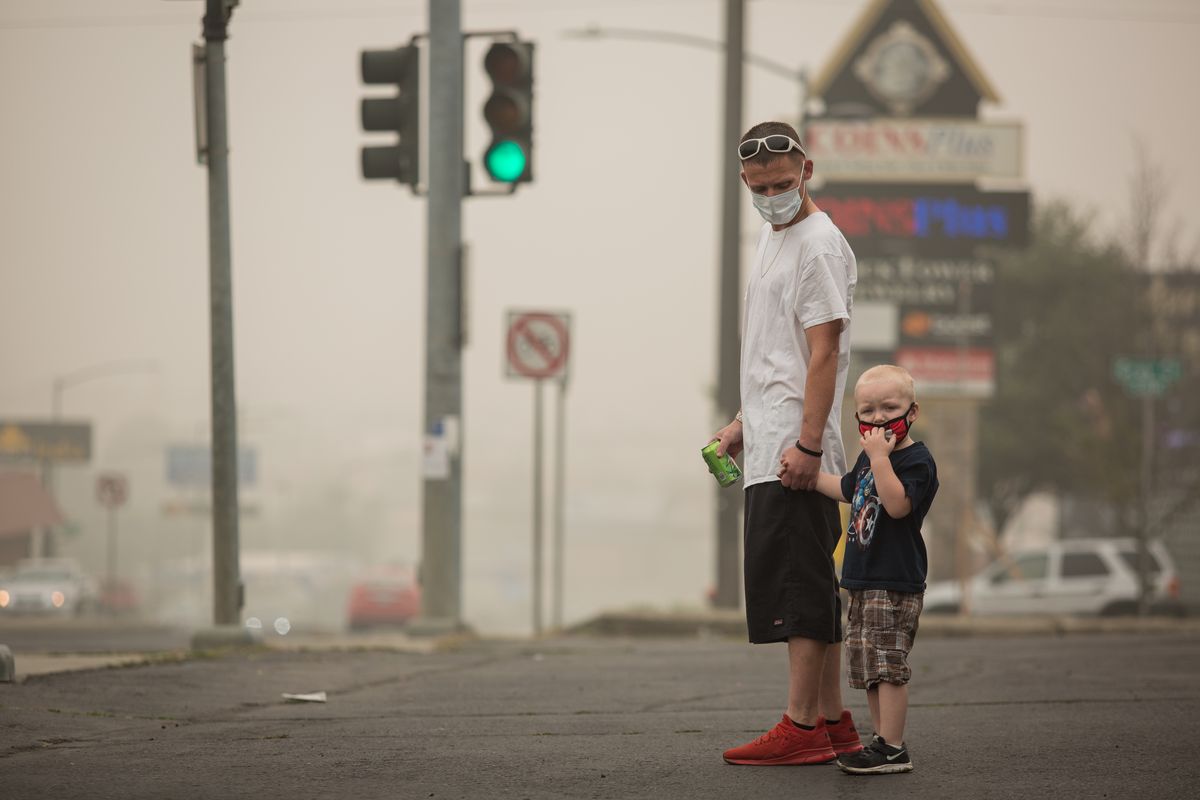 Cameron Bower, age 3, holds his dad Patrick Bower's hand as the masked pair waits for a bus near Bridgeport and Division on Sunday, Sept. 13, 2020 in downtown Spokane, Wash. The air quality was hazardous and hovered just below 500 at the time of this photo. (Libby Kamrowski/The Spokesman-Review)
After record-breaking smoke conditions Saturday, experts say hazardous conditions will continue through midweek, with a bit of relief Monday.
As of Sunday afternoon, Spokane's hourly Air Quality Index reading had reached 499, which is just below the upper extreme of the 500-point scale air agencies use to monitor quality. That followed a 24-hour period Saturday that saw the worst air quality since regulators began measuring particulates in 1999.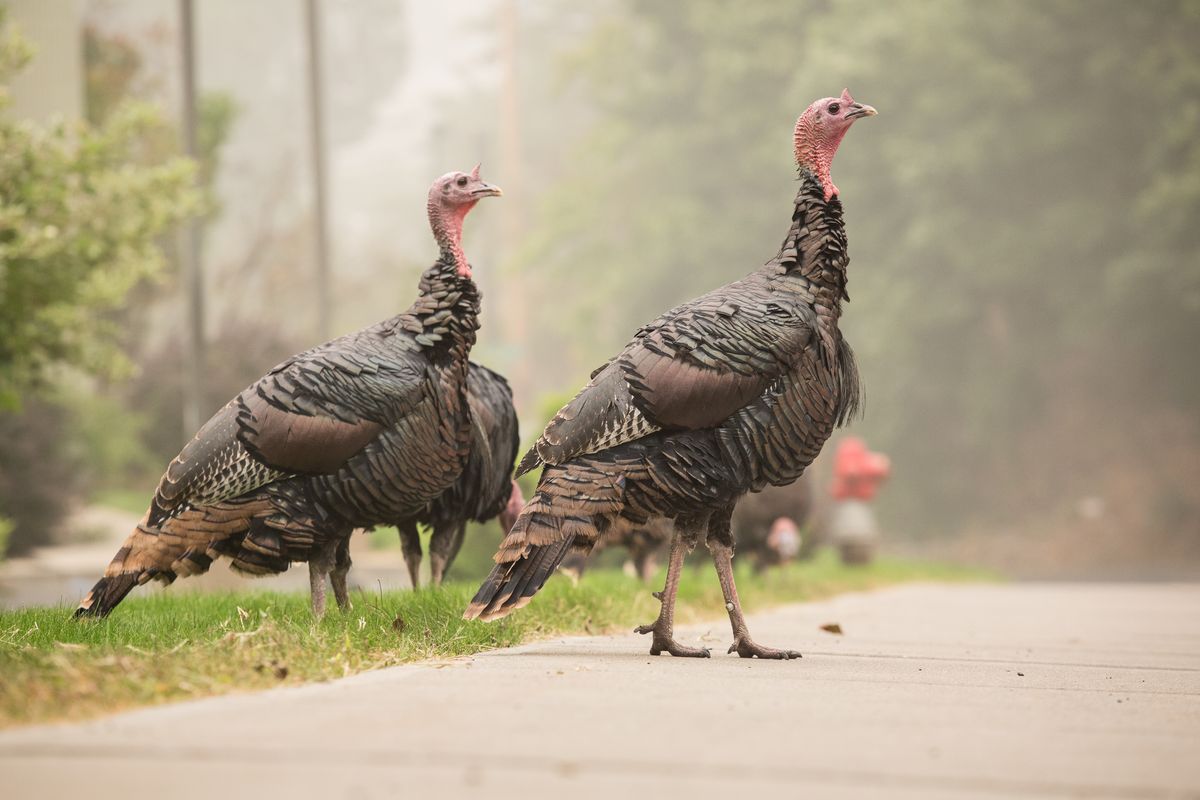 Smoked turkey: A rafter of a half dozen turkeys are spotted during their breakfast feed on Sunday, Sept. 13 amongst the smokey haze in Spokane, Wash. The air quality remained well into the hazardous category and was 495 at the time of this photo. (Libby Kamrowski/The Spokesman-Review)
Readings at monitoring stations in Spokane were among the poorest in the entire state Sunday afternoon, according to monitoring by the state's Department of Ecology.
The 24-hour average Air Quality Index reading on Saturday was 368, according to Lisa Woodard of the Spokane Regional Clean Air Agency. That smashed a 24-hour record set on Aug. 19, 2018, when the reading was 257, also caused by wildfire smoke. Any reading over 100 is considered unhealthy for high-risk groups.
"These are unprecedented wildfire smoke numbers for our community," Woodard said.
Monday is shaping up to be another hazardous day.
"As of right now, we are forecasting the smoke to clear up a little bit on Monday, going west to east," said Valerie Thaler, National Weather Service Spokane meteorologist.
However, smoke will likely settle in again Tuesday and Wednesday, with "weaker winds" lacking the strength to move the smoke, Thaler said.
The city of Spokane opened an emergency safer-air center Sunday. The center, in the Spokane Convention Center, will be open 24 hours a day as long as the air quality index remains above 250.
"We wanted to provide a system for people beyond being houseless, but also for people with a living situation where they don't have proper air filtration," said Spokane Mayor Nadine Woodward from the shelter on Sunday.
Initially, Woodward said they reached out to the existing shelter system to see if they could operate 24/7 and what their availability would be. While some shelters offered to operate longer hours, a separate clean-air shelter was needed.
The shelter currently has room for 200 people, along with spaces for pets. They offer water, bathrooms, masks and three meals a day.
About five people took advantage of the shelter Saturday night right after it opened, on a referral basis.
Sunday morning, about 10 people were in the shelter. People can come and go from the shelter as needed, Woodward said.
It costs the city $5,000 a day to keep the center open, including security, COVID-19 cleaning and restroom space. The money will come from a contingency fund set aside for emergencies.
The shelter will remain open until the air quality drops below 250. If the air quality improves, but worsens later in the month, it would reopen, Woodward said.
"We're prepared to keep it open and operating as long as we need," she said.
People, especially those with pre-existing respiratory conditions, are encouraged to limit time outdoors.
"The prolonged effects could be coughing, running nose, sore throat," Thaler said. She encouraged those using air conditioners to make sure it's on the recirculating setting, to prevent smoky air from being spread indoors.
While smoke impacts air-quality conditions, it does not impact large-scale weather patterns, Thaler said.
It can, however, keep temperatures lower due to the sun being unable to warm the earth's surface, Thaler said.
High temperatures Monday are expected to reach 80 degrees, according to the National Weather Service.
An Air Quality Alert for the region remains in effect through 11 a.m. Monday.
The Air Quality Index reflects the air pollutant rates on a scale from good (50) to hazardous (300-500).
While the scale only goes up to 500, the Spokane Regional Clean Air Agency can measure beyond the standard scale.
The highest hourly AQI recorded Saturday was 488.
However, Woodard said once you hit hazardous, the health concerns are the same. Residents are encouraged to stay indoors and limit strenuous activity.
The air-quality monitoring systems used by the Clean Air Agency have only stopped working once, during the May 1980 Mount Saint Helens eruption, due to larger particles of ash, Woodard said. With updated technology and continued troubleshooting, Woodard is confident the systems are up to the task of recording this record-breaking smoke.
Closures
The Spokane Parks Department announced Sunday morning it would be closing municipally owned golf courses, the Numerica SkyRide in Riverfront Park and the attached café, as well as the Manito Park Bench Cafe.
The department will decide Monday whether to reopen, it announced on Twitter.
The Spokane Interstate Fair food drive-thru has also been closed for the day due to air quality. Organizers have added an extra day to the event.
The drive- thru will reopen Thursday at 3 p.m. and will run Friday, Saturday and Sunday.
Both Gonzaga and Whitworth universities announced cancellation of in-person classes and co-curricular activities on campus Monday due to air quality.
The Freeman School District will hold all K-12 classes virtually Monday due to poor air quality, the district announced Monday afternoon.
There will be no preschool offered.
Auntie's Bookstore announced it was closing at 2 p.m. Sunday due to the poor air quality.
Local journalism is essential.
Give directly to The Spokesman-Review's Northwest Passages community forums series -- which helps to offset the costs of several reporter and editor positions at the newspaper -- by using the easy options below. Gifts processed in this system are not tax deductible, but are predominately used to help meet the local financial requirements needed to receive national matching-grant funds.
Subscribe now to get breaking news alerts in your email inbox
Get breaking news delivered to your inbox as it happens.
---