News > Health
Record number of cases in Washington could lead to upward trend in Spokane County
UPDATED: Tue., Dec. 28, 2021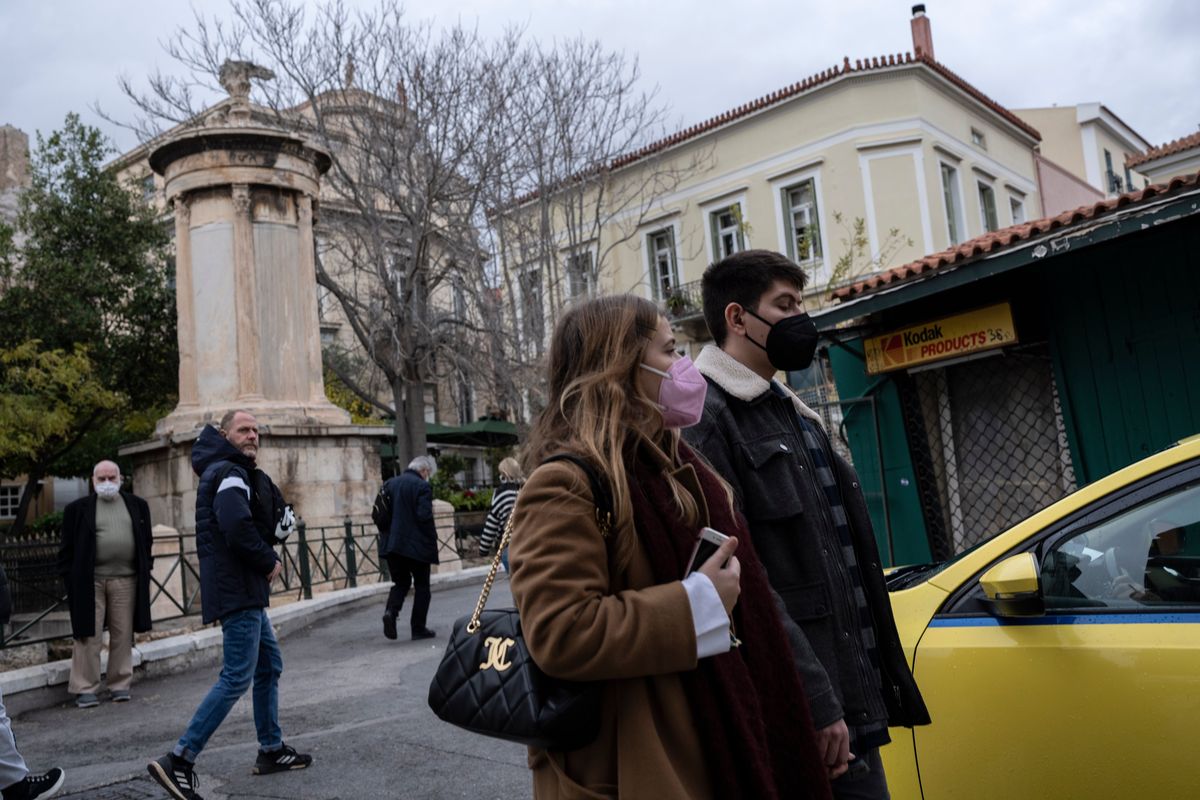 People wearing protective face masks walk in Plaka, district of Athens, on Tuesday, Dec 28, 2021. Greek authorities are blaming the rapid spread of the omicron variant for a record level of infections and have announced new restrictions that will take effect early on the new year. (Petros Giannakouris)
The Washington state Department of Health reported a record number of coronavirus cases tallied in a single day on Tuesday, and a spike could be on the horizon in Eastern Washington.
The Seattle Times reported state officials confirmed 6,235 new cases on Dec. 24. The state's previous single-day record was 5,526 cases on Dec. 7, 2020.
Dec. 24 also marked the first time Washington state reported over 6,000 cases in a single day.
The spike mirrors that of other areas as the highly contagious omicron variant has become dominant.
Dr. Francisco Velazquez, Spokane Regional Health District health officer, said Spokane County COVID-19 cases have trended downward the last several weeks, but the county could be on the cusp of an increase based on upward trends in Western Washington and in many parts of the country.
"It's not unusual for us to see an increase in the number of cases in one of the larger counties in the western part of the state and not see that until two or three weeks later in Spokane," he said.
There have been 169 newly diagnosed cases per 100,000 people from Dec. 12 to Christmas Day in Spokane County, down from 238 cases per 100,000 people in the previous two-week period, according to SRHD.
But cases could already be on the rise.
There were 178 new cases Tuesday in Spokane County, up from 65 cases reported the previous Tuesday. Hospitalizations remain flat, with 61 patients hospitalized from the virus – the same number one week ago.
Velazquez said he is mindful of the hospitalization numbers.
He said he continues to advocate for vaccinations and booster shots for those who are eligible, and is trying to increase testing capacity in the area. Wearing face coverings, hand-washing and avoiding large gatherings are critical in preventing the spread of the virus, especially in the winter months when people are indoors for longer periods, Velazquez said.
In North Idaho, Panhandle Health District spokeswoman Katherine Hoyer said the seven-day case rate per 100,000 people ranges from 136 in Benewah County to 10 people in Shoshone County. Kootenai County has 32 cases per 100,000 people, which is still considered a high community transmission rate, Hoyer said.
She said Benewah County's high rate might be due in part to working through a significant number of backlogged cases, but she said she still suspects a fairly high community transmission rate in the county.
Hoyer said the district has experienced a decrease in hospitalizations, sitting around the upper 40s.
Kootenai Health had 36 COVID-19 patients, including 13 who require critical care, as of Tuesday.
Hoyer said the district is hopeful the omicron variant, which data has suggested is less severe than previous variants, doesn't drive hospitalizations up. But she said the district is cautious because of the population's low vaccination rate.
"We're still not seeing a huge increase in people being vaccinated, so that's concerning with a new variant coming in," she said.
Hoyer said some reports indicate omicron swept through places that had high vaccination rates and high case rates so those people had some level of immunity, which is not exactly the case in North Idaho.
Velazquez said it's important for the SRHD to be vigilant of omicron. He said there is still risk for more serious illness and hospitalization for unvaccinated people and those with underlying health conditions.
The Associated Press contributed to this report.
Local journalism is essential.
Give directly to The Spokesman-Review's Northwest Passages community forums series -- which helps to offset the costs of several reporter and editor positions at the newspaper -- by using the easy options below. Gifts processed in this system are not tax deductible, but are predominately used to help meet the local financial requirements needed to receive national matching-grant funds.
Subscribe now to get breaking news alerts in your email inbox
Get breaking news delivered to your inbox as it happens.
---