Sports > EWU football
Big Sky Notebook: Eastern Washington and Southern Utah meet once more before the Thunderbirds depart the Big Sky
Tue., Sept. 21, 2021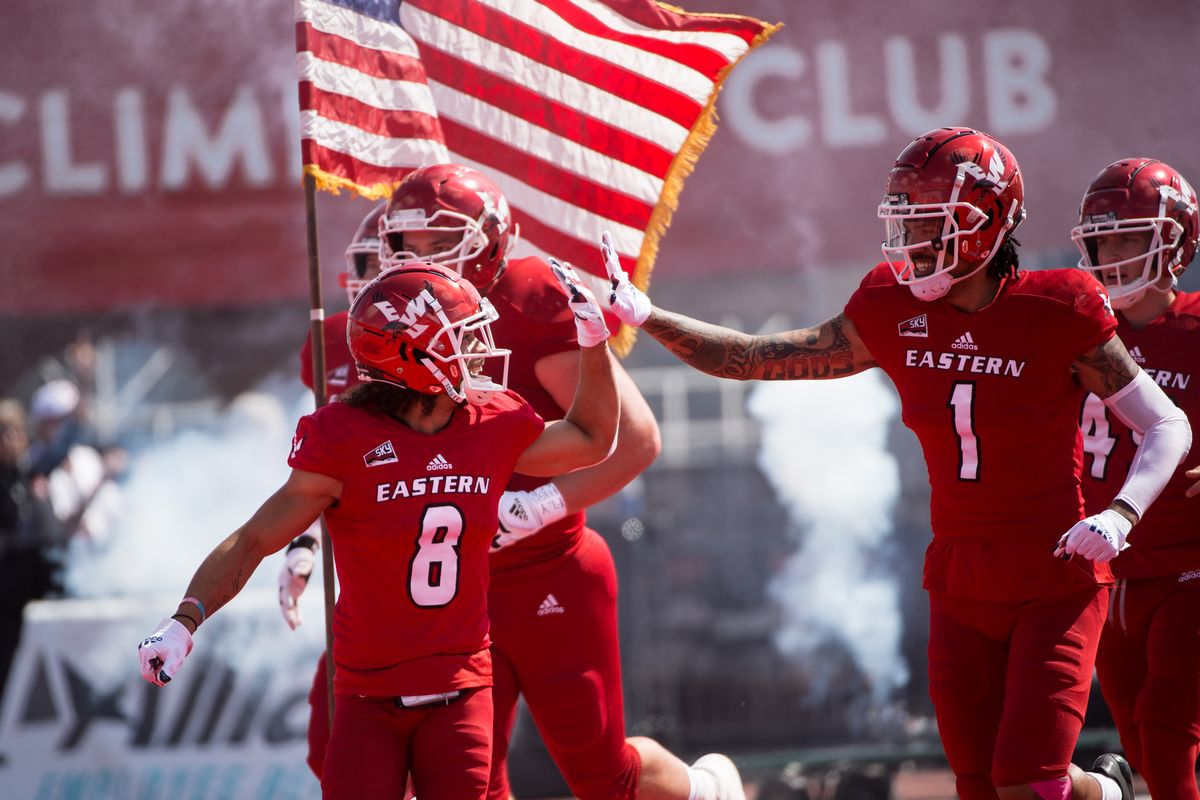 Eastern Washington University takes the field before a game against Central Washington University on Sept. 11 at Roos Field in Cheney. (Libby Kamrowski/ THE SPOKESMAN-REVIEW)Buy a print of this photo
Eastern Washington's opponent this weekend, Southern Utah, is kicking off a farewell tour of sorts with Saturday's game.
A Big Sky Conference member since 2012, the Thunderbirds are leaving for the newly formed Western Athletic Conference after this season.
The move is lateral – the resurrected WAC is now part of the Football Championship Subdivision – and shifts Southern Utah into its fourth FCS conference since it moved up from Division II in 1993.
This fall, the WAC has six football teams, including Texas-based schools Stephen F. Austin, Sam Houston, Abilene Christian, Lamar University and Tarleton State. Dixie State, which is in St. George, Utah – just 52 miles from Southern Utah's campus in Cedar City – is the sixth member.
If BYU has operated as a surrogate member of the Pac-12 this season, then Dixie State is the Big Sky's analogue. BYU has five Pac-12 teams on its schedule; Dixie State has four from the Big Sky.
For the Thunderbirds, this is their last chance at a Big Sky title, a feat they have achieved twice in their decade with the conference, in 2015 and 2017. They are 35-35 overall in conference games.
Their departure from the Big Sky gives the conference a more manageable number of teams (12) from a scheduling standpoint, something that will allow for more balanced schedules going forward. The conference already released its schedules for 2022, 2023 and 2024, settling into a rotation that ensures each team plays every other team at least once on the road and once at home during that span.
The presence and potential growth of the WAC could also make it a natural source of nonconference opponents for the Big Sky, especially if it expands to include more schools west of Texas.
Saturday's game will be the sixth time Eastern Washington and Southern Utah have met as conference foes. Eastern is 3-2 during that stretch, although its two losses – in 2017 and in 2012 – came while playing as a ranked team.
Montana prepares for new-look Cal Poly offense
While Eastern will look to avoid stumbling this weekend against Southern Utah, the Eagles' opponent next weekend – fourth-ranked Montana (2-0) – vies to do the same in a home contest against Cal Poly (1-2).
Under previous head coach Tim Walsh, Cal Poly was known for its triple-option offense. But now under second-year coach Beau Baldwin, the Mustangs run an offense similar to the one Baldwin operated at Eastern.
Montana coach Bobby Hauck said he welcomes the change.
"This is the first time in many years (we do not) have a true triple-option team on the schedule so we are very, very pleased that Cal Poly's not running the triple option anymore," Hauck said at a news conference this week. "Exceedingly pleased, happy. It's like Christmas came again."
Hauck said what Cal Poly runs is "pretty standard stuff" on offense and pointed out the familiar faces on the Mustangs' staff.
"They've got a bunch of the Eastern (Washington) contingent down there: Paul Wulff's there, and J.C. Sherritt and Erik Meyer are on staff, so they're all guys we know well and like," Hauck said.
UC Davis looks to unseat Weber
Weber State, the four-time defending Big Sky champions, hosts UC Davis on Saturday to open conference play for both teams.
The Wildcats (1-2), ranked 15th, have won the past five in the series with the 10th-ranked Aggies, who are 16-13 in Big Sky games under coach Dan Hawkins. The Wildcats are 29-3 over the same stretch.
"No weaknesses, and really I'm not just saying that: no weaknesses," Hawkins said at a news conference Monday. "If we want to beat Weber, we've got to play good football. That's just the facts, because they're going to play good football, and they always do. It's a different year, same thing for the Wildcats."
Hawkins praised the Wildcats' consistency and also highlighted the play of senior receiver Rashid Shaheed, who has nine receptions and 126 yards this season, placing him in a category with Eastern quarterback Eric Barriere.
"Eric Barriere is the No. 1 guy in the conference," Hawkins said, "but I would put Rashid (there) as well. He's an exciting, dynamic player, and they can take shots with him."
Weber State – with losses this season to Utah and the FCS' second-ranked team, James Madison – is scheduled to play Eastern Washington at Roos Field on Oct. 23.
Barnum makes good on beer offer
Portland State coach Bruce Barnum offered to buy one beer for everyone of legal age who attended last weekend's Vikings game at Hillsboro Stadium.
The game – a 21-7 Vikings victory over Western Oregon – drew 3,124 fans, according to official attendance numbers, and Barnum tweeted a photo this week of the final tab: $14,448.
The bill from Barny's Beer Garden lists 786 Deschutes Fresh Squeezed IPAs and 1,260 Coors Lights.
"Everybody I talked to after the game had a great time," Barnum said in a video posted Wednesday. "My hope is a piece of those that were there come back and watch the Viks again."
At their two nonconference home games in 2019, the Vikings' average attendance was 3,264.
Portland State (1-2) hosts No. 12 Montana State (2-1) on Saturday.
Local journalism is essential.
Give directly to The Spokesman-Review's Northwest Passages community forums series -- which helps to offset the costs of several reporter and editor positions at the newspaper -- by using the easy options below. Gifts processed in this system are not tax deductible, but are predominately used to help meet the local financial requirements needed to receive national matching-grant funds.
Subscribe to the sports newsletter
Get the day's top sports headlines and breaking news delivered to your inbox by subscribing here.
---