The power of the Dominator: Gonzaga guard Dominick Harris teams up with Cascadia for NIL that benefits charities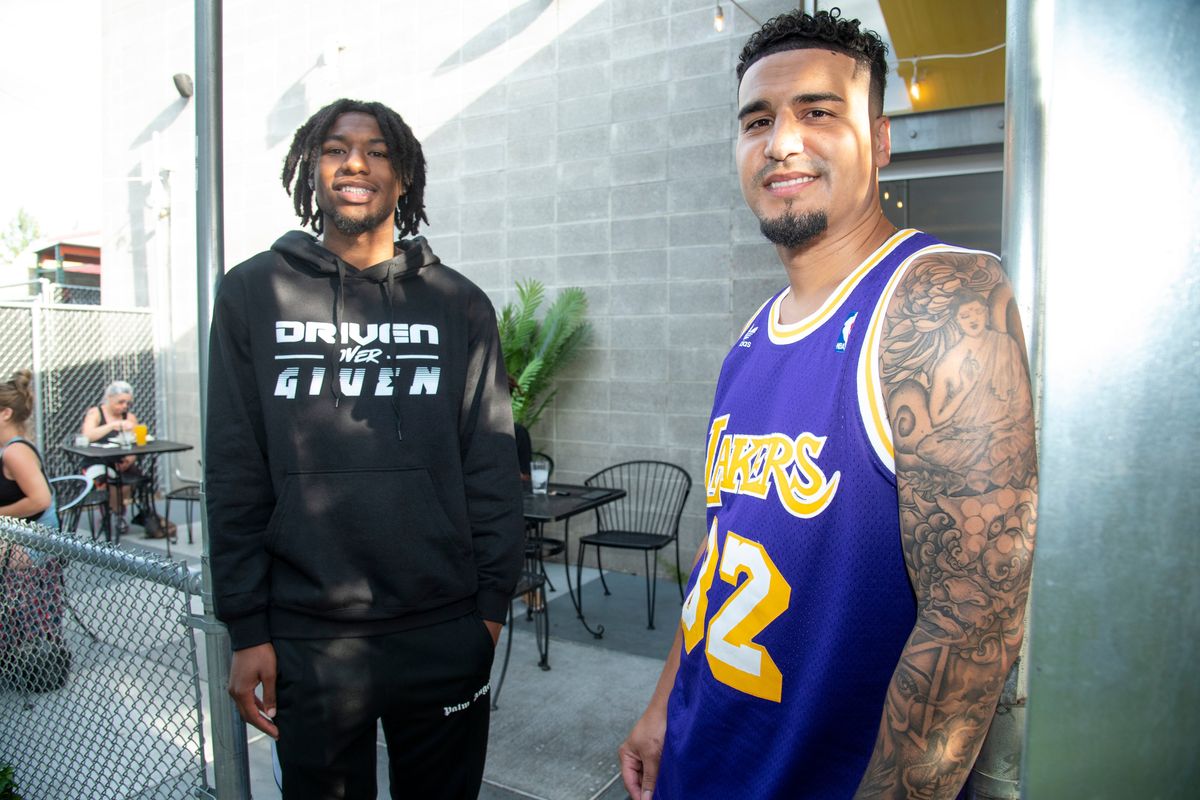 Cascadia Public House owner Jordan Smith and Gonzaga guard Dominick Harris share similar aspects of values.
Their personalities are on a spectrum. Smith: An extroverted business owner, sporting a grounded relief that his restaurant is thriving after the gloom and uncertainty of the pandemic. Harris: A nimble, budding 21-year-old about to begin his junior year on one of the nation's prominent college basketball teams. Two Black men from varied perspectives, rooted in their respective life purposes.
Their casual relationship was perfect for their partnership: a name, image and likeness deal that gives 5% of the earnings from Harris' chicken sandwich, "The Dominator" back to community organizations within Spokane.
"I really felt like Cascadia was impacting the community themselves," Harris said. "And I wanted to impact everyone, too. As a basketball player, I wanted to be relatable and do other things."
On a typical, breezy Thursday, Harris and Smith are seated outside Cascadia, at 6314 N. Ash St., as the likes of J. Cole, BJ the Chicago Kid and similar artists float through the playlist. On the way to the outdoor seating, Nikes gifted by a beloved customer are encased in a glass display along with an olive bomber jacket reminiscent of modern Run-DMC fashion.
Some nights you'll hear East Coast legends, such as Wu-Tang Clan, Camp Lo and Busta Rhymes over the speakers.
Harris is a Murrieta, California, native. Cali classics like Dave's Hot Chicken and Hana Sushi provided examples of what fantastic cuisine is for this self-identified foodie. Harris also prefers one-on-one interactions with communities that show his character beyond his stardom.
"I did something where I interacted with the fans one-on-one, and I thought that was pretty cool, especially with the kids." Harris said.
Talks of the partnership began in early February. Smith, a Spokane native, emphasizes community within food and basketball. He focuses on food insecurity within the Five Mile Prairie Neighborhood, including providing meals to underserved families. A year after opening Cascadia, he began coaching the girls basketball team at his alma mater, Lewis and Clark High School.
The deal was perfect for Harris since he wanted an NIL partnership built off organic relationships with Black businesses invested in their community.
It is one of the many values of the Harris family, and Dominick is the youngest of four brothers. Dedication to the community is something that Dominick's older brother, Deshaun, has taken on within his sports agency, Intrusive Sports.
"Our parents had a nonprofit and anyone who had excellent grades, a 3.0 or above, my parents would take the burden out of paying for basketball expenses, whether that be jerseys or tournament expenses," Deshaun said.
"That started everyone's collective understanding that you can use your purpose and obligation in any kind of way possible, and since then we've been doing it in our own spaces."
Dominick is signed to Deshaun's agency. The brothers mapped out The Dominator sandwich deal.
"He's taught me a lot," Dominick said. "He's given me so much perspective, on different situations, on outcomes and helping with my image."
"Dominick was very passionate about working with Black-owned businesses and ensuring that he's able to use his broad reach and audience to communicate his love and passion in helping his community, especially the Black American community," Deshaun said. "For him, it was about studying previous NILs and learning how he could make a unique difference."
After figuring out a food partnership would be best, Harris narrowed down his particular food types, but it was never going to be a burger.
Harris once saw NBA shooting guard Ray Allen talk about his abstinence from beef in an old interview. Since Jesus Shuttlesworth (Allen's character in "He Got Game) delivered that revelation, he has never picked up a burger.
So, Harris chose another lovable staple – a chicken sandwich.
The spicy Dominator
is layered locally; the pretzel bun is delivered from Alpine Bakery, the bread delivered fresh multiple times a week. Classic tomato-lettuce-pickle ingredients are delivered from local Washington farms.
Dom Dust is engineered with a combination of spices from Spiceology, a downtown Spokane spice-making business.
Spiceology one of America's fastest-growing culinary businesses announced a spice deal with Hell's Kitchen and Gordon Ramsay in February. It's an ode to Harris' love for spicy foods.
"It's a habanero powder that makes up the meat and potatoes of it, with garlic salt and a bunch of different flavors," Smith said. "And we created the sauce as well. It's a habanero aioli, which we didn't have on the menu before this. Be careful, the Dominator Dust will light you up."
The addition of butter lettuce and a fan of verdant avocado slices cool the tongue. The patty is breaded, fried and crisped. Zesty pepper jack cheese melts the sandwich with each bite.
"The more people he ends up getting to buy the sandwich, the more money he gets to make from it," Smith said. "It's kind of an incentive-based thing that works out for both parties."
Since the partnership began in April, the Dominator's NIL incentive has totaled to nearly $500 in sales. Harris will be choosing a local charity or organization of his choice by month's end and will continue to make lump sum donations throughout the partnership.
With how business has been at Cascadia , and the Dominator doing well among the consumers, Harris is looking to expand in food partnerships. But for the successful partnership driven by the community and built by two Black men , everything is perfect for the time being.
"We're gonna be working together as long as he's at Gonzaga," Smith said. "I would leave the door open for different variations to come out, but right now it's all about The Dominator."
---