Sports > WSU football
Recap and highlights: Washington State, Cameron Ward respond in fourth quarter to beat California 28-9
Oct. 1, 2022 Updated Sat., Oct. 1, 2022 at 8:28 p.m.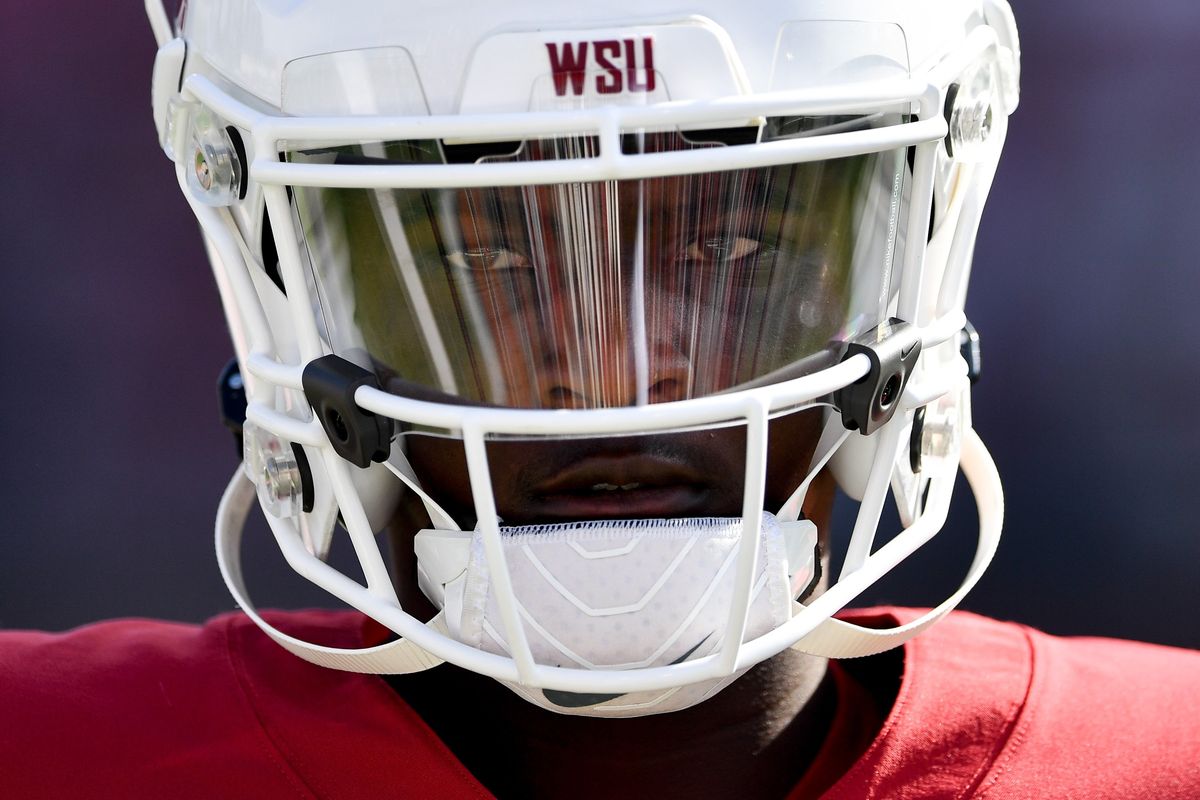 Washington State Cougars quarterback Cameron Ward (1) pauses as he warms up before the first half of a college football game against Cal on Saturday, Oct. 1, 2022, at Martin Stadium in Pullman, Wash. (Tyler Tjomsland/The Spokesman-Review)
PULLMAN – Inconsistency from the Washington State quarterback kept the door open. But right as California arrived, he closed it shut.
Cameron Ward found Renard Bell on a 37-yard touchdown early in the fourth quarter to stamp out any thought of a comeback and the Cougars beat the Golden Bears 28-9 on Saturday in front of a homecoming crowd of 23,021 at Gesa Field.
Ward completed 27 of 40 passes for 343 yards and three touchdowns, but threw two endzone interceptions to keep California in the game.
There seemed to be no urgency from Ward or the offense through three quarters, as the Cougars' defense stood stout. There didn't have to be. The Golden Bears managed three points and seven punts on their first eight possessions.
That was until Jack Plummer sparked some life in California with a 49-yard completion to Jeremiah Hunter to set up the teams' lone touchdown. A familiar feeling of fourth-quarter letdown fell over the Washington State faithful with 13 minutes remaining.
It didn't last. Ward responded with the 4-play 75-yard drive in one minute and 28 seconds and California couldn't keep up.
The Cougars forced a 3-and-out and scored again, this time a 9-play 67-yard drive that ended in a touchdown from Ward to Billy Riviere from the one.
Washington State totaled 428 yards and woke up from a sleepy Saturday when it mattered most.
The Cougars (4-1, 1-1 Pac-12) may be ranked in the AP Top 25 come Sunday. They travel to No. 6 USC next Saturday for a 4:30 p.m. showcase on FOX.
Pac-12 Network / Youtube
First quarter
15:00 – Cal 0, WSU 0: The Cougars won the toss and deferred to the second half. The Golden Bears will receive in the west endzone.
10:27 – Cal 0, WSU 0: California's drive stalls after picking up a couple of first downs and 34 total yards.
Jack Plummer scampered for five yards to set the Golden Bears up with a 4th-and-5 from the WSU 41, but they decided to punt and self-inflicted two penalties. Cougars start on their own 14 after a fair catch.
6:02 – Cal 0, WSU 0: Cameron Ward makes a good read on the defensive end to pull an option keeper and convert a fourth down from the WSU 41, but the Golden Bears come up with a stop on the next set of downs.
Nick Haberer punts 49 yards to the Cal 6. Ward starts 3 of 4 for 35 yards, but he missed a wide open receiver on a corner route that could've gone for a long gain.
4:26 – Cal 0, WSU 0: Jack Plummer is sacked in the endzone by Quinn Roff and Antonio Pule and somehow finds a way to pick up a yard and avoid a safety.
Jamieson Sheahan's punt goes 51 yards and Robert Ferrel returns it 12 yards to the Cal 40, where the Cougars take over with a great opportunity to score first. 
1:50 – Cal 0, WSU 0: The Cougars squander their great field position with a holding call on a first down trick play, short pass on second down and 10-yard sack by Ethan Saunders on third. 
Nick Haberer punts 37 yards to the Cal 15 and calls for a fair catch.
Second quarter
14:47 – Cal 0, WSU 0: Robert Ferrel opens the second quarter with a 34-yard punt return that sets up the Cougars on the Cal 20 after a 15-yard personal foul.
13:18 – WSU 7, Cal 0: Freshman Jaylen Jenkins scores his first career touchdown on a 2-yard run to get the Cougars on the board first.
9:10 – WSU 7, Cal 3: Dario Longhetto's 42-yard field goal is good to cap a 8-play 51-yard drive by the Golden Bears.
Jack Plummer completed a 33-yard pass to Michael Sturdivant to set up the field goal.
6:52 – WSU 7, Cal 3: Cameron Ward throws deep into double coverage and is intercepted in the endzone by Daniel Scott.
Ward looked good on a couple of 3rd-and-long conversions, but decision making hasn't been his strong suit. That's interception No. 6 this season for the WSU QB.
3:03 – WSU 7, Cal 3: Back-to-back sacks by Francisco Mauigoa and Christian Mejia stall the Cal drive. WSU takes over after a touchback on the punt.
1:55 – WSU 7, Cal 3: The Cougars go 3-and-out. Nick Haberer's punt goes 40 yards to the Cal 37.
Halftime
If you're a fan of defense – or lackluster offense – this is the game for you.
Not much separated Washington State and California in the first half, as the Cougars hold onto a 7-3 lead.
WSU scored its lone touchdown early in the second quarter on a 2-yard run from Jaylen Jenkins, after a punt return set them up in the redzone. Other than that, the Cougars have 103 total yards – all of them passing – and are 3 of 7 on third down conversions.
Quarterback Cameron Ward is 12 of 18 and killed a drive with an interception he threw into double coverage in the endzone.
The Golden Bears haven't fared much better. Cal has 121 total yards and are 3 of 9 on third down. Its best drive resulted in a 42-yard field goal. QB Jack Plummer is 12 of 16 for 111 yards and has been sacked three times.
WSU will receive the second half kickoff.
Third quarter
13:51 – WSU 14, Cal 3: Cameron Ward and the Cougars come out of the locker room firing as Ward connects on a 47-yard pass to Renard Bell and a 17-yard touchdown to Robert Ferrel.
WSU's scoring drive went 75 yards in four plays and 1:09 minutes.
12:28 – WSU 14, Cal 3: Two 3-yard runs for Jaydn Ott, and incomplete pass and the Golden Bears punt it away.
Cougars start again at their own 35.
9:38 – WSU 14, Cal 3: Cameron Ward escapes from pressure and throws back across his body into heavy coverage for another interception.
That's Ward's second of the game and 7th of the season. Cal starts on its own 2. 
5:59 – WSU 14, Cal 3: Jaydn Otts has three first down runs, but the Golden Bears drive stalls again and ends in a punt for the 7th time today.
Cal is 3 of 11 on third down attempts.
1:18 – WSU 14, Cal 3: Nakia Watson totals one yard on consecutive carries, Cameron Ward throws an incompletion and the Cougars punt to the Cal 10, after a 7-play 40-yard drive.
Fourth quarter
13:28 – WSU 14, Cal 9: Jack Plummer finds Jeremiah Hunter down the right sideline for a 49-yard completion and Jaydn Ott punches in a 2-yard touchdown for Cal's first of the game. Mavin Anderson falls in the backfield after a shovel pass on the 2-pt attempt.
The Golden Bears find new life early in the fourth quarter after punting seven times on their first eight possessions of the game.
12:00 – WSU 20, Cal 9: The Cougars answer quickly as Ward finds Renard Bell for a 37-yard touchdown.
Bell has seven catches for 114 yards, accounting for about a third of the Cougars' offense.
6:19 – WSU 28, Cal 9: Cameron Ward finds Billy Riviere in the flat for a 1-yard touchdown and the Cougars are likely going to go on to win.
Ward has responded from his early struggles. He is 27 of 40 for 343 yards, three touchdowns and two interceptions.
2:13 – WSU 28, Cal 9: Kai Millner's fourth down pass falls incomplete and the Cougars will run out the clock for their first Pac-12 win. They improve to 4-1 on the season.
Pregame
Last week was almost a game to remember for Washington State. It quickly turned into a game to forget.
After coughing up a 12-point lead late in the fourth quarter during a 44-41 loss to Oregon last Saturday, the Cougars (3-1, 0-1 Pac-12) host the California Golden Bears (3-1, 1-0) at 2:30 p.m. on Pac-12 Network. The Cougars are 4½-point favorites.
Despite the loss, WSU looked strong against the Ducks and during a win over Wisconsin on Sept. 10. They also edged FCS-rival Idaho in the opener and handled Colorado State, who is one of the worst FBS teams in the country.
The Golden Bears are coming off a 49-31 win over visiting Arizona, where they amassed 599 total yards behind a career day from running back Jaydn Ott.
Ott rushed 19 times for 274 yards in the win over Arizona. Quarterback Jack Plummer – a summertime transfer from Purdue – completed 18 of 28 passes for 245 yards and three touchdowns.
Cal also has wins over FCS UC Davis, 34-13, and UNLV, 20-14. The Golden Bears lone loss came at Notre Dame, when a potentially-tying hail mail fell off the chest of a receiver in the endzone.
Both teams are one of eight Pac-12 schools with a 3-1 or better record.
A win would again put the Cougars in discussion for a AP Poll Top 25 ranking ahead of another primetime spot in Week 6 at No. 6 USC. 
Players to watch
California's true freshman running back Jaydn Ott is third in the NCAA with 8.3 yards per carry. He has won three Pac-12 Freshman of the Week awards, though a majority of his stats were tallied in a win over Arizona last week. 
Washington State linebacker Daiyan Henely has a growing gap in his team-high for tackles (38) and tackles for loss (8.5). He is tied for No. 4 in the country in tackles for loss.
Series history
California has dominated the all-time series against Washington State with a 49-29-5 record.
The two teams have traded wins in the past six meetings and the Golden Bears have won 12 of 16 games sine 2005. Last year the Cougars won 21-6 in Berkley, California with Nick Rolovich still as head coach.
Cal last won in Pullman on Oct. 4, 2014 when the Cougars fell 60-59. WSU held a 52-41 lead entering the fourth quarter and kicker Quentin Breshears missed a go-ahead 19-yard field goal with 15 seconds remaining. Connor Halliday threw for 734 yards and six touchdowns in defeat.
Team stats
Individual leaders
Game preview
More on the Cougs
Local journalism is essential.
Give directly to The Spokesman-Review's Northwest Passages community forums series -- which helps to offset the costs of several reporter and editor positions at the newspaper -- by using the easy options below. Gifts processed in this system are not tax deductible, but are predominately used to help meet the local financial requirements needed to receive national matching-grant funds.
Subscribe to the Cougs newsletter
Get the latest Cougs headlines delivered to your inbox as they happen.
---