Sports > WSU football
'The offense was explosive': Washington State dials up deep balls during first scrimmage of spring camp
April 1, 2023 Updated Sat., April 1, 2023 at 8:43 p.m.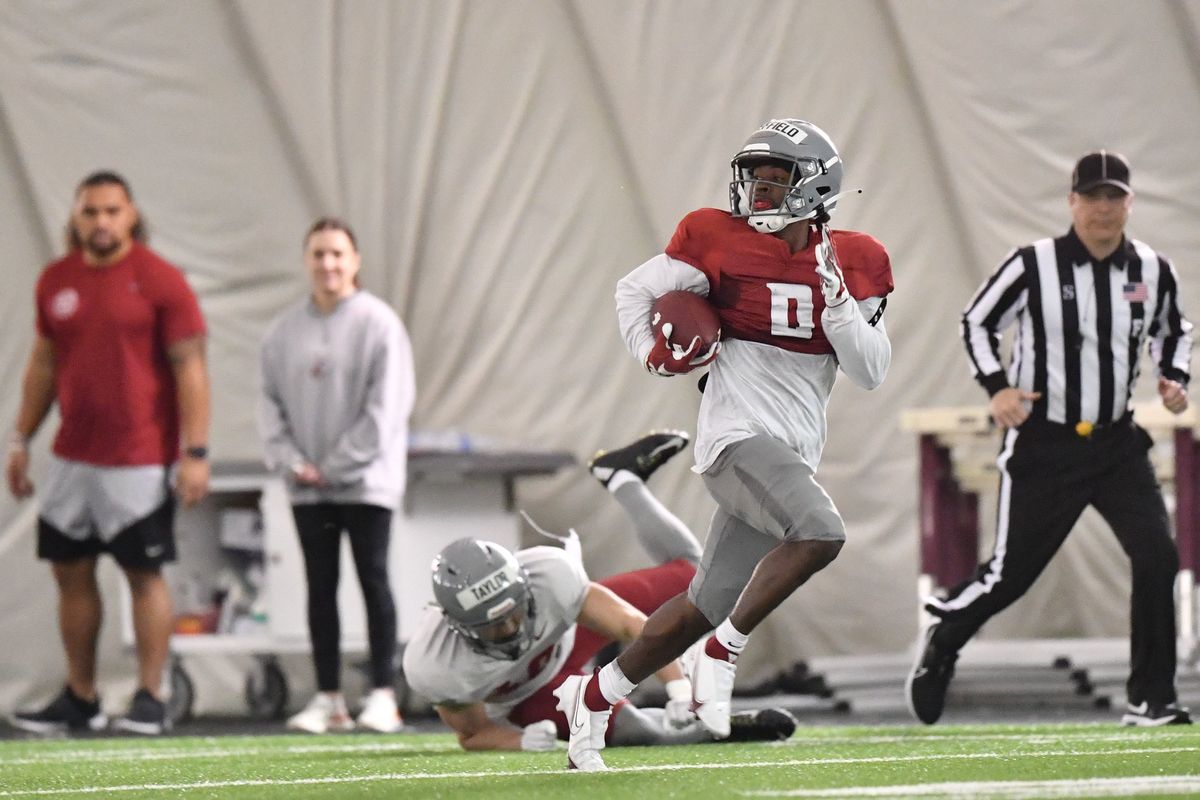 DT Sheffield runs toward a score after his long reception during Washington State's scrimmage Saturday in Pullman. (Tyler Tjomsland/The Spokesman-Review)Buy a print of this photo
PULLMAN – Connecting on more deep passes – that's one of Washington State's primary objectives for 2023.
Coach Jake Dickert spoke often about it this offseason and throughout the first two weeks of spring camp. He felt the Cougars weren't effective enough last year when they threw the ball downfield. Under new coordinator Ben Arbuckle, WSU's offense hopes to become a big-play outfit.
The Cougars showed progress Saturday during their first scrimmage of spring camp. Four completions went for 50-plus yards at WSU's indoor practice facility.
"I thought the offense was explosive," Dickert said after the session, which included 110 snaps, more than a dozen long-field possessions and a couple of red-zone periods . "Those things are really positive. That's what we want to do on offense.
"I expect big plays. I expect great things to happen and believe it's going to happen. It didn't shock me at all today."
Starting quarterback Cameron Ward led scoring drives on three of four possessions and completed approximately 15 of 20 passes for 190 yards. His first series stalled, but Ward guided a 65-yard scoring drive on his next attempt. He spun out of traffic and rushed for a 11-yard touchdown.
"As the scrimmage went on, that offensive momentum built," Dickert said.
On his final drive, Ward threw a 24-yard TD pass to tight end Cooper Mathers. The junior QB's play of the day was a 50-yard pass down the sideline to true freshman receiver Carlos Hernandez, who has been one of the most impressive newcomers at spring camp.
Backup QB John Mateer, a redshirt freshman, had a sharp day, completing approximately 13 of 20 passes for 280 yards. He found tight end Cameron Johnson down the seams for a 50-yard gain. On the first play of his next series, Mateer threw a high-arching pass deep downfield to slotback DT Sheffield, who jumped for a sideline catch and ran for a 60-yard score.
"It's like hitting a home run," Mateer said of the long passes.
Mateer's other highlights included a 55-yard pass to slotback Orion Peters and a 14-yard TD toss to receiver Josh Kelly in the back corner of the end zone.
"The deep ball is really a part of our game," Mateer said. " 'Good things happen when you throw the ball deep,' is what coach Arbuckle says, so we're really trying to get that consistent and make big plays.
"It's more of an 'attack' mindset," Mateer added of Arbuckle's offense, which features Air Raid concepts but makes steady use of the ground game. "Move fast, a lot more tempo, run the ball hard and throw the ball deep."
Mateer took home co-offensive player of the day honors from Dickert.
"John knows his role. He's versatile and he's different from Cam," Dickert said. "Cam was great today and John's been growing as his confidence grows. When you're at that position and confident, there's a lot of good things you can do for the team."
Mathers, who is in a position battle at tight end, was also singled out after his four catches for 63 yards and two touchdowns – he slipped outside for an 8-yard TD reception during one of the scrimmage's red-zone drills.
"With this new offense, they are putting more trust in (tight ends) to make plays," Mathers said. "It's nice having the tight ends feel more involved in the offense."
Sheffield, a 5-foot-10, 170-pound junior college transfer, saw significant playing time with the starting and second-team units. He had 110 yards on five receptions.
Veteran receiver Lincoln Victor did his best work after the catch on short routes. He had 74 yards on five receptions. Kelly, a Fresno State transfer, had 30 yards on three receptions. Peters, a sophomore in the mix for a starting role, totaled 64 yards on three catches.
"I thought we were in a really good flow on offense," Dickert said.
The offense avoided turnovers, limited penalties before the snap and moved downfield at a steady pace.
"We got off to a little slow start, but I thought John Mateer gave us some life," Dickert said. "(Ward) made some big plays and it was good to see our playmakers out there doing some things down the field, and (we were) still effectively running the football."
Seven WSU receivers saw action with the first and second units. Victor, Kelly and Peters were joined by UNLV transfer Kyle Williams in the starting lineup. Sheffield, Hernandez and sophomore Leyton Smithson rotated in. Sophomore Tsion Nunnally and senior Isaiah Hamilton, a San Jose State transfer, were held out of the scrimmage.
"We might be wide receiver by committee (this season)," Dickert said. "(I'm) seeing some of those guys really stand out."
Running back Nakia Watson, locked in as WSU's starter, was limited to four carries. Backup tailback Jaylen Jenkins gained 73 yards on seven carries. The sophomore burst through a gap at the line on the second possession of the day for a 56-yard TD. Redshirt freshman Djouvensky Schlenbaker and sophomore Dylan Paine split running back reps with the reserve squads. Schlenbaker bounced outside for a short TD.
The Cougars are staging competitions at numerous positions . Spots are up for grabs on the offensive line, at wide receiver, linebacker, defensive tackle, cornerback and nickel.
"Today was very scripted," Dickert said. "We knew exactly how many reps everybody was going to get and against what groups. Linebacker will be big. Those guys gotta start sorting themselves out. That nickel position needs to start sorting itself out. Who are going to be the best five offensive linemen? That'll go all the way to game week. There's a lot of things we're going to learn from this tape. We'll see some guys start to separate."
Several first-team offensive linemen stayed on the field with the reserves for extra evaluation. The Cougars didn't need to see much from center Konner Gomness. It appears WSU is comfortable with Southern Utah transfer Christy Nkanu at right guard and Fa'alili Fa'amoe, a sophomore returner, at right tackle. Christian Hilborn, who started games at guard and tackle last season, took reps at left guard and left tackle. Junior college transfer Esa Pole is competing for the left tackle job and junior Ma'ake Fifita is battling for left guard.
Despite the offense's production, Dickert felt the O-line surrendered too much pressure. WSU's defense had 10 sacks – six against the Cougars' first- and second-team offensive units. Defensive tackle Ty Garay-Harris had two and added a tackle for loss in the run game.
"It felt good, because it's been awhile since we really got to hit people," said Garay-Harris, who mostly took reps with the second unit.
Junior Nusi Malani and sophomore David Gusta earned the starts at DT. The Cougars used a deep rotation at edge rusher. All-Pac-12 edges Brennan Jackson and Ron Stone Jr. did not play.
"It's load management when you get to this point," Dickert said of the two sixth-year seniors.
Edges Quinn Roff, Raam Stevenson, Lawrence Falatea and Andrew Edson had a sack apiece. All six of the Cougars' edge rushers held down playing roles last season and are expected to do the same this year. Stevenson also made two stops in the backfield on rushing plays and was named defensive player of the day.
Starting safety Jaden Hicks was given the day off. Redshirt freshman Bryce Grays started in his place. Other sure-fire starters – such as cornerback Chau Smith-Wade and safety Sam Lockett III – played limited snaps. The shuffling in the secondary may have led to some of WSU's offensive success.
Four cornerbacks appear to be vying for first-string duties opposite Smith-Wade. Returner Cam Lampkin got the start. Redshirt freshman Javan Robinson, and junior college transfers Stephen Hall and Jamorri Colson, played for extended periods. Third-year Cougar Chris Jackson started at nickel, but junior college transfer Kapena Gushiken shared time at that spot and made a couple of tackles near the line of scrimmage.
Texas transfer Devin Richardson and veteran Cougar Kyle Thornton started at linebacker . Richardson posted two TFLs early in the scrimmage. Maryland transfer Ahmad McCullough and redshirt freshman Hudson Cedarland worked with the second and first units.
WSU's defense rotated players frequently. Potential starters sometimes lined up alongside deep reserves as the Cougars' coaches assessed position battles.
"It wasn't trick the offense or trick the defense. It was, 'Who can execute base stuff?' " Dickert said. "When they're tired, how do they respond?
"We have a long way to go. I'm really happy with where we're at through six practices and I think this tape will show us a little bit about who we are."
Local journalism is essential.
Give directly to The Spokesman-Review's Northwest Passages community forums series -- which helps to offset the costs of several reporter and editor positions at the newspaper -- by using the easy options below. Gifts processed in this system are not tax deductible, but are predominately used to help meet the local financial requirements needed to receive national matching-grant funds.
Subscribe to the Cougs newsletter
Get the latest Cougs headlines delivered to your inbox as they happen.
---