A&E > Food
Pastry chefs continue to push the boundaries of the croissant
Wed., April 5, 2023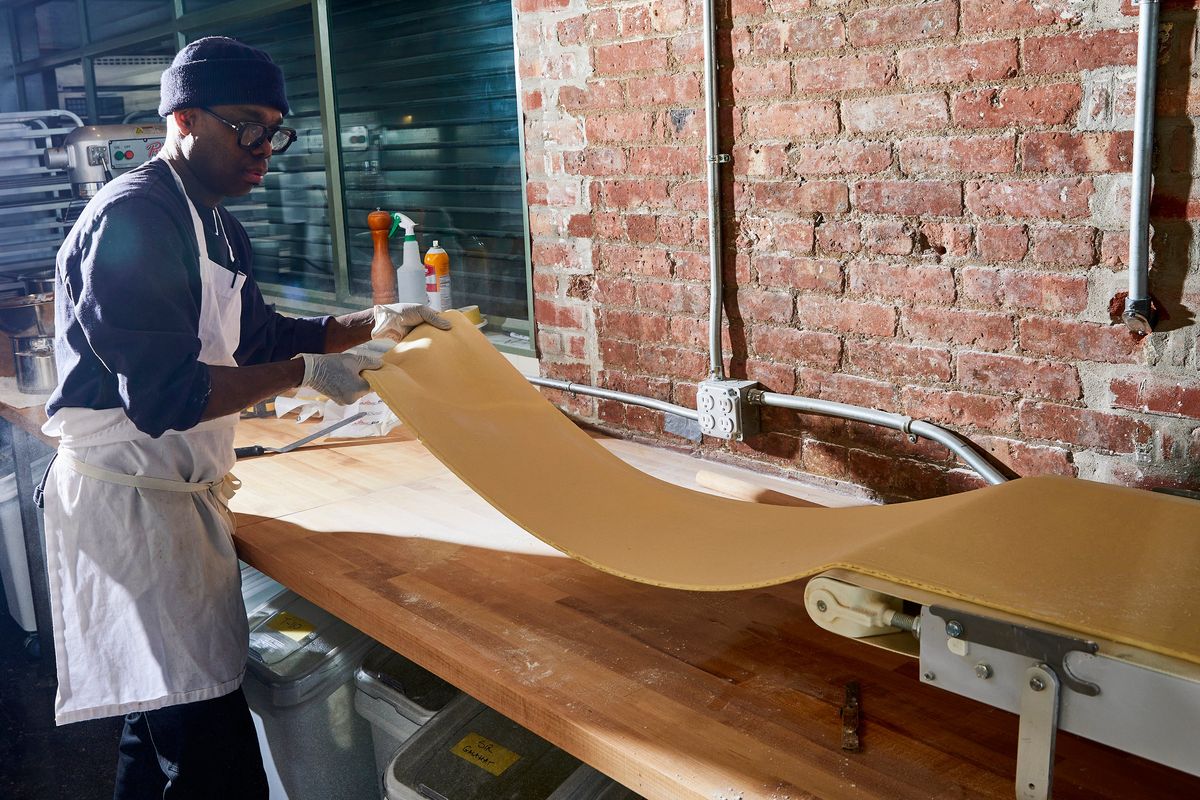 Baker Amadou Ly, who specializes in lamination, the exacting process that transforms butter, flour and yeast into a supple, silky dough, in Alf Bakery in New York on March 13, 2023. Ten years after the Cronut, croissants are still taking on new shapes, sporting swirls and stripes and drawing crowds. (JULIA GARTLAND/New York Times)
When baker Amadou Ly spotted the right moment to pull his croissant dough from the roller, it flowed like silk over his wooden counter. It had taken three days of precisely executed fermentation and lamination, the exacting process of folding fat into flour to create a supple dough.
When the geometry and the hygrometry align like this, the buttery sheets can be pleated and pinched, folded and braided, rolled and dyed.
That's just what the world's leading pastry chefs are doing with croissant dough: coiling it into pinwheels and squiggles, tying it in knots and stacking it into cubes. They are turning it into breakfast cereal, tie-dyeing it and, in Ly's case, wrapping it around baguettes.
To make his "laminated" baguette, he wraps an unbaked baguette in a thin sheet of croissant dough, then bakes them together. The slim, crackly loaf tastes as if the salted butter you'd spread on a baguette is already there. (He'll sell it at Alf Bakery, which opens in Chelsea Market in New York City on Friday.)
"The trick is to get the baguette and the croissant to be done at the same time," he said. "You have to understand heat and time" to become an expert in lamination, he added as he made twists of dough painted with dark chocolate ganache into a kind of inside-out pain au chocolat that nods to babka.
It's been a decade since pastry chef Dominique Ansel broke with centuries of European tradition by deep-frying a round of croissant dough, then filling and frosting it like a jelly doughnut. The colorful Cronut became the internet's first celebrity pastry, generating media attention and long lines for monthly limited-edition drops.
While other pastry trends have come and gone (cake pops, anyone?), professional bakers continue to push the limits of what croissants can do.
At Lysée in New York City's Flatiron district, Eunji Lee fills croissant spirals with hazelnut-chocolate ganache and packs them in a round cake pan, where they rise and bake like pull-apart rolls. Celebrated Parisian pastry chef Cédric Grolet nestled dozens of tiny croissants in a frangipane-lined tart crust to make an Epiphany cake.
Pastry champion Pierre Saucès fashioned a laminated daisy, with flaky petals surrounding a glossy passion-fruit center, for this year's World Cup of pastry in Lyon, France. In Los Angeles, chocolatier Haris Car designed a pain au chocolat with extra spiral cradles to hold three sticks of chocolate instead of the traditional one or two.
Creative passion is just one reason bakers keep testing the boundaries of croissants. The other is, simply, business. When Scott Cioe was hired in 2021 as the head baker at the NoHo restaurant Lafayette in New York City, his assignment was to create something new, delicious and photogenic that would eventually lure back post-pandemic crowds. "I think we eat with our eyes as well as our hands," he said. "Every pastry chef understands that."
The result was the Suprême, 2022's viral pastry: a tight, brightly glazed coil of croissant dough that – most importantly – can stand upright for the camera.
Kate Reid, who once worked as an aerodynamicist helping to design Formula One race cars, is known for her expertly engineered, nontraditional croissants at Lune Croissanterie in Melbourne, Australia. She said the creative wave unleashed by Ansel and his Cronut likely saved her bakery. "He opened the dam to a lake full of new ideas," she said.
When she opened her all-croissant bakery in 2012, business was slow, and she soon realized that the French classics, however perfect, did not bring in enough customers. To create a New World pastry, she adapted the process for almond croissants using a macadamia nut frangipane and salted caramel, the flavor of the moment.
Her variation, the Macca-Sacca, was an instant hit, and Lune became famous for combinations like peanut butter and chocolate, Vegemite and cheese, and even pastrami and sauerkraut.
Laminated doughs have long existed in many baking traditions: Chinese subing, Balkan phyllo, North African msemen, South Asian roti paratha and Eastern European strudel.
In France, all-butter puff pastry was the luxurious standard for centuries. But in 19th-century Paris, a Viennese entrepreneur opened a bakery equipped with a steam oven, which puffs fat-enriched doughs and burnishes their shine. Around the same time, commercial yeast became available to French bakers.
Together, those technologies produced the crescent-shaped croissant based on the Austrian kipferl, and three variations: chocolate, cinnamon-raisin and almond. For many decades, bakers occupied themselves with mastering these classics, working out the optimal conditions to transform basic ingredients into caramelized, honeycombed, chewy-crackly pastries.
The rules underpinning a good croissant have not changed. Cioe said that clean cuts and sharp lines are the test of a skilled baker and should be visible in the finished product, whatever shape it takes. It should be tightly rolled and completely golden-brown; pale patches and puffiness are often signs of a croissant made with hydrogenated fats instead of butter. The exterior should be crackly enough to break off in shards.
Beyond that, anything is possible. Croissant cubes quickly circled the globe last year after the ones at Le Deli Robuchon in London went viral on TikTok, long after Swedish pastry champion Bedros Kabranian posted his cubical creation on Instagram in 2018. Julien Khalaf, who placed second at this month's "Best Croissant in New York" competition (held by French Morning, a U.S.-based French-language media company), makes them at his four Julien Boulangeries in New York City, with toppings like toasted meringue and chocolate rice crisp.
Like many professionals, Reid of Lune said a plain croissant is still her favorite. Her recipe, made with clarified butter, is designed to maximize the Maillard reaction, a process similar to caramelization that gives fats and proteins savory, nutty flavors.
The principles of heat, humidity and airflow that she once used to design the front wing and brake ducts of race cars also apply to baking. And the teamwork required for a pit stop is reflected in the tight choreography of making croissants in the kitchens she runs.
"I didn't set out to make Lune a Formula One team for croissants but it is," she said, adding, "I would love to put a croissant in a wind tunnel and see what happens."
This article originally appeared in The New York Times.
Local journalism is essential.
Give directly to The Spokesman-Review's Northwest Passages community forums series -- which helps to offset the costs of several reporter and editor positions at the newspaper -- by using the easy options below. Gifts processed in this system are not tax deductible, but are predominately used to help meet the local financial requirements needed to receive national matching-grant funds.
Subscribe to the Spokane7 email newsletter
Get the day's top entertainment headlines delivered to your inbox every morning.
---