Spokane Falls student and 'big dreamer' from Madagascar taught himself English to pursue American education
Growing up in Madagascar, Tongasoa Jefferson Julianot Rakotomalala started dreaming at just 14 years old of getting a college education in the United States.
He lived in poverty in the town of Moramanga. No one in his family finished high school, and they discouraged him from continuing his education.
"One day, I'm going to be on that plane," Rakotomalala would say when he saw planes go by.
Determined, Rakotomalala focused on learning English – mostly self-taught – and surrounded himself with Madagascar residents who had studied in the U.S., along with American visitors. Through them, he absorbed information about U.S. culture.
He took English proficiency exams nearly a half dozen times, unable to score high enough for entry into U.S. colleges, until someone from the Community Colleges of Spokane recommended the LanguageCert test. He passed, gaining entry to Spokane Falls Community College and began his studies in business administration.
Earlier this year, Rakotomalala became the first to win a $1,000 Community Colleges for International Development scholarship from LanguageCert. He went to Washington, D.C., in February to receive the honor at the LanguageCert conference. His speeches left audience members in tears.
Today, he smiles as he shares the struggles, faith and last-minute support that got him here.
"I am a big dreamer," said Rakotomalala, who mostly goes by Jefferson since arriving in Spokane in September.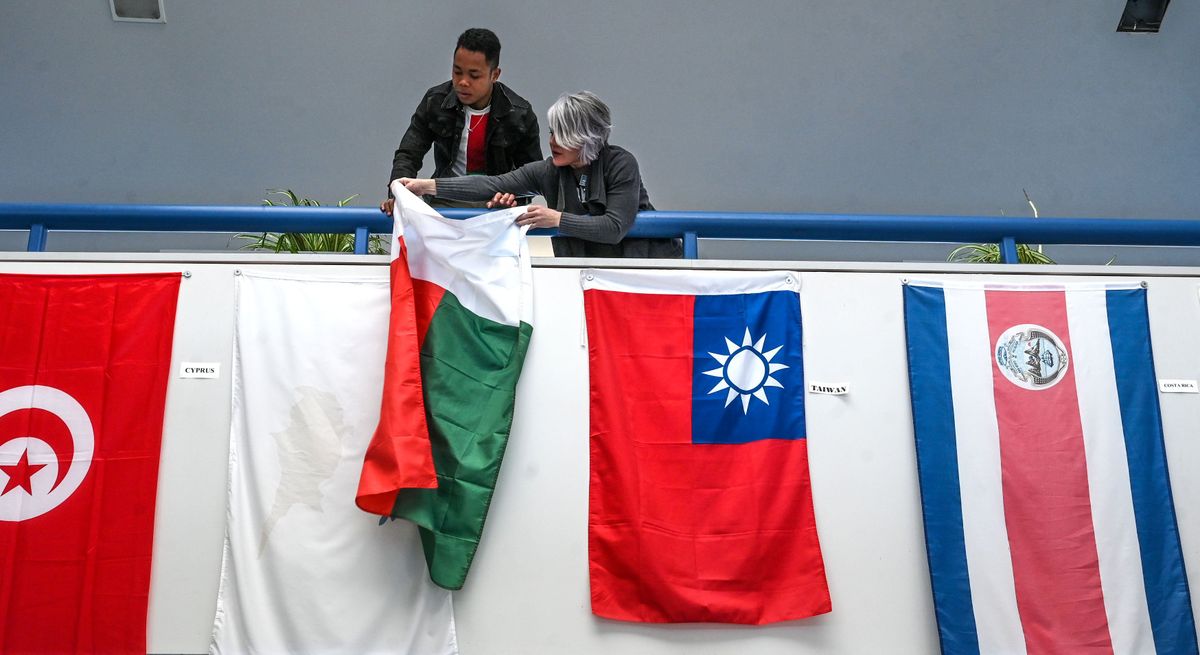 In Moramanga, Rakotomalala went to school by day and spent evenings at Starlight English Learning Center for one year of language studies. He graduated from high school in 2019 and continued studying English on his own. Rakotomalala knew he had to pass a language proficiency test to get into a U.S. college.
He then moved to the capital, Antananarivo, and stayed with a friend, Jacobin Ainatsiferana, also a Madagascar native who speaks English and encouraged Rakotomalala to pursue his education in America.
"I moved to the capital of Madagascar and then self-taught over there practicing English with friends," Rakotomalala said. "I used my phone. I listened to music, watching some YouTube videos and speaking with a lot of Americans."
A friend's sister suggested he apply to Spokane Community College.
Rakotomalala laughs now about how he accidentally applied to SFCC instead. But he was encouraged when an email came back from Amber McKenzie, the Community Colleges of Spokane assistant dean of global education.
"Amber started replying to my email, and that was a source of motivation for me like, 'Oh, I got an email from a college in the U.S.,' " he said. "I did an English (proficiency) test three times in person, and that was bad."
McKenzie said through talking on Zoom, she knew his English-speaking skills were good. She admired his determination.
"I've been in this field 25 years, and I've never had a student inquire from Madagascar," McKenzie said. "He's probably one of the most outstanding international students I've seen, just from where he's come from to where he is now. I can't believe the fortitude and his ability to get this far."
After getting poor language test scores in the first few rounds, he tried again with an online test. He scored just a few points below what he needed to be accepted at SFCC.
"I had to stay up all night to do it," he said. "I was three points away from getting accepted. I asked Amber, 'Is there any way you could help me? I really want to go to college. I want to make a difference.' "
That plea was timely, because McKenzie had just learned of the new language proficiency exam through LanguageCert, along with coupons toward the test's cost. Rakotomalala grabbed the chance, again going online to take what's called the International English for Speakers of Other Languages test.
But Madagascar is known for frequent power outages. As he entered the test, the electricity died, and his friend had to help him find transportation to get somewhere he could resume the exam. Despite the interruption, Rakotomalala passed.
"I got a good score, then I sent it here and I got accepted here," Rakotomalala said.
It wasn't an easy path from there but as a Christian, Rakotomalala credits faith for getting him through.
"In my life I say that, 1% from me and 99% from God," Rakotomalala said. "God did it. He helped me to connect with people."
He attended Camp Fihavanana in Madagascar, which helps young students take responsibility in life. There, he met an American who offered to sponsor his fees to study at SFCC. Rakotomalala had served at a Christian organization, Cornerstone, where people heard his story.
Cornerstone created a video sharing Rakotomala's story and Hanta Ramakavelo, a famous motivational speaker in Madagascar, saw it, offering to connect him with some of her friends, who helped pay for his flight to Spokane.
"That happened two months before I left Madagascar," he said. "All of it seems impossible for my situation, because my mom makes approximately $29 a month."
The school's international support has helped him with resources and a place to stay with a host family.
On his recent plane flight back from Washington, D.C., LanguageCert upgraded his seat to first class, where he sat next to an executive with the U.S. Brain Injury Alliance. He asked Rakotomalala about his life and getting to college. Afterward, the man surprised him by sending him $500 for Rakotomalala to send to his mother and other relatives.
Rakotomalala isn't done dreaming. He wants to finish his SFCC associate degree, then go to a four-year university. He'd like to get a doctorate in business administration. He plans to return to Madagascar to build a company in food conservation and transportation.
He has three top choices for advanced degree work: Whitworth University, Eastern Washington University and one more.
"This one is crazy; I'd love to go to Harvard," Rakotomala said. "What I'm trying to prove in life is it's not all about money; it's about faith. You work hard and you serve. That's what I like the most. I don't just want to take. I want to give. I want to serve. I want to go back to Madagascar.
"That's my goal – to study, get the knowledge and serve, because if I never go back, what is the reason for people supporting me? Success is not I. Success is we."
---