'Your dad is better than you': Gonzaga's NBA star Domantas Sabonis is fueled by family legacy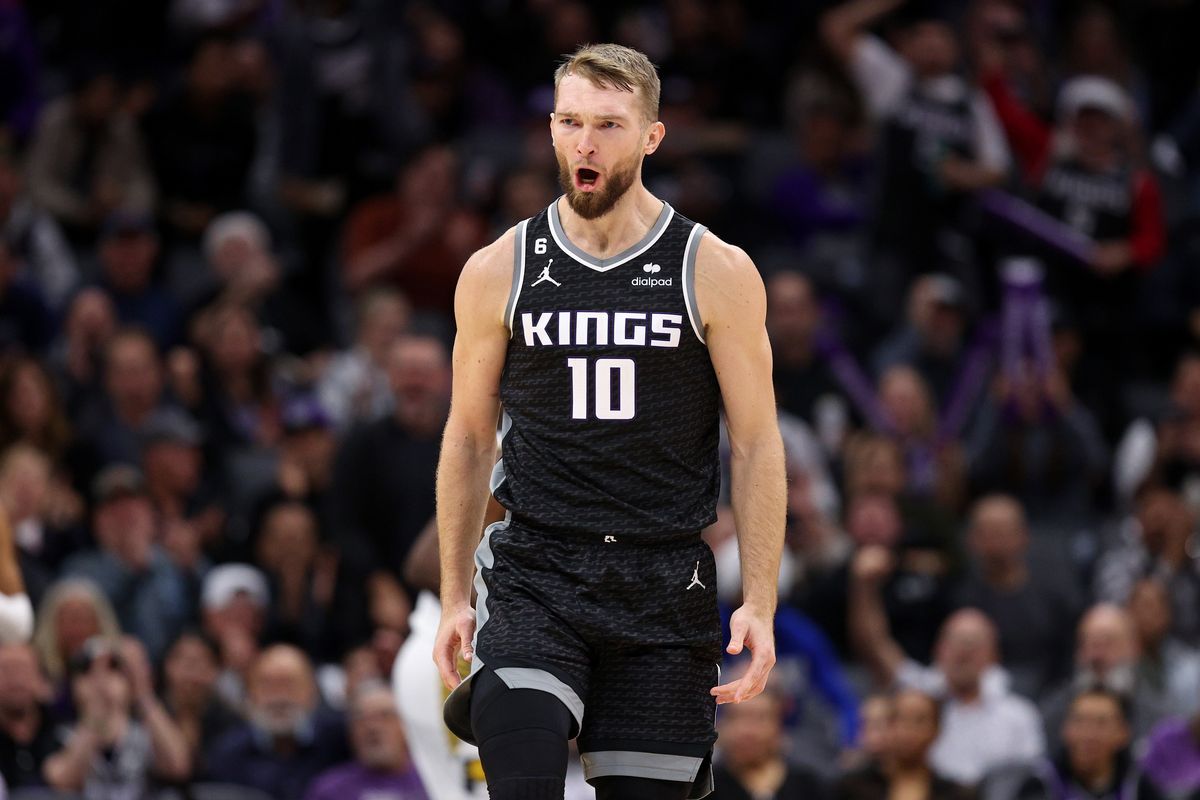 For Domantas Sabonis, basketball has long been it.
"Never a plan B," Sabonis, 26, said. "Only basketball."
In many of his baby pictures, Sabonis said, he is holding a basketball. The same goes for his 1-year-old son.
This makes basketball a sort of generational inheritance. Sabonis' father is Arvydas Sabonis, a Lithuanian player who dominated in Europe, spent seven seasons in the NBA and was inducted into the Basketball Hall of Fame in 2011.
Now, Domantas is the Sabonis dominating. In his seventh NBA season, he is a three-time All-Star and has helped the Sacramento Kings clinch a playoff spot for the first time since 2006, breaking the longest active postseason drought in the four major North American men's professional sports leagues. Sabonis is the NBA's leading rebounder, one of its best passing big men and one of its most efficient scorers.
From his game, one can easily draw a straight line to his father. At 7-foot-3, Arvydas was a slick passer with refined post skills and immense upper-body strength. It wasn't unusual to see him go at Shaquille O'Neal and hold his own. Domantas' hands are drawn to loose balls around the basket, and defenders bounce off him like rubber. Arvydas had more of a shooting touch; Domantas is quicker, though not fast by today's standards. Slow centers who stay near the basket have gone out of vogue over the past decade, but the 6-11 Domantas has turned this bruising style of play in the paint into success for the Kings. In some ways, Domantas' game is a stubborn tribute to Arvydas.
"It's the eyes, the fingers, the hands, the little gestures," said his older brother Tautvydas Sabonis, who goes by Tuti. "You throw a pass. It leaves his fingers like this and it's like, that's 101 Dad."
Tuti, on a video conference call from Lithuania, held his hands out wide to demonstrate.
"The most important thing is they both get (angry) the same way," he said. "It's the same characters, same mindset. It's 'rah, rah, rah, rah, rah!' Lithuanian. All the swear words you can imagine. Throw in a little English. Throw Spanish in there."
Tuti, 30, is a basketball coach in Lithuania and played professionally in Europe. So did the other Sabonis brother, Zygimantas, 31, who goes by Zygi. Domantas was born during the playoffs of Arvydas' rookie year in the NBA with the Portland Trail Blazers. A sister, Ausrine, was born the next year. Domantas and Tuti recalled that the Blazers' practice facility had a children's room where they would try all of the Gatorade flavors and play the "floor is lava" game while they waited for practice to be over. Players like Scottie Pippen and Rasheed Wallace would refer to Zygi, Tuti and Domantas as Sabonis Jr., Sabonis Jr. Jr., and Sabonis Jr. Jr. Jr. Guard Damon Stoudamire told them that his Afro came from sticking his fingers in an electric socket.
Shortly before Arvydas retired from the NBA for the second and final time, in 2003, the family moved to Spain. It wasn't until Domantas turned 10, when he started playing basketball and watching YouTube highlight videos, that he understood his father's prodigious basketball legacy, he said.
"We knew he was a basketball player, but we saw him as our dad," said Sabonis, who like his father is comfortable out of the limelight. "We didn't know what he actually was."
He said his father didn't push any of the children to play basketball. Neither did their mother, Ingrida Sabonis, a former Miss Lithuania. As a teenager, Domantas played professionally for the Spanish club Unicaja Malaga before he spent two years at Gonzaga. Tommy Lloyd, who as an assistant coach helped recruit Domantas to Gonzaga, said he talked to Tuti but didn't meet Arvydas until after Domantas had committed to the college, which was unusual.
Lloyd said Arvydas told him: " 'My son should have the right to make his own decisions. And I feel good as a parent allowing him to do that since I was never allowed to.' "
The Blazers drafted Arvydas in 1986, but it took almost a decade for him to make his NBA debut. Lithuania was part of the Soviet Union, whose officials wanted Arvydas to remain an amateur so he could compete in the 1988 Olympics. After the Olympics, Arvydas doubted his ability to compete with the NBA's best because he'd had multiple Achilles tendon injuries. In 1990, Lithuania declared independence from the Soviet Union. Two years later, Sabonis played for the Lithuanian Olympic team, helping it win a bronze medal.
(The American men – the Dream Team – got much of the attention at the 1992 Olympics, but Lithuania's tie-dye warm-ups sponsored by the Grateful Dead also became a cultural sensation.)
The Blazers kept pitching Arvydas on coming to the United States. After years of wooing from lawmakers, diplomats and basketball executives, he finally relented.
"If not NBA now, never," a 30-year-old Arvydas said at the time. "Last chance."
Arvydas, who declined a request for an interview, spent seven seasons with the Blazers between 1995 and 2003. He skipped one year, citing mental and physical exhaustion. Now he texts Domantas after each of his NBA games, despite the 10-hour time difference between Sacramento and Lithuania. And if he's not texting Domantas, he's texting the siblings.
"I think my dad's our best friend," Tuti said. "He's amazing. He watches all of Domas' games. He's always calling me: 'Are you watching?' I'm like, 'Dad, I've got to work tomorrow.' "
While Arvydas has never coached his children, he's always given one particular piece of advice.
"You got to take care of the point guard," Tuti said. "You're not going to take care of the shooting guard because he's there to shoot. The point guard, he's going to give you the ball to score. So if you've got to take someone out to drinks, this is the guy you take care of."
For Domantas, that is De'Aaron Fox, a quick 25-year-old point guard who has been Sabonis' partner in lifting Sacramento's fortunes. Fox has played in Sacramento for his entire six-year career, but Sabonis joined him only last season in a trade from Indiana.
"They want me to be one of the main pieces and have a say and change something around," Sabonis said. "And that's just motivation."
Mike Brown, in his first season coaching the Kings, designed an offense that leaned into Sabonis' passing skills, which helped balance the floor and give Fox more space to operate. It has been a resounding success: Sacramento has the NBA's best offense, and this season Fox made his first All-Star team. Fox said that Sabonis is one of the league's best finishers and passers, and he sets strong screens to dislodge pesky defenders for his guards.
"I think any offense can be successful around someone like that," Fox said.
Sabonis' hard-nosed play has easily won over teammates and coaches, and made him a fan favorite. He's been playing through a thumb injury for much of the season, but he has not shied away from contact, whether in the post or while diving for a rebound. Brown recalled Sabonis apologizing to him once for a bad turnover, but Brown wasn't concerned.
" 'As hard as you play, I don't know if I can ever get mad at you for turning the ball over,' " Brown recalled responding to Sabonis. "I said, 'Just go sit down.' "
It may seem daunting for Sabonis to follow in the footsteps of his famous father, especially in the withering spotlight of the NBA. But he insists that his father's basketball legacy has not created extra pressure. In fact, he has embraced it, wearing his father's No. 11 in college and with Indiana before arriving in Sacramento, where No. 11 is retired.
"Since I was a kid, you always hear: 'Your dad is better than you. Your dad's this. Your dad is that.' You hear it all the time in every game," Sabonis said. "But if anything, without that, I wouldn't have been where I am. If anything, I use it as fuel to be better."
Brown said that Sabonis "probably wants to be more impactful and better than his dad to show his dad, that yes, I can do this as your son."
Lloyd, the former Gonzaga assistant who is the head men's basketball coach at the University of Arizona, said that Domantas used to tell him that he was motivated by respect for his fathers and brothers.
"He felt like he was carrying on the Sabonis basketball legacy," Lloyd said. "And it's something he took really, really, really serious. I don't want to say there was a fear of failure, but there definitely was a want to succeed for the family name."
As far as their NBA careers go, "Sabonis Jr. Jr. Jr." has already surpassed his father, though the league never got to see Arvydas at his best.
Domantas has helped revitalize a Kings franchise desperate for relevance. There's been no intergenerational trash talk, though.
"My dad loves it," Tuti said. "He's your son. He's playing at the highest level ever. It's not about accolades. It's not about this. It's just putting on the television and getting to enjoy your own son."
---