Sports > Seattle Mariners
Analysis: Will the Mariners find its answer in left field with a platoon?
Feb. 3, 2023 Updated Sat., Feb. 4, 2023 at 2:56 p.m.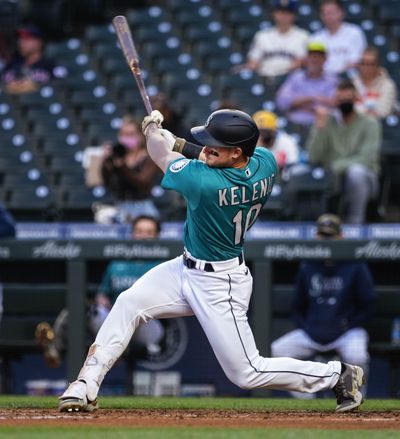 SEATTLE – During the 2020 "summer camp" at T-Mobile Park, he wowed the Seattle Mariners with his astonishing talent and power potential, he raised a few eyebrows with a youthful self-confidence that was a mix of endearing and earned cockiness, forced a conversation about pushing his timeline to his big league debut and introduced fans to the concept of service time manipulation.
In the 2021 spring training, with the help of the infamous Zoom video of former team president Kevin Mather, the focus centered on when he would make his much-awaited MLB debut and the reasons for the Mariners' decision on the timing of it.
By spring training in 2022, the fan base's feelings of anticipation and lofty expectations had subsided after a less-than-stellar rookie season that saw early struggles, a demotion back to the minor leagues and a strong finish in the final month. The hope was a carryover of that limited success into his sophomore season and a realization of his vast potential.
With 2023 spring training looming, it's difficult to know what is fair to expect from Jarred Kelenic, who isn't even guaranteed a starting spot on the opening-day roster. He will compete with Taylor Trammell, who was also a well-regarded prospect searching to find consistent success in the big leagues.
Obviously, the lofty aspirations of three years ago have dissipated after Kelenic's underwhelming performances at the MLB level, featuring a few homers, far too many swings and misses, and with outbursts often following his failures.
As we continue our 2023 Mariners position overviews, we take a look at left field.
In 147 MLB games and 558 plate appearances, Kelenic has a .168/.251/.313 slash line with 18 doubles, two triples, 21 homers, 60 RBIs, 52 walks, 167 strikeouts and a -0.6 FanGraphs Wins Above Replacement.
"It's just not linear for all guys," said Jerry Dipoto, Mariners baseball president of operations. "They don't all show up and look like Julio (Rodriguez) or Mike Trout or Albert Pujols. Some of them hit some bumps in the road and they take a little bit of time. We still believe in Jarred's talent; he works his tail off. If he doesn't find success, it's not going to be because he doesn't have the talent or the work ethic to do it. We're confident that he will."
The Mariners included Kelenic in trade packages at last year's trade deadline and this offseason while looking to add impact hitters. There was some thought he might be included in a deal for Pirates All-Star outfielder Bryan Reynolds, who asked for a trade but has yet to be moved because of a high asking price.
In an effort to help Kelenic find some consistent success at the MLB level, provided he wins the job over Trammell in spring training, the Mariners have decided to use a platoon in left field. They signed veteran outfielder AJ Pollock to a one-year, $7 million contract this offseason to use in left field or as a designated hitter vs. left-handed starting pitchers.
"That was the idea when we signed AJ," Dipoto said. "Whether it be Jarred and Taylor Trammell will play a role for us somewhere, one of those two guys could be our left fielder on opening day and it might be the other at some other point based on how they perform. But AJ Pollock is a great additive to both of their skill sets."
Pollock, 35, appeared in 138 games with the Chicago White Sox in 2022, posting a .245/.292/.389 slash line with 26 doubles, a triple, 14 homers, 56 RBIs, 61 runs scored, 32 walks and 98 strikeouts.
Over his past four seasons, Pollock has a .304/.350/.593 slash line in 440 plate appearances vs. left-handed pitchers with 24 doubles, 31 homers, 75 RBIs, 26 walks and 80 strikeouts. He posted a .286/.316/.619 slash line with nine doubles, 11 homers and 25 RBI vs. left-handed pitching last season.
In 202 plate appearances vs. MLB lefties, Kelenic has a .157/.228/.234 slash line with seven doubles, three homers, 16 RBIs, 16 walks and 61 strikeouts. Trammell has had similar struggles. In 83 career plate appearances vs. MLB lefties, he has a .099/.198/.183 slash line with three doubles, eight walks and 33 strikeouts.
"Taylor has already proven very capable of hitting right-handed pitchers in this league, and he can play all three of the outfield spots and is a pretty good base runner," Dipoto said. "Jarred, we think is an excellent base runner and does a great job defensively, especially in the corners and can handle center field as well. He does damage against right-hand pitchers. AJ brings the opposite. He has a ton of experience, especially in center field and left field. He really bangs the left-handed pitchers and kind of balances out the young bats from the left side."
Unlike past offseasons when he spent almost all of it in Wisconsin and working out at his hometown hitting facility (owned by his family), Kelenic has spent much of his offseason in California and Arizona working out with trainers and hitting coaches.
"The reports have been over-the-top awesome, both physically and mentally with the things he's working on this offseason," M's general manager Justin Hollander said. "Jarrett DeHart, our hitting coach, was just down visiting with him in Arizona. We did some motion-capture stuff on where he's at mechanically and he tested through the roof. JK has always worked really hard. I think that's one of the things that always has given us a belief that there's a corner to turn and that he'll turn it, is that his work ethic. His desire to be great is second to none. We're really seeing the fruition of that this offseason. We really feel like he's in a great spot and his offseason couldn't have gone better in our eyes."
Trammell has also put in a lot of work with outside hitting instructors. He's spent a lot of time – more than any other Mariner, per Dipoto – working with Driveline Baseball at their facilities in Kent and Phoenix.
"We were advocates for our players going out and seeking that third-party assistance, somebody different from the voices they hear from the Mariners to try to help introduce new programs, try something new," Dipoto said. "You can get stale when you just keep on hammering the same nail, and I thought our players did a wonderful job of engaging this offseason."
Local journalism is essential.
Give directly to The Spokesman-Review's Northwest Passages community forums series -- which helps to offset the costs of several reporter and editor positions at the newspaper -- by using the easy options below. Gifts processed in this system are not tax deductible, but are predominately used to help meet the local financial requirements needed to receive national matching-grant funds.
Subscribe to the sports newsletter
Get the day's top sports headlines and breaking news delivered to your inbox by subscribing here.
---