News > Features
SCC's Sunwold and Spiceology exec sprinkle together salt-free blends geared to kidney, heart patients
Sun., Feb. 5, 2023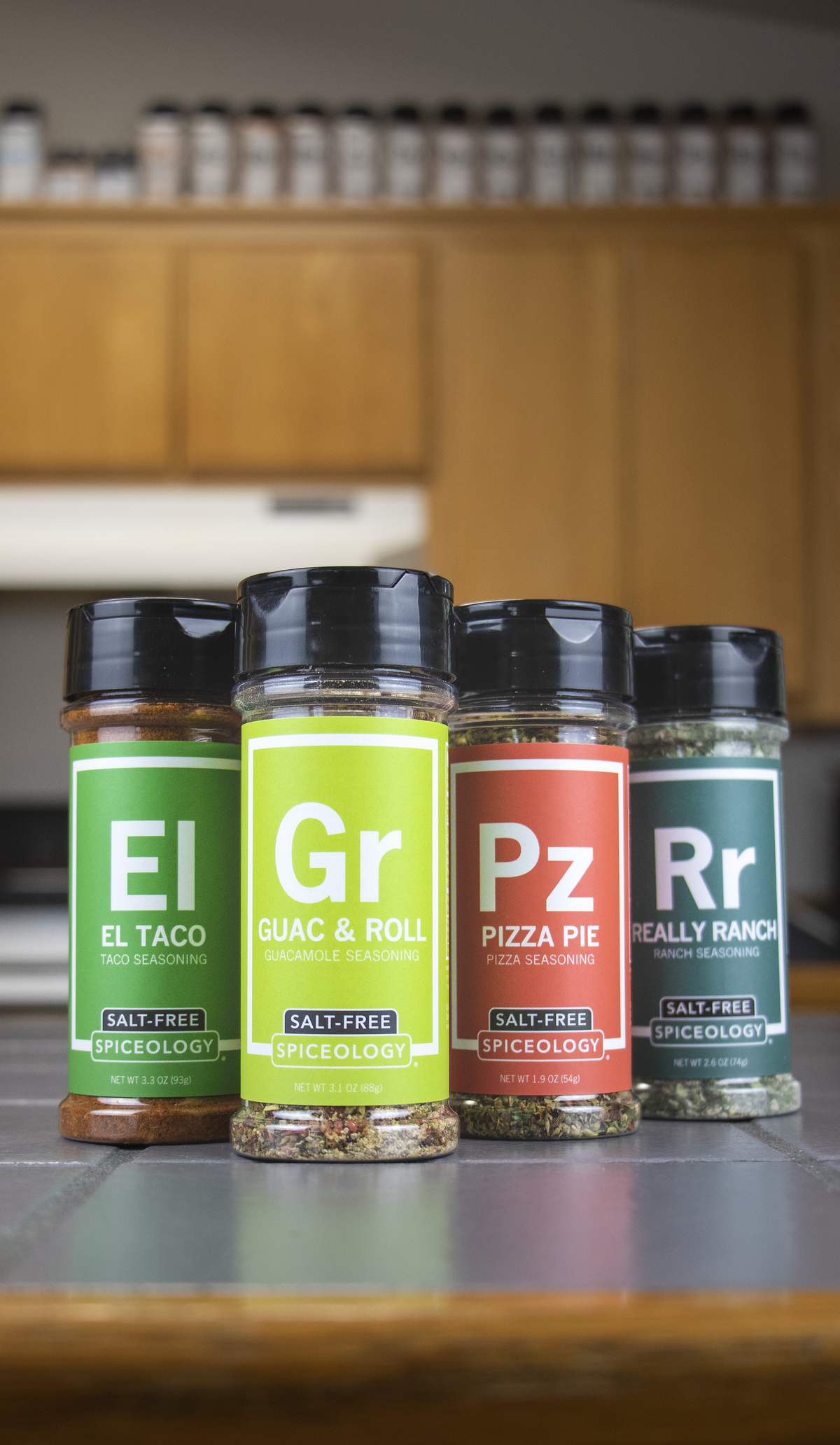 Spiceology's Tony Reed worked with his former instructor at Spokane Community College, Duane Sunwold, in 2020 to develop a line of 17 salt-free blends for healthy eating. (Zach Wirchak, courtesy Spiceology)
Sodium can sneak to high levels in daily eating, and stroke patients and people with kidney or heart disease are told to cut it significantly. The result can be bland, with a grab for the salt shaker ensuing.
Seeking flavor sans sodium, local culinary instructor Duane Sunwold and a former pupil partnered in 2020, and now Spokane-based Spiceology has a line of 17 salt-free herb blends. They launched two years ago.
A Spokane Community College teacher and kidney patient, Sunwold had created his own salt-free herb recipes but wanted something more, so he reached out to Tony Reed, who had taken one of his classes. Today, Reed is Spiceology's executive director of culinary.
Sunwold first shared his mixtures with Reed in early 2020. Over several months, the pair worked on taking the salt-free options even further.
"I have greater access to dry goods than a regular consumer, which in this instance was Duane," Reed said.
"I was able to take those formulas and amplify them with other flavors that were more chef-oriented, that we could use at a higher volume within food service and consumer sales channels, adding things like lemon juice powder that would help bring all of the flavor elements to life."
Reed sought Sunwold's feedback for a handful of salt-free formulas at a time, but taste-testing got tricky as COVID-19 shutdowns were in full swing.
"It was a joke between him and I that it would look like a drug deal because everything was shut down, and we'd have to meet in a parking lot," Reed said. "I'd hand him a bunch of bottles of spices and we'd split ways. He'd call me later and give me his feedback. That's how we formulated together."
Today, the line includes El Taco, Guac & Roll, Pizza Pie and Really Ranch.
Just before Sunwold's first contact, Reed had begun to look into salt-free blends, but the partnership notched it up.
"Duane was working with a local kidney disease organization, so he introduced me to a couple of people within the organization, and then made a connection for me to the National Kidney Foundation," Reed said.
"I was able to get educated about kidney disease, heart disease, cancer and the foods and nutrition you need in order to either eliminate those diseases or make it easier on your body throughout having those diseases."
Sunwold did a kidney foundation 2020 podcast with a dietitian on how much sodium is safe for kidney patients.
The Mayo Clinic says 1 teaspoon of table salt, a combination of sodium and chloride, has 2,325 milligrams of sodium. That's slightly more than the recommended daily amount of 2,300 mg for adults, but the average American gets closer to 3,400 mg of sodium a day.
For people with kidney disease or high blood pressure, 1,500 mg might be more appropriate, the kidney foundation says. It suggests a doctor's help to calculate a daily sodium level.
Outside of the U.S., many cultures use spices for medicinal purposes, Reed said.
He said the salt-free blends' nutritional labels give totals per serving of sodium, phosphorus and potassium, beyond minimal rules of what must be listed. In working with the kidney foundation, that organization's logo is on the labels, as well.
Feedback has been positive on the salt-free blends, he said, with some people using them on Mod Pizza and at health care facilities.
The salt-free blends are sold at Spiceology.com, and in stores such as My Fresh Basket, Kitchen Engine, Ferrante's, Main Market and Rocket Market. A 3.3-oz jar retails for $9.99.
Local journalism is essential.
Give directly to The Spokesman-Review's Northwest Passages community forums series -- which helps to offset the costs of several reporter and editor positions at the newspaper -- by using the easy options below. Gifts processed in this system are not tax deductible, but are predominately used to help meet the local financial requirements needed to receive national matching-grant funds.
Subscribe now to get breaking news alerts in your email inbox
Get breaking news delivered to your inbox as it happens.
---