Sports > NFL
Gonzaga Prep graduate, NFL player Gary Pettigrew dies at 78
Feb. 6, 2023 Updated Mon., Feb. 6, 2023 at 7:32 p.m.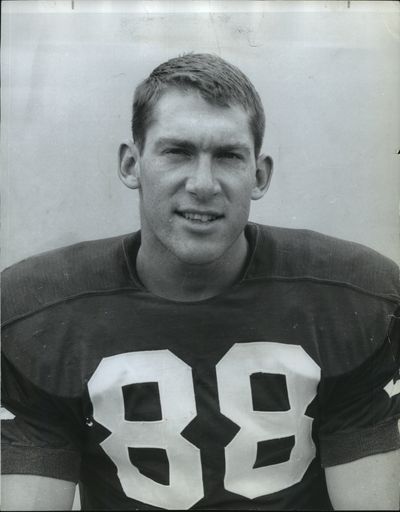 Professional athlete. Family man. Local businessman.
Gary Pettigrew led a full life.
Pettigrew, a Gonzaga Prep graduate who played nearly 10 years in the NFL and owned Spokane Exercise Equipment for four decades, died on Jan. 21 in Spokane. Pettigrew, 78, suffered from myelodysplastic syndrome.
"He was a great man. He was a world class man," Patti Pettigrew, Gary's wife of 40 years, said.
Born in Vancouver, British Columbia, Pettigrew's parents moved with their two young children to Spokane in 1946. Gary attended Saint Francis of Assisi School and went on to graduate from Gonzaga Prep in 1962. He attended Stanford on a football scholarship, completed a degree in English and earned All-Conference honors. In 1965 he was named a co-captain and was an All-American candidate before suffering a season-ending knee injury in the opening game. In 1966, he was drafted in the second round by the Philadelphia Eagles of the NFL and was also chosen by the AFL's San Diego Chargers.
He chose to sign with the Eagles and spent nine years with the team before playing half a season with the New York Giants in 1975.
"He was a tremendous athlete. We used to work out together in the summers," recalled Ginge Etter, a high school teammate and college foe, Etter being a quarterback for the Washington Huskies and Pettigrew playing at Stanford. "We would run races. Even though I was the quarterback and he was the tackle, he could probably beat me by 10 yards in the 100-yard dash. … He was a different kind of an athlete. He was pretty sharp, too."
More than 45 years after his retirement, on the day Pettigrew died, his post-football life and the 10 years he spent as a professional athlete came full circle.
"Gary played nine years with the Eagles and one year with the Giants. On Jan. 21, the night he died, the Eagles were playing the Giants," Patti said. "Gary's number was always 88. The first touchdown of that game was scored by an Eagle who had the number 88. That's sort of serendipitous."
Dallas Goedert scored that touchdown for the Eagles and they rolled to two dominant playoff wins, 38-7 over the Giants and 31-7 over the San Francisco 49ers. On Sunday, the Eagles will play the Kansas City Chiefs in Super Bowl LVII.
Gary probably would have been content just watching that game at home.
"I think that once (his career) was over, even though he watched games on TV, I think it was not a very big part of his life from that point on. You just know you did it," Patti said. "I know a lot of guys end up doing something in football for the rest of their life but that was not his personality."
Instead, she said, her husband took an introspective approach to life after football.
"I think from playing football for so long he really hadn't had the opportunity to work on himself personally. He was always working on himself physically but just his everyday life I don't think he really had an opportunity to do what he really wanted to do and that was just try to figure himself out.
"After football he spent a lot of time trying to figure himself out. Maybe he was a little bit of a monk. I don't know."
In 1986, Gary and Patti founded and began operating Spokane Exercise Equipment, a company she still operates.
"They both had a lifelong passion for fitness and healthy lifestyles and enjoyed helping thousands of people throughout the Northwest achieve their fitness goals," Rick Pettigrew wrote in his brother's obituary.
The Pettigrews' interest in physical fitness served Gary well through the years, especially in his battle with myelodysplastic syndrome.
Myelodysplastic syndrome is a group of disorders caused when there is a disruption in the production of blood cells. Pettigrew battled a form that attacked the bone marrow and left him in need of blood transfusions to increase the amount of healthy red blood cells in his body, his wife said.
"He had to have blood transfusions and the blood transfusions he had to have the last two years were every week. And that's really difficult on your body. He just didn't have enough oxygen to be able to keep his body going," Patti said. She also pointed to severe dementia that took her husband "downhill" over the last year of his life.
The Pettigrews have also been concerned about CTE, the chronic brain condition thought to be linked to repeated head injuries and blows to the head. The CTE Center at Boston University has received the necessary blood and tissue to determine if CTE was present. Patti said it will be eight months before testing is complete and a determination is made.
A memorial service is being planned for later this month but one gets the sense Gary might not want people to fuss over him.
"I think he would probably say he wouldn't mind if people didn't remember him at all. He was a real different guy, he was really to himself," Patti said. "I think that he was just a different soul. I mean he was very nice and very sweet. He was a really good person. He was just very quiet and he didn't make a lot of impact except for those people right around him and close to him."
Pettigrew is survived by his wife Patti, younger brothers Rick and Jim and their spouses, and many nieces and nephews.
Local journalism is essential.
Give directly to The Spokesman-Review's Northwest Passages community forums series -- which helps to offset the costs of several reporter and editor positions at the newspaper -- by using the easy options below. Gifts processed in this system are not tax deductible, but are predominately used to help meet the local financial requirements needed to receive national matching-grant funds.
Subscribe to the sports newsletter
Get the day's top sports headlines and breaking news delivered to your inbox by subscribing here.
---