Sports > EWU basketball
Dan Thompson: Eastern Washington's win streak means little for now, but it sure is fun
Feb. 11, 2023 Updated Sat., Feb. 11, 2023 at 10:14 p.m.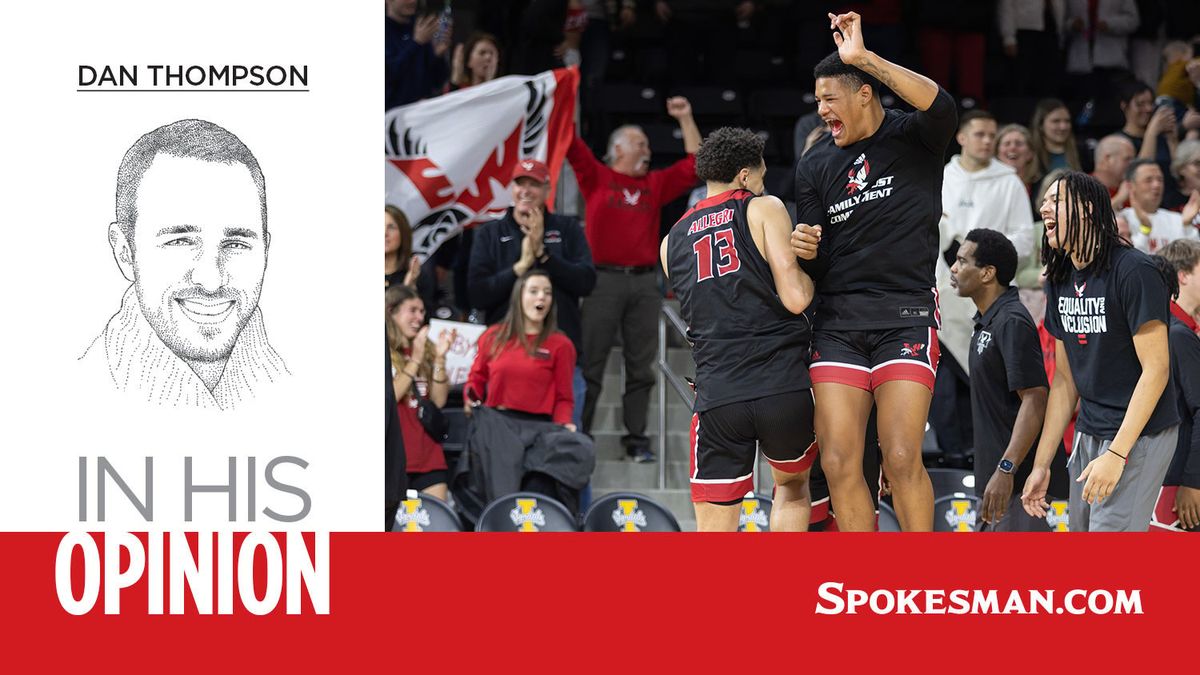 MOSCOW, Idaho – The winning streak really doesn't matter.
These victories – now 15 in a row for Eastern Washington after its 73-66 victory over Idaho on Saturday – are not going to win the Eagles a men's basketball championship.
They won't win a conference tournament title. They won't win a postseason title, either.
They're not that important.
Yet games like this one – and runs like the one Eastern Washington is on – are midmajor Division I basketball at its best.
There is no D-I team with a longer active winning streak than the Eagles. Only two other D-I teams – Alabama of the SEC and Oral Roberts of the Summit League – are unbeaten in conference play.
As those in the announced crowd of 3,310 at ICCU Arena in Moscow can attest, not much beats watching a basketball team trying to extend its winning streak on the road.
Eastern Washington (19-7 overall) was not at its best . The Eagles shot only 39%, their lowest percentage in any of these 13 consecutive conference victories. They also made just 19 of 31 free throws, each of those misses giving the Idaho Vandals not just glimmers but gazes of hope.
EWU sophomore Steele Venters got his 1,000th career point, but it came during a 5-for-12 shooting night, and he only scored 13 points. Senior Angelo Allegri didn't have a point until the first possession of the second half. Junior Tyreese Davis, also scoreless for the first 20 minutes, had four assists but also four turnovers.
Yet the Eagles did enough right to win. They outrebounded another team, this time 41-38. They had only eight turnovers. And they put together a 7-0 run late in the game to create a seven-point gap – their biggest lead all afternoon – against a rival team gunning for the upset.
The Vandals didn't do themselves any favors. They made only 4 of 25 3-point attempts, shot 37.5% overall and did not get the big plays from their playmakers – Isaac Jones in the post, Divant'e Moffitt on the perimeter – in times when they needed a basket.
That's another thing about this winning streak: Just because Eastern players and coaches say that other teams gave them "their best game" doesn't mean the opponent actually did.
"We haven't put together what we would call a complete 40-minute game this year," Idaho coach Zac Claus, a former EWU player, said after the game.
Like every opposing coach to say it this year, he was right.
EWU coach David Riley has used that same expression time and again, reflecting a truism about a game in which you are never going to make every shot, and that there is always room for improvement.
Still, that Eastern continues to find ways to pull out these victories is impressive, and it certainly makes them the favorite to win the Big Sky Tournament.
That's a task made easier this year due to a change in structure meant to protect the top two seeds, and assuming the Eagles maintain their three-game lead in the conference standings over Montana State, they will be the No. 1 seed.
That means their first opponent – the No. 9 or No. 10 seed – will have played the day before. If the Eagles win that quarterfinal, they would get a day off before playing the semifinal – again against a team that just played the night before. Only in the Wednesday championship game would the No. 1 seed be playing without at least a day's rest.
It's a stark contrast to last year, when sixth-seeded EWU needed to win four games in four days to win the title (it won just once).
This year's iteration of the Eagles is demonstrably better than last year's. "Mismatch nightmares," as Eastern players like to call themselves, was a moniker Claus ably described on Saturday.
"Almost every one of them is a genuine threat from 3," Claus said. "Just as big of a problem is they are willing to play in the post, and they're comfortable playing with their backs to the basket, which you don't see from a lot of college guards. And they have the versatility to play a number of guys in the post."
EWU sophomore post Ethan Price demonstrated this against the Vandals, making 5 of 7 shots, including 3 of 4 3-point attempts, while scoring a team-high 16 points. The team's leader in fouls committed last year, Price has fouled out just once this season and again proved able to play with foul trouble against Idaho.
Davis, after his scoreless half, finished with 12 points and 10 rebounds and was the only Eagles player in the final 2 minutes who hit both of his free throws in one visit to the line.
EWU sophomore Cedric Coward, who, in gentlemanly form, chose a layup over a slam in the game's final two points, had a typical game, making 4 of 6 shots from the field and grabbing five rebounds.
"It doesn't matter what," Davis said. "We just know how to grind it out and get the (win)."
The Big Sky remains a one-bid conference, so these wins remain important only in that they make, theoretically, the path to the NCAA Tournament easier. The Big Sky Tournament is all that matters.
But just because these wins don't matter in that sense doesn't make them less compelling. The drama of the season is only amplified as Eastern's program-record winning streak grows.
Saturday provided just another example of the Eagles grinding out a win in what is turning out to be a special basketball season.
The important victories, the ones that count toward championships, are only a few weeks away.
Local journalism is essential.
Give directly to The Spokesman-Review's Northwest Passages community forums series -- which helps to offset the costs of several reporter and editor positions at the newspaper -- by using the easy options below. Gifts processed in this system are not tax deductible, but are predominately used to help meet the local financial requirements needed to receive national matching-grant funds.
Subscribe to the sports newsletter
Get the day's top sports headlines and breaking news delivered to your inbox by subscribing here.
---