Former Washington State quarterback Ryan Leaf named to induction ballot for 2024 College Football Hall of Fame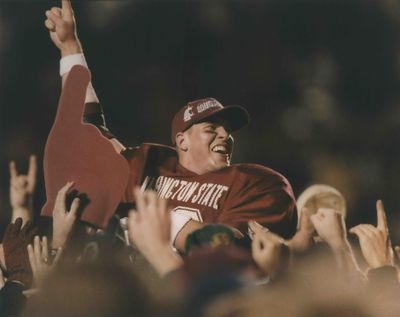 From staff reports
Washington State great Ryan Leaf was one of 78 former Football Bowl Subdivision players named to the induction ballot for the 2024 College Football Hall of Fame Monday.
The record-breaking Cougars quarterback is making his second appearance on the ballot after missing the cut this year.
Leaf played for WSU from 1994-98. He captured starting duties as a sophomore, then became a superstar as a redshirt junior in 1997, guiding the Cougars to arguably their best season in program history.
Leaf set Pac-10 and WSU records for touchdown passes, total offense and passing yards during his final season at WSU. He earned All-America honors, claimed the conference's offensive player of the year award and finished third in Heisman Trophy voting after leading the Cougars to a 10-win season and an appearance in the 1998 Rose Bowl game – WSU's first Rose Bowl appearance in 67 years. The eighth-ranked Cougars' late rally fell short in a 21-16 loss to No. 1 Michigan.
Leaf declared for the NFL draft after the season and was selected by the San Diego Chargers with the No. 2 overall pick. His NFL career ended after four seasons.
After stepping away from football, Leaf faced personal and legal difficulties, but overcame his struggles and is a respected figure in college football . He's a podcaster and radio host who works as an analyst for ESPN. Leaf also serves as the CEO and president of RAM Consultant Inc. and is a program ambassador for Transcend Recovery Community, which helps people who are battling abuse problems.
The College Football Hall of Fame 2024 class will be revealed in early 2024 – specific details will be announced at a later date. The induction ceremony is set for Dec. 10, 2024, at the College Football Hall of Fame in Atlanta.
Hall of Fame nominees are submitted by athletic directors, coaches and sports information directors of a candidate's alma mater. To be considered, a player must have received first-team All-America recognition during his career. A player's "post-football record as a citizen" is also taken into account, according to a release from the College Football Hall of Fame.
---