News > Crime/Public Safety
Spokane rape kit leads to cold case arrest in 1979 Lake Tahoe killing
March 1, 2023 Updated Thu., March 2, 2023 at 10:13 a.m.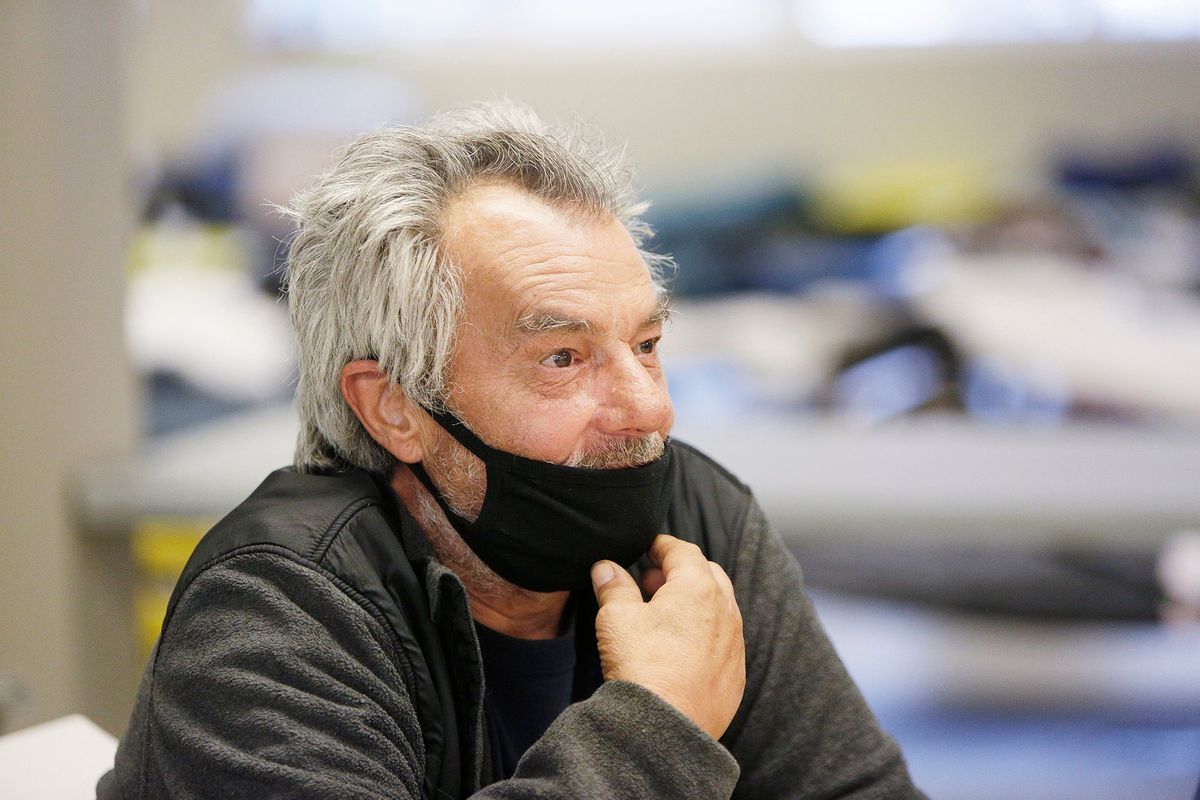 Harold Carpenter, shown here in 2020, has been arrested on suspicion of killing a woman in 1979 near Lake Tahoe. (Young Kwak/For The Inlander)
For decades, a woman who was killed along the western shore of Lake Tahoe in 1979 was a Jane Doe, her name and what happened to her lost to history.
In 2015, she got her name back: Patricia Carnahan.
Then last month, police found the man they suspect of killing her 44 years ago by using the DNA results from a rape kit collected from a Spokane woman in 1994.
The arrest of Harold Carpenter, a 63-year-old living in the Park Tower apartments in downtown Spokane, is the potent result of old-school detective work and forensics to solve a cold case.
In 1994, a homeless woman in Spokane accused Carpenter of raping her. Health care workers collected evidence as part of a sexual assault kit, according to a search warrant. Investigators arrested Carpenter at the time, and he said the two had consensual sex. Then he accused her of stealing his wallet.
Investigators also collected DNA from him.
Carpenter was released from jail the next day, and detectives suspended their rape investigation later that week when they lost contact with the woman. She has since died, according to court records.
The rape kit sat untested for decades until last summer, when it was sent to the Washington State Patrol crime lab as part of the Washington State Sexual Assault Kit Initiative, with the goal of testing all previously untested rape kits.
The Spokane Police Department is one of few departments in Washington state that assigned officers to work on the rape kit cases full time, taking advantage of a grant program through the Washington Association of Sheriffs and Police Chiefs to investigate the results of the recently tested kits.
SPD had approximately 1,500 kits dating back to 1981, which resulted in about 250 matches to the federal database of DNA collected by law enforcement called the Combined DNA Index System, commonly referred to as CODIS. Those results have led to a few cases being solved.
While the 1994 rape can't be prosecuted due to the statute of limitations, Sgt. Zac Storment is thankful testing led to another case being solved.
"I'm glad it happened," Storment said. "It's good to see something come of the (rape kit testing) program."
Brittany Wright, a forensics specialist who handles many cold case DNA tests for the Washington State Patrol, was able to pull a male DNA profile from the rape kit, which she entered into CODIS on Feb. 7.
The profile matched a man's DNA collected from Carnahan's body, which was found at a Sugar Pine Point State Park picnic area in El Dorado County, California, on Sept . 28, 1979, according to the search warrant. She had been beaten and strangled.
Investigators were unable to identify the body at the time, and she remained unknown for decades.
A new investigator, John Gaines, took over the case in 2014 as part of El Dorado County's Cold Case Homicide Unit tasked with taking a fresh look at unsolved killings from the 1970s, '80s and '90s.
Working with a forensic anthropologist, Gaines exhumed the body from a grave in Tahoma, California, and published photos of her jewelry, according to a news release from the El Dorado district attorney. He noticed a necklace the woman was wearing had been initially identified as a deer, when it was in fact a chai pendant, often referenced as a Jewish symbol for life.
Gaines turned to the local Jewish community, hoping the revelation might help identify the woman, according to a 2014 article in The Jewish News of Northern California.
In the article, Gaines said: "Elvis used to wear the same necklace and I recognized it."
Family members identified the pendant, and in 2015 Carnahan was identified through a DNA match to her 61-year-old daughter. Carnahan's body was then returned to her family, the district attorney said.
Carnahan had been reported missing by her family in Virginia about a month after her death. The family told investigators Carnahan had been visiting California in her red Volkswagen bus. She had told family she was on her way home.
Carnahan's Volkswagen was found abandoned at a car dealership in Venice, California.
The three people who discovered her body in 1979 did not report it to police. Instead, they called a local newspaper reporter, who then notified police. The people who discovered her body said they didn't report it directly because they had warrants out for their arrest.
Investigators believe Carnahan may have been alive when the three people found her, according to the warrant.
Evidence showed that Carnahan was likely chased through the picnic area, losing one of her flip-flops along the way. Multiple struggles took place throughout the park, police believe. She was 35 and Carpenter was 19 years old at the time.
DNA from a beer bottle near where Carnahan was found matched the male DNA collected during her autopsy. The men who found Carnahan's body were not a match for the DNA profile.
The DNA profile was uploaded into CODIS, where it remained until the match was made this month with the DNA collected in the rape kit from 1994.
It's the 13th cold case solved by the El Dorado County cold case team, according to a news release.
"I'm proud to say our Cold Case Unit is one of the most successful of its kind in the United States," Vern Pierson, El Dorado County's district attorney, wrote in a statement. "Sadly, Ms. Carnahan was buried in a potter's field under a headstone of an 'unidentified female.' Because of the tireless dedication of our investigators, she was identified and returned to her family. Now due to multi-state collaboration by numerous agencies her killer will finally be held accountable."
After the match, El Dorado County detectives learned that Carpenter had been arrested in Susanville, California, on Sept. 29, 1979, on suspicion of driving under the influence, the day after Carnahan's body was found.
Carpenter was released to the Bonneville County Sheriff in Idaho, where he completed his sentence on an unrelated burglary charge.
He was never suspected of killing Carnahan until the DNA match in CODIS last month, according to court records.
A handful of misdemeanor arrests show Carpenter traveled throughout Idaho from 1990 to 1993. Misdemeanor crimes don't usually result in DNA collection.
It appears Carpenter settled in Sandpoint with his wife for most of the late 1990s before they divorced in 1998 – the same year he was convicted of domestic battery.
Carpenter has a slew of misdemeanor convictions and arrests in Bonner County from 1998 to 2018, including possession of drugs, disturbing the peace, reckless driving and driving under the influence.
He has little criminal history in Washington, other than a driving under the influence conviction in 2000.
Carpenter had been homeless in Spokane since about 2016, according to a 2020 story about homelessness published in the Inlander. A short time later, he moved into the Park Tower Apartments, a building reserved for low-income elderly and disabled people, according to court records.
In 2018, Carpenter was the suspect in another rape in Spokane County. And just last year, Carpenter also was suspected in an unwanted sexual touching incident but was never arrested in either case, according to court records.
Carpenter made his first court appearance in Spokane on Tuesday. He remains jailed in lieu of $1 million bail.
Anyone with information on this case or Harold Carpenter is asked to contact the El Dorado Cold Case Task Force at (530) 621-4590 or coldcasetaskforce@edcda.us.
Local journalism is essential.
Give directly to The Spokesman-Review's Northwest Passages community forums series -- which helps to offset the costs of several reporter and editor positions at the newspaper -- by using the easy options below. Gifts processed in this system are not tax deductible, but are predominately used to help meet the local financial requirements needed to receive national matching-grant funds.
Subscribe now to get breaking news alerts in your email inbox
Get breaking news delivered to your inbox as it happens.
---